Learn to Draw the Figure Accurately and Realistically Following the 19th Century Academy of Fine Art approach of Atelier Figure Drawing.
About this event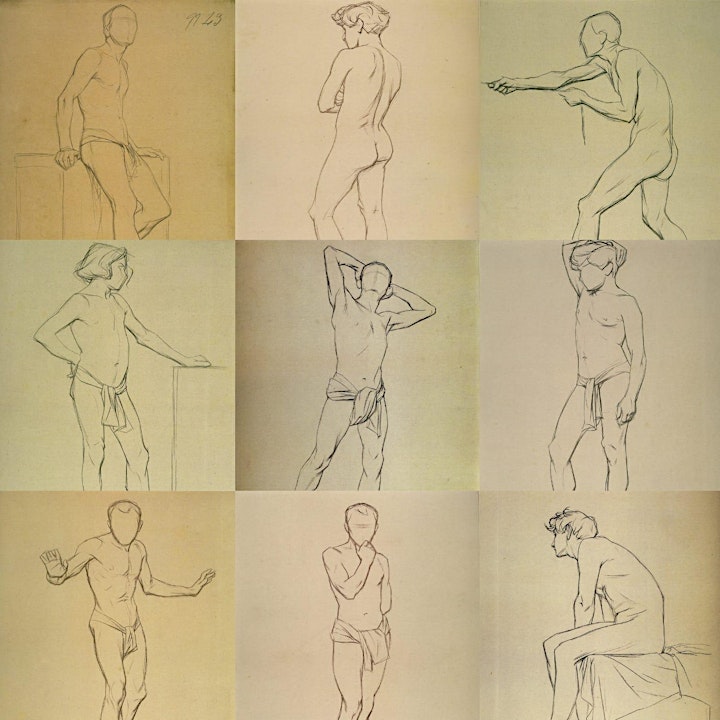 This weekly course will benefit anyone who is passionate about drawing and painting and wants to take their work to the next level. Figure Drawing is the corner stone of art and design practice. So, whether you are an aspiring landscape artist, portrait painter, self-taught art practitioner or complete novice to art practice - this course is for you, if you are serious about your drawing skills.
The technical skills passed on from this course are based on the 19th Century Atelier teaching at the École des Beaux Art, Paris, which set THE BENCHMARK for figurative drawing and all academy fine art training. Drawing in the tradition of classical realism will help you in
every aspect of your art and design practice.
Course Objective:
• Learn to draw the figure accurately and realistically using the classical academic
approach.
• You will learn the traditional principals of figure drawing.
• You will learn the classical drawing technique of sight-size.
• You will create a correctly proportioned drawing that demonstrates anatomical
understanding of the human figure
• You will learn about placement, proportion, sight-size and comparative
measurement.
• You will create a beautiful hand drawn master study of academic figure drawing
The Tutor
John Skelcher
For over 30 years I have given practical instruction in drawing and painting to thousands of students, of all ages who seek to improve their technical and practical expertise in art.
Currently, I am a plein-air instructor based in Italy for Painting Holiday Italy, teaching plein-air courses and on-line courses in all media. I have a Bachelor of Arts in Fine Art Painting and received a Postgraduate degree in Art and Design teaching, from the University of Central England. I also trained in painting in Florence as well as other European Academies, where I learnt the principles of academic painting.
Work: www.JohnSkelcher.com and www.PaintingHolidayItaly.com
When booking please ensure that your email/contact address is accurate as it will be used to send out details of how to join the class. If you do not receive these instructions prior to the event, please contact: EMAIL: info@paintingholidayitaly.com
Please note that your booking is non-refundable and non-transferable and we run all our events based on a minimum number of participants. If we have to cancel a class for unforeseeable reasons such as technical issues etc beyond our control, we will refund the course cost. We are not responsible for fees paid to Eventbrite. Please see their refund policy for fees applied at time of booking.
If the course you wish to attend is full or you cannot make the date, please let us know so that we can register your interest and let you know of opportunities planned for the future. You can contact us on: EMAIL: info@paintingholidayitaly.com or Tel: (+ 44) 0247- 6980868
We run painting classes and workshops , with different magnificent Italian scenes from our Painting Holiday Italy programme, so check our event page for more workshops.
If you'd like to purchase a Voucher for future courses for yourself or as a gift, you can do so via our website: www.paintingholidayitaly.com
TO AVOID DISAPPOINTMENT, ENSURE YOU HAVE COMPLETED YOUR BOOKING BY PRESSING THE ORANGE 'REGISTER' BUTTON. YOU WILL NEED TO SCROLL DOWN TO FILL IN THE FORM BEFORE THE BUTTON WILL TURN ORANGE.