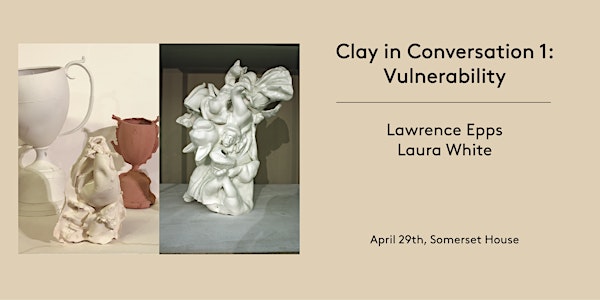 Clay in Conversation 1: Vulnerability
Event Information
Location
Makerversity
Makerversity, Somerset House
Victoria Embankment
London
WC2R 1LA
United Kingdom
Refund policy
Contact the organiser to request a refund.
Eventbrite's fee is nonrefundable.
Clay in Conversation 1: Vulnerability is the first in a series of curated conversations, presenting artists working with clay and ceramics
About this event
Clay in Conversation 1: Vulnerability is a series of curated conversations, providing a platform for presentation, dialogue and discovery, and bringing together a diverse range of artists with a practice in clay and ceramics.
Each conversation will centre on a specific theme - acting as a lens through which the artists will present a single piece of work or project. The conversations will offer the opportunity to dig deeper into a single work, exploring it formally, materially and conceptually, from the perspective of the artists themselves.
The presentations will be followed by a Q&A session and you are invited to continue conversations informally in the Paint Room bar of Makerversity following the event.
Clay in Conversation is curated by artist Julia Ellen Lancaster generously supported by Potclays and hosted by Makerversity
For the first conversation we are extremely pleased to present artists Lawrence Epps and Laura White, with Tessa Peters acting as chair.
Lawrence Epps' chosen work, Accolade, developed out of a residency in 2019 at the Jingdezhen International Studio in China. A collaboration with statistician (and 'national treasure') Professor Sir David Speigelhalter, involved an intricate work of chance (slumped ceramic trophies, an iPad app, £2000 of gold bullion and a sushi conveyor belt) confronting societal biases to re-level the playing field. Accolade was exhibited in The Ceramics Biennale 2019 and Epps' work is in the collections of Crafts Council and Fitzwilliam Museum.
His practice ranges from traditional ceramic processes such as terracotta extrusion in a brick making plant and slip-casting, to adapted fairground arcade machines, moving image, and app-design.
Epps is also a member of the Sykey Art Collective - a group making public statements through art, responsible for the night-time interventions of 14,000 ceramic sculptures placed across the cities of London, Manchester and Stoke-on-Trent in large scale participatory art events.
Laura White's chosen work, White Mud, 2018-19, was exhibited as part of The Precious Clay: Porcelain in Contemporary Art exhibition at Museum of Royal Worcester. The work presented a collection of porcelain objects, working with the materials capabilities and limitations, the collapses, breaks and cracks exposing the vulnerability and strength of the material, whilst also suggesting new and challenging possibilities.
Laura's practice focuses on negotiations with the world of STUFF, interactions with materials and objects exploring ideas of value, profile, association, meaning and behaviour of materials, individual and collections of objects. Things are explored as material stuff and anthropological signifiers, occupying a fluid space where things demand critical discourse and their own intuitive logic. Her practice focuses on a fascination with material behaviour and is often about 'not knowing', 'not planning', 'unlearning' and being open to failure which exposes her own vulnerabilities and strengths, as well as those of the materials she uses.
Tessa Peters is Senior Lecturer in the History and Theory of Art at University of Westminster, an Associate Lecturer at CSM, a researcher, writer and independent curator. Her most recent curatorial project was Cultural Icons for the British Ceramics Biennial at the Potteries Museum, Stoke-on-Trent, and Hove Museum & Art Gallery in 2019-2020. Since 2020 she has facilitated a series of inclusive cross-cultural dialogues, assisting an understanding of issues faced by ceramics practices in different global regions.
----------
This is an 'in person' event at Makerversity, New Wing, Somerset House, London, WC2R 1LA
On the day of the event guests will be met at the New Wing reception of Somerset House. This is accessed via Lancaster Place, on Waterloo Bridge. Please arrive no later than 4pm.
Places are limited so please book early.
Date and time
Location
Makerversity
Makerversity, Somerset House
Victoria Embankment
London
WC2R 1LA
United Kingdom
Refund policy
Contact the organiser to request a refund.
Eventbrite's fee is nonrefundable.