Clean Climber Clean Up with Tiba Vroom | WOMEN'S BOULDERING FESTIVAL 2021
Join Clean Climber and Tiba Vroom for a Fontainebleau Forest Cleanup at the popular climbing area of Elephant
About this event
Together with the Clean Climber Foundation and pro athlete Tiba Vroom we invite you to join us for an afternoon of trash picking at Elephant.
We will be clearly visible at the Éléphant parking area on Friday September 17th from 14:00h until 17:00h.
What to bring? Nothing except for clean up psyche! Clean Climber will provide you with gloves, trash bags and trash pickers.
After the clean up, you are invited to join us for a bonfire and refreshments in La Chapelle-la-Reine at the campsite where the Women's Bouldering Festival takes place.
The clean up is organised by the Clean Climber Foundation in association with Wildflower Climbing.
If you want to do more good for the Forest of Fontainebleau, join us for our Monday Anti-Erosion Workshop with the National Forestry Office.
Attendance at the clean up is free, but if you're able and willing, you are encouraged to make a generous donation in support of ProjectOne Climbing.
Thanks and see you soon in Bleau!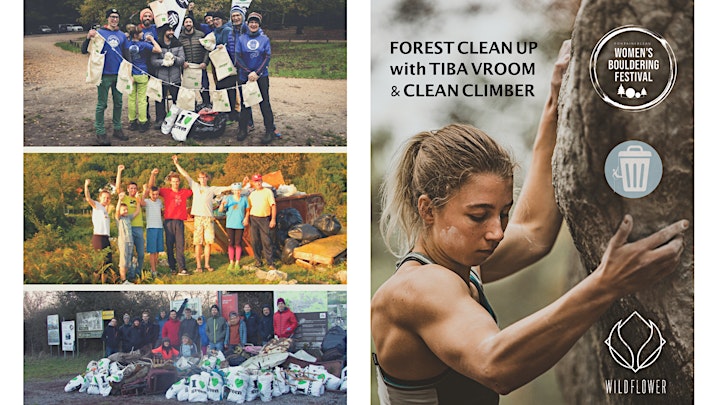 Organiser of Clean Climber Clean Up with Tiba Vroom | WOMEN'S BOULDERING FESTIVAL 2021