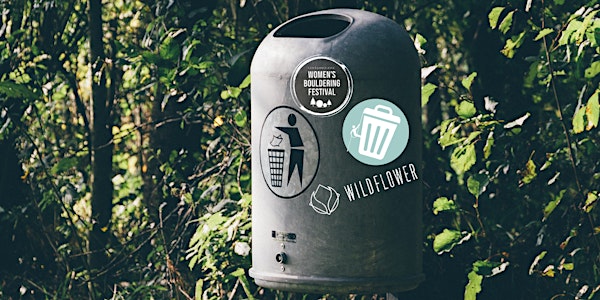 Clean Climber Clean Up with Tiba Vroom | WOMEN'S BOULDERING FESTIVAL 2022
Location
[P] Parking of the cross St. Jerome
Parking de la Croix Saint Jérome
77123 Noisy-sur-École
France
Join Clean Climber and Tiba Vroom for a Fontainebleau Forest Cleanup (crag location tbc soon)
About this event
[version française ci-dessous]
Together with the Clean Climber Foundation and pro athlete Tiba Vroom we invite you to join us for an afternoon of trash picking in the Forest! We will be supported by an officer from the National Forestry Office to find the areas most in need of our attention.
What to bring? Nothing except for clean up psyche! Clean Climber will provide you with gloves, trash bags and trash pickers.
After the clean up, you are invited to join us for a bonfire and refreshments in Grez-sur-Loing at the campsite where the Women's Bouldering Festival takes place.
The clean up is organised by the Clean Climber Foundation in association with Wildflower Climbing.
If you want to do more good for the Forest of Fontainebleau, join us for our Monday Anti-Erosion Workshop with the National Forestry Office.
Thanks and see you soon in Bleau! | MEETING POINT
______________
🇫🇷En collaboration avec la Foundation Clean Climber et la grimpeuse professionnelle Tiba Vroom, nous vous invitons à nous rejoindre pour un après-midi de ramassage de déchets dans la Forêt ! Nous serons épaulés par un forestier de l'Office National des Forêts pour identifier les zones nécessitant le plus notre attention.
Ce qu'il faut apporter? Seulement être motivé ! ! Clean Climber vous fournira des gants, des sacs poubelles et des ramasseurs de déchets.
Après le nettoyage, vous êtes invités à nous rejoindre pour un feu de joie et des rafraîchissements à Grez-sur-Loing au camping où se déroule le Women's Bouldering Festival.
L'action est organisée par la Clean Climber Foundation en association avec Wildflower Climbing.
Si vous souhaitez faire plus de bien à la Forêt de Fontainebleau, rejoignez-nous pour notre Atelier Anti-Erosion du Lundi avec l'Office National des Forêts.
Merci et à bientôt à Bleau ! | POINT DE RENCONTRE