A series of open discussions on the ethics and practices of the full fashion production cycle from the independent creatives doing the work
About this Event
18 - 23 Sep 2020
The past six months has opened the world up to the ugly behind the scene practices of the fashion and creative industries. We are hosting a four-part series of online discussions with independent creatives in fashion who have been exploring processes that put people and the planet first, we will move beyond the topic of "sustainability" and ask our panellists to speak about the different areas of the fashion production process and how we can apply better systems.
How can we make fashion cleaner?
The injustices have been happening infront of us for decades, from cheap labour of garment producers; poor conditions of factories to the damages caused by the media. During the COVID-19 pandemic, we've been exposed to much more - lack of representation; poor contracts amongst freelancers and modern day slavery in the West.
This event is for anyone who is ready to ask the real questions and discuss change.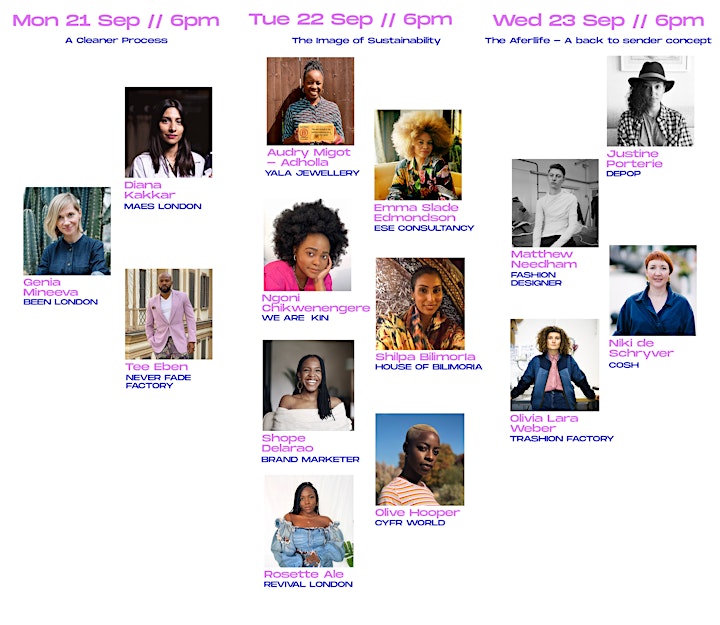 The Full Clean Fashion Schedule
All events will be taking place online from 6-7pm prompt. Recorded sessions will be available to Colèchi members first (membership is free via our website).
A Cleaner Process - From garment production, workers and delivery
Mon 21 Sep 2020 // 6pm
Diana Kakkar// Founder and Director // Maes London
Genia Mineeva// Founder// BEEN London
Tee Eben// Creative Director// Never Fade Factory
The Image of Sustainability - The changing expectations of influencers, media and marketing
Tue 22 Sep 2020 // 6pm
Audry Migot-Adholla // Founder // Yala Jewellery
Emma Slade // Director // ESE Consultancy
Ngoni Chikwenengere//Founder//We are Kin
Olive Hooper// Founder// CYFR WORLD
Shilpa Bilimora//Founder// House of Bilimora
Shope Delano//Brand/content marketer
Rosette Ale // Founder // Revival London
The After Life - A Back to Sender Concept
Wed 23 Sep 2020 // 6pm
Justine Porterie, Head of sustainability, Depop
Matthew Needham // Fashion Designer // Matthew Needham
Niki de Schryver // Director // COSH
Olivia Lara Weber // Creative Director // Trashion Factory
Follow our Instagram for our Clean Fashion Convo series where we will release a video each day.