Town Based weekend Folk Festival only 1 mile from J26 of the M62. Come and join us for a very friendly weekend at this very popular Festival
About this event
Weekend folk festival with concerts, singarounds, musicians sessions in various venues around the town based festival. Street entertainment with Morris dancers and a Family Fun Day on the Sunday - Free entertainment for all the family.
Weekend, Day and Individual Concerts Tickets available now!
Let's make 2022 the best year yet!!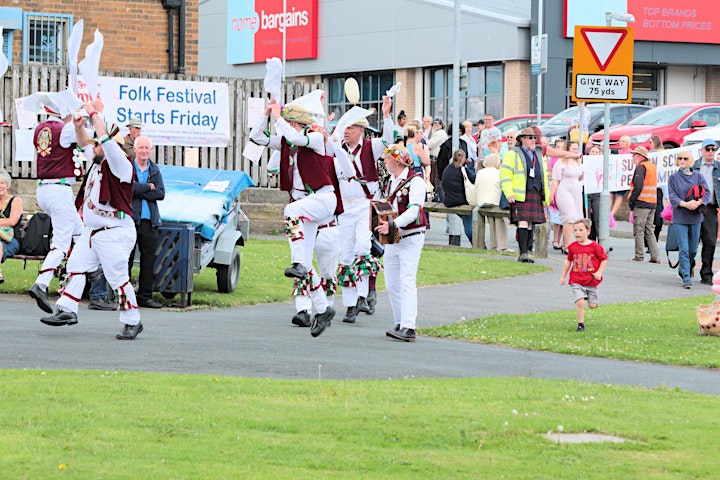 So who's on?
PETER KNIGHTS GIGSPANNER BIG BAND
not to be missed - Sunday Only - Individual Concert Tickets Available now!
BELLA HARDY TRIO
BBC R2 Best Original Song 2012, Singer of the Year 2014 - Saturday Only
COPPER KETTLE
Mick Forsyth has been with us all the way and will be with us all weekend
TOM PERRY AND CLIVE BROOKS
Traditional and Contemporary songs in acapella harmony all weekend
VICKI SWAN AND JONNY DYER
Blending traditional material with contemporary sounds - Saturday only
BOB FOX
"One of the best voices in England" Ralph Mctell - Sunday only
NICK DOW
Songs and Stories from around the globe. Nick will be with us for the whole weekend
PETE NORMAN & KATH CHARNOCK
Enjoy the tunes and harmonies of this amazing duo all weekend.
BOB & GILL BERRY
Once again our Hiring Fair Hosts and with us all weekend in various concerts
STEVE CANAVAN
Songs he's been keeping alive for his Dad and a few of his own will make you laugh and cry all weekend.
IDIOT & FRIEND
The hilarity that is Les Barker & Keith Donnelly for one night only on Friday - Individual Concert Tickets Available
SON OF A GUN
Entertaining us with their lovely songs on Saturday and Sunday
THE WILSON FAMILY
Finishing the Saturday evening Town Hall Concert
THE BROMLEYS
Three fine voices in perfect harmony - Sunday only
BLACK BOX BAND
Saturday afternoon free Ceilidh in the Town Hall
MARIE LITTLE
she could make you laugh or cry but only for one night - Friday only - (Individual Concert Tickets Available)
SI BARRON
"a true aficionado of the genre" (Living Tradition) - All Weekend
JESS & RICHARD ARROWSMITH
Powerful vocals and subtle accompaniments - Saturday only
MONKEYS FIST
Shanties, Forebitters and songs of the sea - All Weekend
KIMBERS MEN
"UK's Finest Sea Shanty Band" - Fri. 1st & Sat 2nd July
PETE COE
" A one man Folk Industry" - Sat. 2nd & Sun 3rd July
DEN MILLER
winner of our 2019 Hiring Fair - All Weekend
Organiser of CLECKHEATON FOLK FESTIVAL 2022
Cleckheaton Folk Festival Organisation is a "Not For Profit" Limited Company whose aims are to present a weekend of music and entertainment in and around the town of Cleckheaton, West Yorkshire. Now in its 33rd year the festival has built from humble beginnings to the current 3 day event. Our enthusiastic committee feel that we present a balanced programme of music, dance and street theatre - but don't take our word for it - 'cause we're biased - come and see for yourself and enjoy the warm, friendly welcome that we have to offer.