Clever Monkee Comedy Festival 5th December 2020
About this Event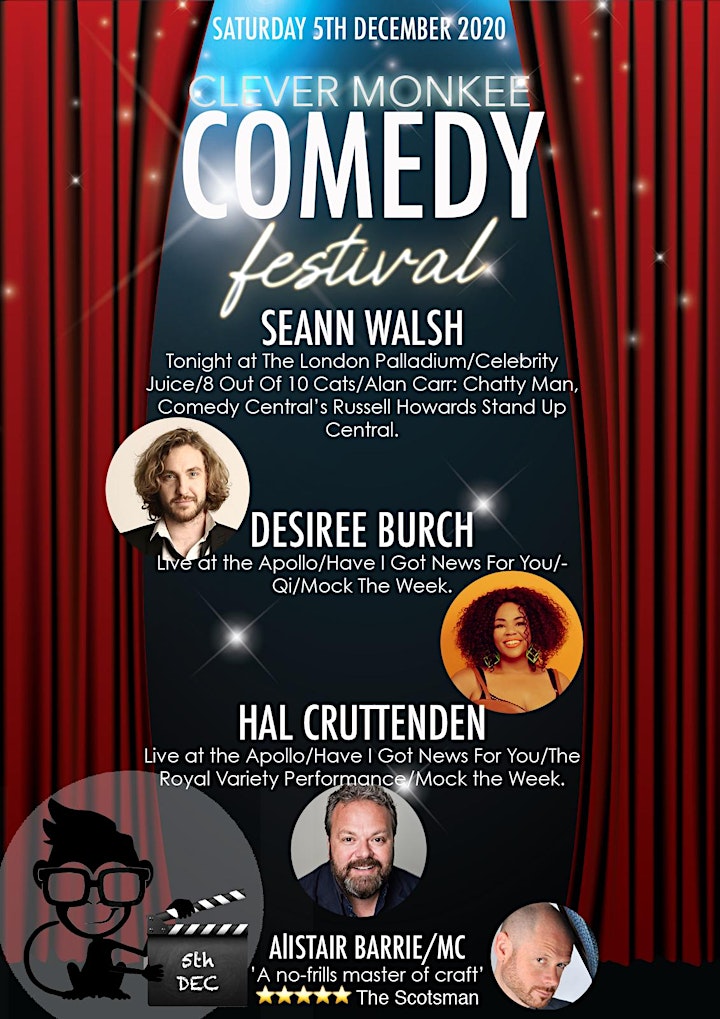 Clever Monkee Comedy Festival
A COVID-19 Secure, Socially Distanced Performance and Venue
Saturday 5th December 2020
* Seann Walsh
* Desiree Burch
* Hal Cruttenden
With resident MC Alistair Barrie
Venue: East of England Arena, Peterborough
SatNav: PE2 6HE
Arrival Time: 18:00
Please arrive promptly due to COVID social distancing measures.
This is an over 18 event. Under 25? Please be prepared to show proof of age if asked by a member of staff
Disclaimer:
The views and opinions expressed by the Comedians at this event do not reflect the views and opinions of Clever Monkee Ltd or their employees.
Refund Policy:
Tickets are non-transferable and non-refundable within 30 days of the event except on cancellation or postponement of the event due to new COVID-19 guidelines or any unforeseen circumstances. Eventbrite fees will be refunded if this occurs
Our Local Food Vendors
Due to COVID-19 measures, we are operating table-service food and drink.
Whilst drinks can be bought on the night we are operating a pre-order food service only.
No food or drink can be brought into the Arena.
No food will be sold on the day.
For this reason, we bring you a choice of two local food vendors per night:
Road Dogs - Cambridge
Road Dogs was born from our love of "sausage" and always finding poor quality hot dogs anywhere we went. After a lot of sausage sampling we finally came across a small independent butchery who make all of our pork & beef franks by hand.
Uncle G's Chicken - Enfield
https://www.facebook.com/uncle.gs.gourmet.fried.chicken/
Uncle G's is all about our buttermilk, gluten-free chicken. made fresh and all my own recipe
Uncle G's is all about non-GMO products. Everything is 100% homemade with no artificial flavors and strictly NO MSG and is gluten Free
We are very passionate about our food. It is prepared with TLC (tender loving chicken)...the proof is in the taste. Our chicken is marinaded in 15 herbs and spices and in buttermilk and is open fried to give it that lovely crispy coating.
Thursday 3rd
Saturday 5th
The Big Butty Bar - Hertfordshire
https://www.thebigbuttybar.co.uk
Dubai, 2014 is where our story began. We met as teachers in a large international school and instantly bonded over our love of nostalgia and a passion for good food.
Travelling the world became a priority and we soon found ourselves in the four corners of the globe sampling all manner of eateries. Somewhere between gnocchi in Italy and dim sum in Hong Kong, we realised that there was one dish that we always craved... the chip butty.
Ask your friends and you'll find that the chip butty clearly holds a place in many hearts but despite this, we couldn't find a menu dedicated to this classic. So, we decided to make our own and The Big Butty Bar concept was born. We packed up our Dubai lives, said goodbye to our glitzy high rise views, shipped Katie's beloved rescue cat across continents and braved the launch of The Big Butty Bar in the home of the chip butty itself, Great Britain.
Please purchase your food when you buy your admission tickets.
COVID-19 measures
The Clever Monkee Comedy Festival team are working closely with Public Health England, local authorities and the East of England Arena & Events Centre to ensure the safest possible experience for all attendees in light of the COVID-19 pandemic.
The East of England Arena & Events Centre has already held 2 successful outdoor events this summer and welcomed 17000 people through its doors. No COVID-19 cases were present and the venue's work has been highlighted nationally for its success in this field.
The Clever Monkee want to assure you that your safety is of paramount importance to us and we will be implementing the following measures:
Regular liaison and meetings with Public Health England in the lead up to the event and each night of the festival
The Main Hall is very large and enables us to enforce social distancing very easily
One way system in place to speed up access and egress and to maintain social distancing.
One Entry, One Exit for all attendees
Face masks must be worn on entry and exit to the arena, in public areas and in toilets. This is not obligatory when seated at your table eating and drinking but we will ask you to wear it when moving around the arena.
All attendees are subject to track and trace and checking in at the entrance using the NHS QR code check-in system
We will be operating with extra security and staff to control social distancing and ensure the safety of all attendees.
To ensure hygiene we will fog (sanitise) the seating and toilets every night.
We are supplying a large free car park to accommodate all attendees allowing groups to maintain isolation upon arrival 
We are enforcing a maximum of 6 per party to adhere to government guidelines but are not forcing smaller groups to sit with others.
Those who are within a self-isolating period following a trip to a restricted country
should not under any circumstances attend the show. Guidance below:
https://www.gov.uk/uk-border-control
Under no circumstances should anyone with COVID 19 symptoms attend the event. If you have Coronavirus symptoms:
A high temperature
A new continuous cough
A loss of, or change to, your sense of smell or taste.
Get a test and stay at home.