Description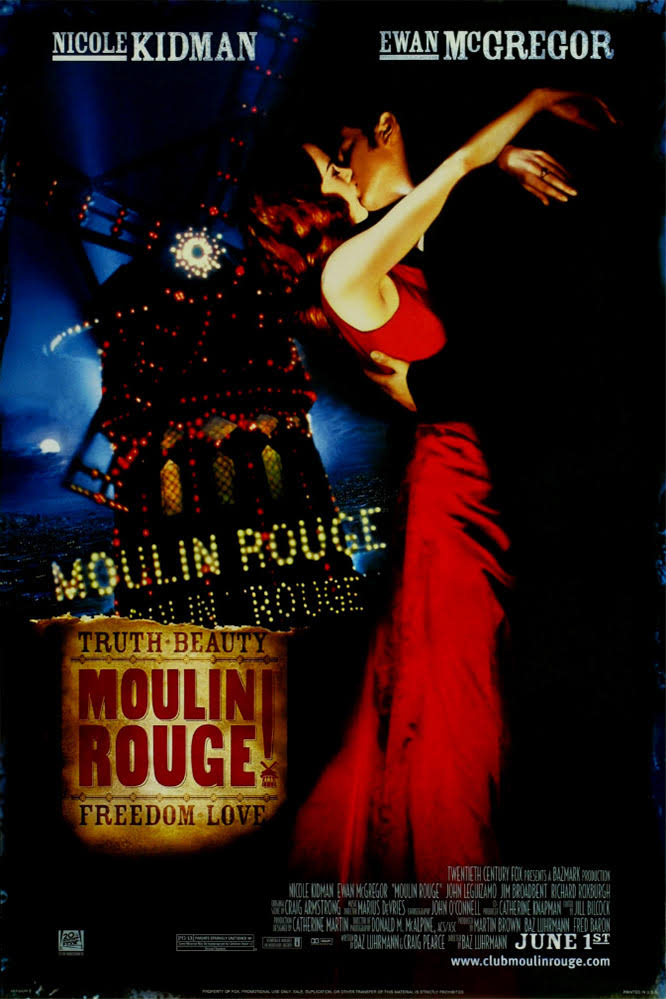 The year is 1899, and Christian, a young English writer, has come to Paris to follow the Bohemian revolution taking hold of the city's drug and prostitute infested underworld. And nowhere is the thrill of the underworld more alive than at the Moulin Rouge, a night club where the rich and poor men alike come to be entertained by the dancers, but things take a wicked turn for Christian as he starts a deadly love affair with the star courtesan of the club, Satine. But her affections are also coveted by the club's patron: the Duke. A dangerous love triangle ensues as Satine and Christian attempt to fight all odds to stay together but a force that not even love can conquer is taking its toll on Satine...
We want to bring the Cliftonville community together, eat popcorn & hot dogs, and enjoy the unique atmosphere of an outdoor cinematic experience! This is our last movie of the season and our final fundraising opportunity, we are asking for a minimum donations of £1 on ticket price plus eventbrite fees so that we can continue to bring movies to the Oval bandstand in 2020 this is due to site hire fees and movie licensing fee.
PROGRAMME
7:15pm - Doors open (food and drink available)

8:30pm - Moulin Rouge

11pm - event closes
FOOD + DRINK
The GRASS Bar will be onsite serving a full selection of alcoholic and non-alcoholic drinks including beer, prosecco, wines, spirits and soft drinks. Hot drinks will also be available at the bar. Hotdogs and popcorn and selection of treats.
DECKCHAIRS
Deckchair tickets are £5 and are non-refundable.
FOR YOUR OWN SAFETY AND ENJOYMENT WE ASK YOU TO PLEASE FOLLOW THE BELOW:
Bring something to sit on (blanket or picnic chair). Strictly No alcohol to be taken in to the outdoor cinema. A licensed bar will be available on-site.

**Please note that all under 18's must be accompanied by an adult.** we are unable to accommodate infants and babies at the showing under 12 years will not be permitted.

Tickets are non-transferable and that the person named on the ticket must be in attendance and you may be asked for ID.
In the event of bad weather the event will may be cancelled - please check the forecast and come prepared.

Please note that it can turn chilly in the evenings, so please make sure you bring suitable clothing.


Although all our site is lit, it is recommended that you bring a torch to provide localised lighting.


No naked flames, BBQ's, gas stoves or candles.


No tents, gazebos, parasols or pop-up structures.


No dogs or pets (except guide dogs).


Glass is not permitted onsite – please ensure all drinks are in plastic/cans and consumed from plastic drinkware.


Please follow steward instructions, and abide by the designated seating areas.


In most venues a central pathway is created within the arena. Please leave this clear to enable other audience members to move around within the arena.


Medical Staff are present at all events. If you become unwell at one of our events please contact your nearest Steward.


If you wish to smoke, including e cigarettes, you need to leave the arena, you will be readmitted afterwards, and please be courteous of other audience members.


Please place all rubbish into the bins provided or take it away home with you.


Any drinks purchased at the GRASS bar / onsite must be consumed within the event site.


No umbrellas are permitted during the screening (except at management discretion).


Please take note of the film certification when purchasing tickets. The film certification is strictly enforced at Ticket Check. ID will be required for those patrons who look under the age of the film certification.


The GRASS Bar operates a Challenge 25 Policy. If you look under 25 please do not be offended if we ask you for proof of age when you purchase alcohol. Please bring proof of ID to show you are over 18. Please don't be offended if you are asked for ID.


Credit/Debit Card Machines are operated by GRASS for The GRASS Bar. Please note these are subject to suitable mobile coverage on the site and payment by card cannot be guaranteed.


Please note GRASS can not be held liable or responsible for any damage to vehicles or personnel possessions whilst attending any of our events.
Please note failure to comply with any site rules could result in refused entry or immediate removal from the event.