Event Information
Location
Conway Hall
25 Red Lion Square
London
Wc1r 4rl
United Kingdom
Description
Prof. Dr. Guy R. McPherson European Tour 2015
Abrupt climate change is under way. Earth has warmed only 0.85 C since the Industrial Revolution began, but considerable evidence points toward increasingly rapid warming in the near future. For example, industrial civilization has produced more than twice as much atmospheric carbon dioxide since 1970 as before that time. In addition, atmospheric methane has joined carbon dioxide as a major contributor to planetary warming. It appears the much-dreaded "clathrate gun" has been fired in the Arctic Ocean.

This presentation presents evidence regarding abrupt climate change and poses a few questions for consideration: Shall we respond to anthropogenic climate change? If so, how? What tools can be employed by society to positively alter the future? What role do individuals play? How shall we live in light of this information?

Various talks on subjects: Climate Change, Environmentalism, Sustainability
Speaker's: Professor Emeritus of Natural Resources and Ecology & Evolutionary Biology at University of Arizona, Guy McPherson, Others being arranged.
Speakers Confirmed : Guy McPherson
George Barda
Asad Rehman
Alison Kay Booden

FAQs
How much will the ticket price for this event be?

We are doing our best to keep this event as free as possible, so we will not be asking for you to buy ticket's. We will instead be accepting donation's on the day at the end of the event should you wish to do so.
Do I have to bring my printed ticket to the event?
No. We are purely using this ticket system to get an idea of the amount of people who wish to attend for us to use in booking the venue.
Where can I contact the organiser with any questions?
Contact Lee the organiser by email - la-nelson@hotmail.co.uk with the title "GP2015"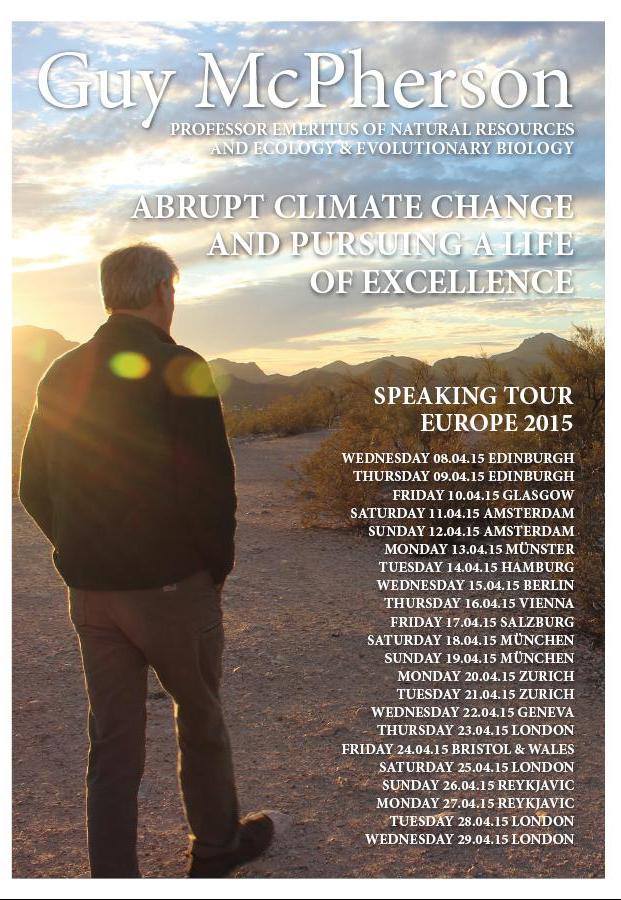 Date and time
Location
Conway Hall
25 Red Lion Square
London
Wc1r 4rl
United Kingdom