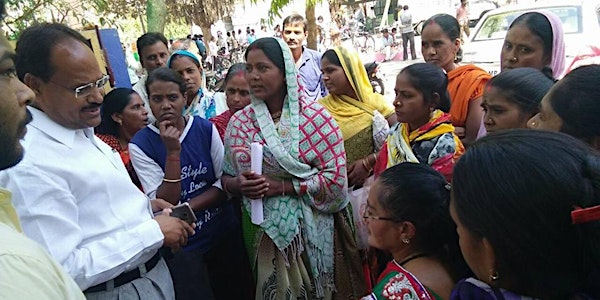 Climate change, health and well-being for cities and informal settlements
Description
Join IIED on the evening of 9 July for a panel discussion:

Climate change, health and well-being for cities and informal settlements in the Global South
Around a billion urban dwellers live in informal settlements ('slums') that lack the basis for good health. Most residents of informal settlements are denied safe, reliable water and sanitation; nor can they access adequate shelter, energy, or healthcare. These settlements are often found in areas at elevated risk of landslides, floods, or other extreme weather events, but they lack provision for emergency services or risk-reducing infrastructure. Climate change may only amplify the entrenched poverty and multiple health risks in informal settlements.
Very little is currently known about the complex health problems and key priorities of residents in informal settlements. Conventional sources of health data, such as Demographic and Health Surveys, are too aggregated to reveal the particular challenges in informal settlements. Meanwhile, vital registration systems and hospital records rarely function in cities of the Global South. As a result, the data that should galvanise action are unavailable and cannot inform more inclusive strategies.
This panel discussion will offer new insights into health and well-being in informal settlements, including the risks posed by climate change. Dr Siddharth Agarwal will analyse health problems in Indian informal settlements, as well as community-led strategies to support health and enhance local governance. Dr Sari Kovats will discuss the additional health risks linked to climate change, and Dr David Satterthwaite will summarise what we do know about urban health issues in informal settlements.
With speakers:
Siddharth Agarwal
Dr Agarwal is a physician with extensive research and programming experience in community empowerment, urban health, planning, and global public health policy. He is director of the Urban Health Resource Centre (www.uhrc.org), an Indian non-profit organisation working to foster health and well-being in partnership with communities and government officials. He is Adjunct Faculty at Johns Hopkins Bloomberg School of Public Health; since 2008, he has served on the Executive Board of the International Society of Urban Health and as the Society's President from 2010-2011.
Sari Kovats
Dr Sari Kovats is Associate Professor at the London School of Hygiene and Tropical Medicine (LSHTM), and she has researched the effects of weather, climate, and climate change on human health for over 20 years. She currently serves as Director of the NIHR Health Protection Research Unit (NIHR HPRU) in Environmental Change and Health, led by LSHTM in partnership with Public Health England, the Met Office, University of Exeter, and UCL. HPRU's research is analysing the health effects of large-scale changes in our environment and evaluating public health responses to address climate change. Additionally, Dr Kovats was the co-Coordinating Lead Author for Chapter 23 on Europe for the IPCC's Fifth Assessment Report (2014) and co-authored the evidence review of the UK's Second Climate Change Risk Assessment Chapter 5 'People and the Built Environment' (2016).
David Satterthwaite
Dr Satterthwaite is a Senior Fellow in the Human Settlements Group at IIED, where he has worked since 1974. He has collaborated closely with institutions in Africa, Asia and Latin America, mainly on issues of urban poverty, housing, health, environment and urban development. He is particularly interested in what causes and underpins the vulnerabilities of low-income groups to environmental hazards, including extreme weather events. Additionally, he served as co-Coordinating Lead Author for Chapter 8 on 'Urban Areas' in the IPCC's Fifth Assessment Report. He is the editor of Environment and Urbanization, visiting professor at UCL's Development Planning Unit, and recipient of the Volvo Environmental Prize (2004).

The discussion will be followed by a Q&A with the panel.
Chair: Alice Sverdlik, Researcher, IIED Human Settlements group
Following the discussion we'd invite you to join us for a networking event with refreshments provided.
For any queries about the event, contact Alex at alexandra.norodom@iied.org.
Organiser of Climate change, health and well-being for cities and informal settlements
IIED is a policy and action research organisation. We promote sustainable development to improve livelihoods and protect the environments on which these livelihoods are built. We specialise in linking local priorities to global challenges. IIED is based in London and works in Africa, Asia, Latin America, the Middle East and the Pacific, with some of the world's most vulnerable people. We work with them to strengthen their voice in the decision making arenas that affect them — from village councils to international conventions.