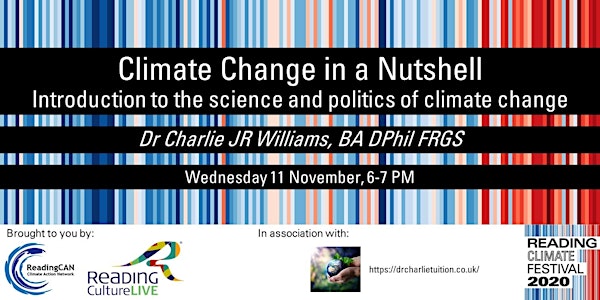 Climate Change in a Nutshell (brought to you by Reading Culture Live)
Public-friendly introduction to climate science and climate change, covering the science, impacts and politics of climate change.
About this event
In this light-hearted but also serious lecture, a brief and public-friendly introduction to climate science and climate change will be given. The talk will cover all aspects of climate science, including both physical science and social science. The talk will begin with an introduction to the climate system, and will then look at present-day climate variability, natural climate change in the deep past and possible future scenarios under human-induced climate change. Adaptation and mitigation methods will then be introduced, and lastly the political side of climate change will be addressed.The talk will be a highly-condensed synopsis of a 10-week course, run by the speaker, which can be delivered either in groups or on a one-to-one basis by bespoke private tuition. The speaker has been working in academia as a Climate Scientist for over 15 years, currently employed as a Research Fellow at the University of Bristol and with a Senior Visiting Research Fellow position at the University of Reading. He is also a part-time tutor at the University of Oxford, where he teaches the aforementioned 10-week course, as an evening class in Climate Science.