Description
Emmanuela Yogolelo and Samuella Ganda will creatively engage the audience in a conversation about climate justice activism, using music and other art forms to narrate their opinions.
They will be joined by artist-activist Kooj Chuhan and researcher-writer Alex Randall for a thought provoking discussion about the ways in which colonialism, conflict, race and migration connect with climate change, the Democratic Republic of the Congo (DR Congo) and people arriving from there to the UK.
Suitable for 12+
Booking via Eventbrite
Online only event: live streamed on PHM's YouTube channel, joining details will be sent by email one hour in advance of session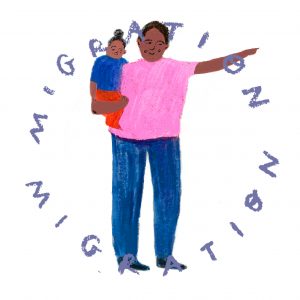 Part of PHM's programme exploring migration, co-created by a Community Programme Team made up of people whose lives have been shaped by migration.
About the organisers:
Emmanuela Yogolelo
Emmanuela is a singer-songwriter, music facilitator, cultural leader and producer originally from the world's second largest tropical rain forest, the Congo basin. Her interest in climate justice activism started when she was commissioned by HOME in Manchester to create and perform a new interactive performance as part of the annual Horizons Festival. She chose to use her personal experience of climate change as a refugee and third world citizen to create an interactive performance.
Samuella Ganda
Samuella is a singer-songwriter, plays piano and has written a song about climate change. She is one of the upcoming and talented young musicians in Manchester's local African community, who are provided with artistic and professional development support from Amani Creatives, an African led arts organisation based in Manchester.
Kooj Chuhan
Kooj (Kuljit Singh) Chuhan is the Director of Crossing Footprints, an organisation connecting creativity with issues of human rights, environment and wellbeing. As a digital artist, filmmaker and creative producer, Kooj artistically interweaves racial justice with climate change. He is also the founding member of artist collective Virtual Migrants. Kooj has won an award for digital arts connecting refugees with climate change, and curated the exhibition Footprint Modulation on climate migration across five venues in Durham. Other work includes Chamada From Chico Mendes, interactive art combining documentary, poetry and sound from across the world, and Buy This, a two screen interactive video installation connecting over consumption, human displacement and environmental destruction.
Alex Randall
Alex is the Programme Manager for both Climate Outreach and the Climate and Migration Coalition; a network of refugee and migration Non-Government Organisations (NGOs) working together on issues around climate change. Alex was lead author on the Moving Stories report, which explores the real lives of people displaced by climate linked disasters. He has written frequently for The Guardian newspaper and other outlets on climate change and migration.
People's History Museum (PHM) is a registered charity. PHM relies on income from a variety of sources to keep the museum open and deliver exhibitions, events and projects.
This event is free at the point of booking but we ask attendees to make a donation via our online donations page if they are able to. By making a donation you help us to continue to share ideas worth fighting for such as equality, democracy and co-operation.
Please contact the museum as soon as possible if you wish to cancel your booking so your place can be given to another visitor
For further information please contact the museum on 0161 838 9190 or events@phm.org.uk
Organizer of Climate Change, Migration and DR Congo – online
People's History Museum (PHM) in Manchester is the national museum of democracy, telling the story of its development in Britain: past, present, and future.  The museum provides opportunities for people of all ages to learn about, be inspired by and get involved in ideas worth fighting for; ideas such as equality, social justice, co-operation, and a fair world for all.