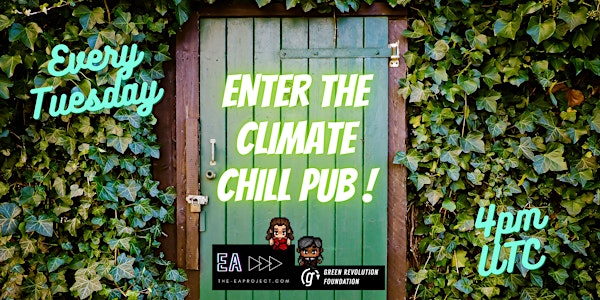 Climate Chill - The 2D Virtual Pub for Online Networking Events for all
Congratulations you've found The Climate Chill Pub! One rule : Bring a drink and chill! Meet like-minded people around the globe & in 2D!
About this event
Create your 2D avatar and join us every Tuesday for drinks and informal chats, board games and more...
Tuesday gatherings = Priority for those who register!
🌴 Welcome to The Climate Chill Pub 🌍, a place to connect with like minded people and recharge in a warm and friendly atmosphere.
No depressing news about climate change here!
1. Leaders & experts who don't take themselves too seriously and
2. Curious citizens wanting to learn more about Sustainability and discover what's going on behind the scenes
👍 One rule: Bring a drink and CHILL!
(Oh and our legal department is asking me to add that you have to be aged 13 or over to join...okay Karen)
Our story:
Chantal Amador, founder of The EA Project (Events for Action) contacted Attila Suba, Founder of The Green Revolution Foundation (working on launching the first Coffee Shop for Climate Action in Amsterdam, a real one this time) in 2021 to invite him to join The Circular Society Network, and pitch during the opening virtual event of The EA Project in October 2021.
The EA Project hosts virtual events every month, to promote The Circular Society Network's Sustainable and Circular Projects or Innovations, while matching attendees together in small networking groups based on their needs and expertise to facilitate meaningful connections and accelerate our transition towards a more Sustainable and Circular Society. You can follow our Organizer page to be updated.
The EA Project obtained an interview with partner Quota.Media to promote The Green Revolution Foundation and has matched Attila with several participants since.
Attila is a regular participant to The EA Project's monthly virtual events (visit https://the-eaproject.com/ ) and Chantal met him in person at COP26 (see picture below).
Regularly in touch, they are more friends than anything else today.
But meeting each other or calling each other only for work is frustrating. Even if there is a climate emergency, we need to take care of ourselves too.
This is why Chantal created a place and a concept for people to chill and take time to meet up with their friends and make even more friends sharing the same values.
For adults only, students are welcome too.
By participating you attest being 13 minimum (legal age to participate).
See you soon!
Attila and Chantal