A joint ZOOM meeting by Wandsworth and Twickenham & Richmond UNA to assess the Climate Crisis in relation to our Oceans and Food Security
About this Event
Chairs: Rob Storey (Chair of UNA Wandsworth) and Rene Smit (Chair of UNA Twickenham and Richmond)
Hosted by Clive Wilson - Chair of UNA Harrogate Branch
Clive is Author of "Designing the Purposeful World – the Sustainable Development Goals as a Blueprint for Humanity" & "Designing the Purposeful Organization – how to inspire business performance beyond boundaries"
Guest speakers:
Dr Gonzalo Alvarez - Marine Biologist and Oceanographer (Chair of UNA Climate and Oceans)
Dr Alan Bullion - Director of Special Reports and Projects for IHS Markit Agribusiness Intelligence in London.
PROGRAMME
7. 00 – 7:15 pm Zoom participants sign in
7: 15pm (official start). Clive Wilson outlines the object of the meeting and what's ahead.
7: 20 pm Presentation 1: Gonzalo Alvarez, DTh, BSc, BA Hons, "Climate crisis: Can the blue Planet survive? - human impacts on the atmosphere - oceans - cryosphere".
7:50 pm Q/A session 1
8: 10 pm pm Presentation 2: Alan Bullion PhD, " Climate crisis: Global Food Security".
8. 40 pm Q/A Session 2
9:00 pm Final remarks by Speakers
9.10 pm Chairs and Host thank both Speakers. Meeting Closes.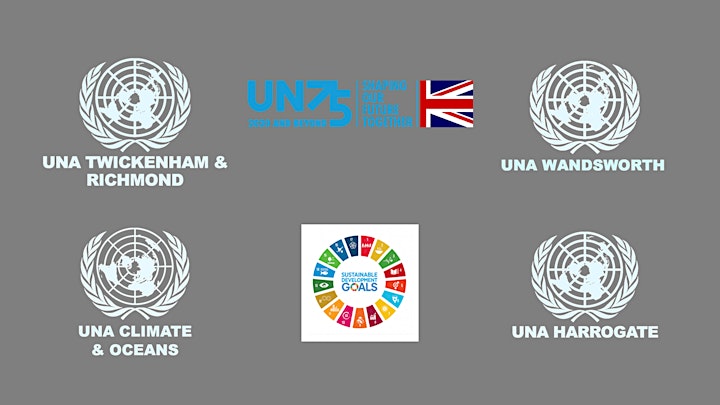 SPEAKERS:
Dr Gonzalo J. Alvarez, DTh, BSc, BA Hons is a Marine Biologist and Oceanographer and has been part of Scientific research teams on Climate and Oceans in the South Pacific (UNDP Programme) (early 1990s). He has led International Teams regarding Community Projects in Coastal Communities in Latin America and the Caribbean (1992 - 2001). During that time, he was also a member of International Human Development Forums in New York, London, Singapore, Wales, Jerusalem, Chile, Cuba, and Argentina.
Gonzalo Alvarez has qualifications from the University of Cambridge (2000) Universidad de Concepción (Chile) (1989), Middlesex University (2004) and has further studies on Management at the London School of Economics (2010). More recently he has done further Scientific Studies with The Open University (2020). Between 2005 and 2007 he was a Lecturer in Bioethics at Universidad del Mar, Chile.
In 2018 Gonzalo was Co-Chair of the Ocean Symposium in Hastings (St Mary in the Castle),and in 2019 he was Co-Chair of the Ocean Symposium at the Centre for Aquatic Environments, University of Brighton. In 2019 he was Chairman of the Sustainability on Sea Symposium at the Hastings Museum. He has been Chairman of the different Teams organising these important Scientific events. In 2020 he was appointed as Chairman of the United Nations Association Climate and Oceans.
Gonzalo Alvarez is also a member of the Sussex Marine and Coastal Forum where he interacts frequently with different UK Government Agencies, Universities and regional NGOs, providing intelligence about the UN and Global Affairs. Gonzalo is also a frequent Speaker and Panellist on Climate and Oceans for UNA events and different Community groups, including more recently an online international presentation for UNA Sweden (Malmo). He is also a Committee member of UNA London and South East Region.
During his spare time Gonzalo enjoys reading, countryside walking, kayaking, sailing, drawing, and listening to classical music.
Dr Alan Bullion who writes for an international agricultural journal, will give a global perspective, highlighting waste and inequalities and ways to achieve sustainability. Alan has written on food and agricultural issues for over 21 years. He is the Director of Special Reports and Projects for IHS Markit Agribusiness Intelligence in London. Over the years he has written on Asian agriculture, organics, biofuels, food security, and spoken across the world and these and many other issues. He did his PhD on Sri Lanka and his first degree was with the Open University. Alan lives in Tunbridge Wells where he is a Lib Dem town councillor and also treasurer of the local UNA branch. He has also stood for parliament several times, including Hammersmith and Fulham in 2005.