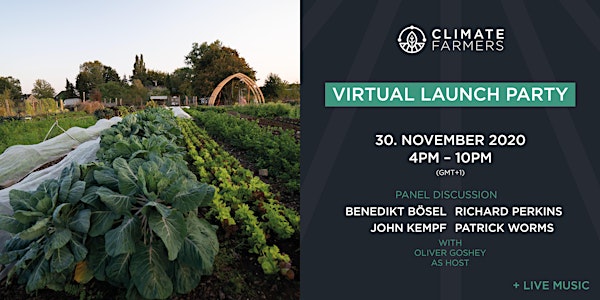 Climate Farmers Launch Party
Welcome to the Climate Farmers Launch Party! After months of preparation, love, sweat and tears (of joy) Climate Farmers has become reality
About this event
Welcome to the Climate Farmers Launch Party!
After months of preparation, love, sweat and tears (of joy) Climate Farmers has become reality on 15.11.2020.
We want to celebrate this special moment with you on the 30th of November. With all those who supported us, everyone that shared their thoughts & ideas with us and especially those that we will still get to know in the future.
In case you are wondering, what is "Climate Farmers?"
We are part of a movement for a sustainable ecosystem, by building the infrastructure for regenerative agriculture. Regenerative Agriculture plays a central role in preventing ecosystem collapse, and the potential reversal of climate change.
Till now less than 1% of European farmers are regenerative. With Climate Farmers you can learn about this form of agriculture and join us promoting a large-scale change in agriculture towards more regenerative approaches.
Want to explore our vision?
Check www.climatefarmers.org
Back to our Monday night together ;)
Since our project was born into these strange times and we can not meet in person, we decided to see this limitation as an opportunity.
Normally an event takes place in one corner of the world and those that are not there, just miss it. Not this time!
As our vision is global, we searched for a way how everyone can participate.
And we found it with our friends from www.gather.town.
In gather.town you can walk with your personalised avatar around a virtual world [lofi 2D Gameboy Design] and discover what gems we have hidden for you.
When you are getting closer to the avatar of another guest, you will have the option of a video call together. You can choose to enter calls with two or more people and get to know each other or to simply continue walking. It is just like in real-world parties, but without a backstage and without a line in front of the bathroom.
The hand-picked program we prepared for you :
Lobby/Social Room
As in real life, this is the room for arriving, taking a look, grabbing a drink, just casually chatting with each other and getting back to social life after all this isolation time.
4-4:40 pm - Meet the Climate Farmers team in the bar area:
Two of our core members will sit at each table in the bar and you can join us, ask questions and get to know our team. (we are always happy about your feedback)
4:40 - 5 pm - Welcome and Climate Farmers presentation
5 pm-6 pm - Panel discussion in the keynote stage room:
The yield of our keynote field looks very promising, as we have the honour to have some of the leading actors from the global regenerative agriculture scene join us:
Panel Members:
John Kempf (USA), founder of Advancing Eco Agriculture and host of the Regenerative Agriculture Podcast
Benedikt Bösel (GER), managing director of Gut&Boesel, board member Soil Alliance, Chairman AgTech platform Bundesverband Deutsche Startups e.V.
Richard Perkins, co-owner and director of Ridgedale Farm and leading expert on regenerative agriculture in Europe
Patrick Worms, Senior Science Policy Advisor at World Agroforestry - ICRAF, President at European Agroforestry Federation
Hosted by Oliver Goshey, Host of the Abundant Edge Podcast and team member Climate Farmers.
You can join the panel directly via Zoom: https://us02web.zoom.us/meeting/register/tZwkduChqjIsH9XS5f65lCu55M76Ne7cL2dH
6-10 pm Dance Floor in the Bar area:
For the rest of the night, you can join the Dancefloor via Zoom and tune into DJ sets by befriended musicians and as there are no real-life gigs, we could cherry-pick!
This time we might not be able to dance together in person and the warm feeling of a physical club cannot be replaced by a video stream. But the spirit is alive. New seeds grow and the only place we want the temperature to rise is on the dance floor.
So let's press play together, put some cold drinks in the fridge, dress up and have a party.
Climatically Farmed Music by:
6 pm-7 pm Monsieur Mango b2b Terry Benedikt (Foz da Cova, Portugal)
https://soundcloud.com/monsieur_mango
https://soundcloud.com/terrybenedikt
7 pm-8 pm Marcel Puntheller (Heidelberg, Germany)
https://soundcloud.com/marcelpuntheller
8 pm - 9 pm 1 One Girl one Klaus (½ two girls one club + ½ eigentlich heißen wir klaus)
https://soundcloud.com/future-one-1
https://soundcloud.com/eigentlichheissenwirklaus
https://soundcloud.com/2girls1club
9pm-10pm Elizen und der Wolf (Elizen the Emperor + Raulito Wolf )
https://soundcloud.com/elizentheemperor
https://soundcloud.com/raulito-wolf
Looking forward to meeting new and familiar faces, getting inspired, talking and dancing away together.
Let's build a regenerative future together!
with love, your
Climate Farmers Family
[Protip: For the best experience we recommend using Chrome, Iron or Mozilla Firefox as Browsers.]