Event Information
Refund policy
Contact the organiser to request a refund.
Eventbrite's fee is nonrefundable.
An invitation to explore the roles and perspectives appearing for us in relation to our changing climate and building a fairer future
About this event

This online forum is a space to explore Climate Justice, the interconnections between what is happening locally and globally, and how you can help build a more equitable future.
Guest speakers will provide short introductions, followed by a facilitated conversation we can all take part in; welcoming views and insights from all, noticing and learning about the feelings and ideas that emerge.
There will be a space for smaller group conversations in break out groups to support the opportunity for you to speak, be heard and connect.
We will explore: How do we look to the future whilst also acknowledging the strong feelings connected to climate injustice? How do we ensure that those who are most impacted by our changing climate shape the future? How do we all create a future that is more equitable that enables just transitions that utilise the creativity and contributions of all? What are some of the visions for more just ways forward?
Our Speakers: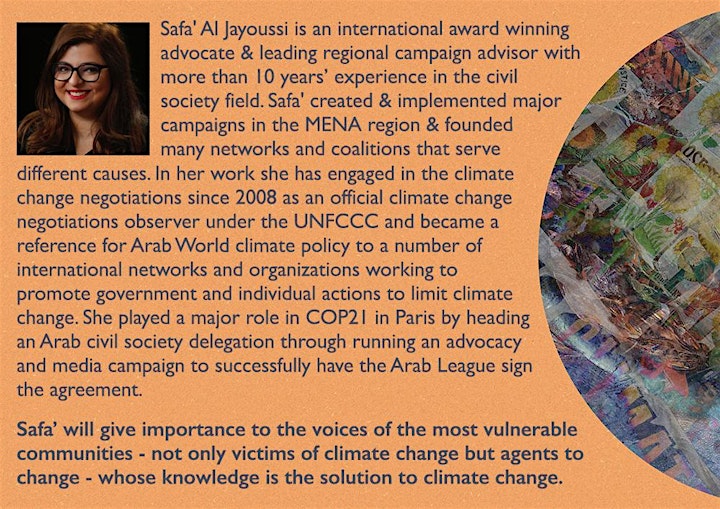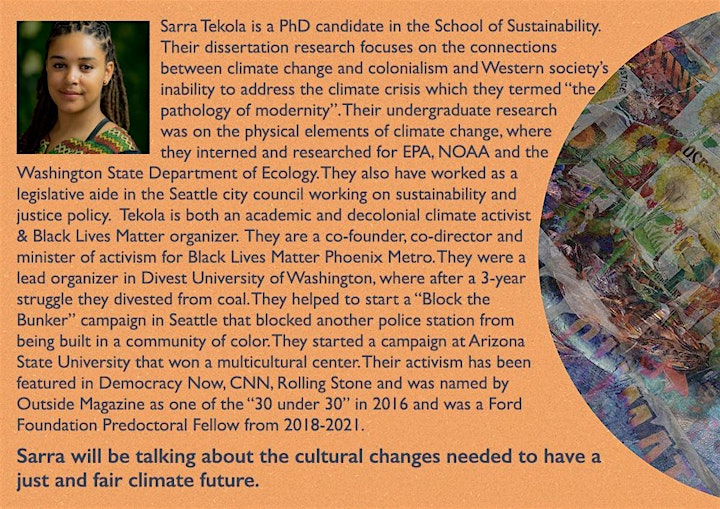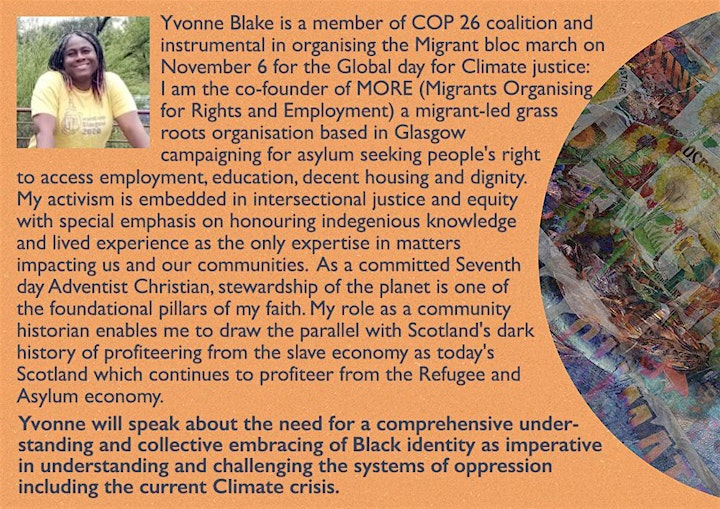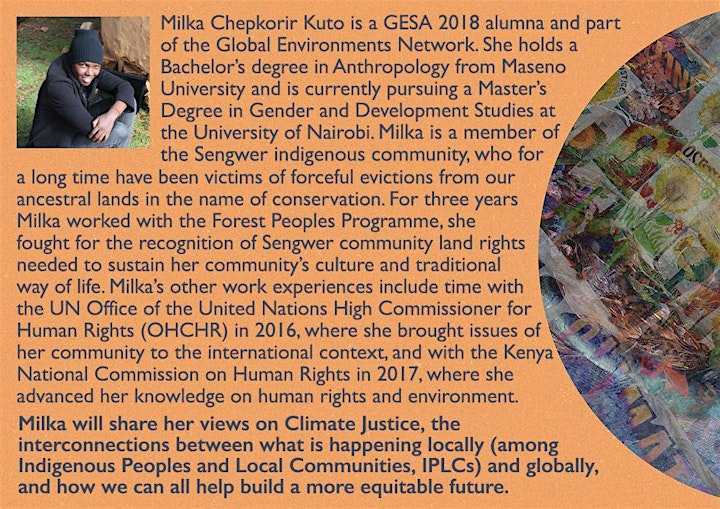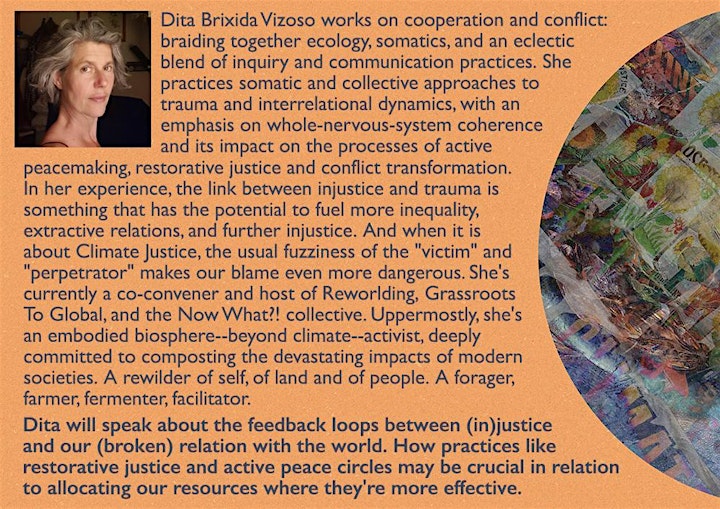 Safa' Al Jayoussi is an international award winning advocate & leading regional campaign advisor with more than 10 years' experience in the civil society field. Safa' created & implemented major campaigns in the MENA region & founded many networks and coalitions that serve different causes. In her work she has engaged in the climate change negotiations since 2008 as an official climate change negotiations observer under the UNFCCC and became a reference for Arab World climate policy to a number of international networks and organizations working to promote government and individual actions to limit climate change. She played a major role in COP21 in Paris by heading an Arab civil society delegation through running an advocacy and media campaign to successfully have the Arab League sign the agreement. 
Safa' will give importance to the voices of the most vulnerable communities - not only victims of climate change but agents to change - whose knowledge is the solution to climate change.
Sarra Tekola is a PhD candidate in the School of Sustainability. Their dissertation research focuses on the connections between climate change and colonialism and Western society's inability to address the climate crisis which they termed "the pathology of modernity". Their undergraduate research was on the physical elements of climate change, where they interned and researched for EPA, NOAA and the Washington State Department of Ecology. They also have worked as a legislative aide in the Seattle city council working on sustainability and justice policy.  Tekola is both an academic and decolonial climate activist & Black Lives Matter organizer. They are a co-founder, co-director and minister of activism for Black Lives Matter Phoenix Metro. They were a lead organizer in Divest University of Washington, where after a 3-year struggle they divested from coal. They helped to start a "Block the Bunker" campaign in Seattle that blocked another police station from being built in a community of color. They started a campaign at Arizona State University that won a multicultural center. Their activism has been featured in Democracy Now, CNN, Rolling Stone and was named by Outside Magazine as one of the "30 under 30" in 2016 and was a Ford Foundation Predoctoral Fellow from 2018-2021.
Sarra will be talking about the cultural changes needed to have a just and fair climate future.
Yvonne Blake is a member of COP 26 coalition and instrumental in organising the Migrant bloc march on November 6 for the Global day for Climate justice: I am the co-founder of MORE (Migrants Organising for Rights and Employment) a migrant-led grass roots organisation based in Glasgow campaigning for asylum seeking people's right to access employment, education, decent housing and dignity. My activism is embedded in intersectional justice and equity with special emphasis on honouring indegenious knowledge and lived experience as the only expertise in matters impacting us and our communities. As a committed Seventh day Adventist Christian, stewardship of the planet is one of the foundational pillars of my faith. My role as a community historian enables me to draw the parallel with Scotland's dark history of profiteering from the slave economy as today's Scotland which continues to profiteer from the Refugee and Asylum economy.
Yvonne will speak about the need for a comprehensive understanding and collective embracing of Black identity as imperative in understanding and challenging systems of oppression including the current Climate crisis.
Milka Chepkorir Kuto is a GESA 2018 alumna and part of the Global Environments Network. She holds a Bachelor's degree in Anthropology from Maseno University and is currently pursuing a Master's Degree in Gender and Development Studies at the University of Nairobi. Milka is a member of the Sengwer indigenous community, who for a long time have been victims of forceful evictions from our ancestral lands in the name of conservation. For three years Milka worked with the Forest Peoples Programme, she fought for the recognition of Sengwer community land rights needed to sustain her community's culture and traditional way of life. Milka's other work experiences include time with the UN Office of the United Nations High Commissioner for Human Rights (OHCHR) in 2016, where she brought issues of her community to the international context, and with the Kenya National Commission on Human Rights in 2017, where she advanced her knowledge on human rights and environment.
Milka will share her views on Climate Justice, the interconnections between what is happening locally (among Indigenous Peoples and Local Communities, IPLCs) and globally, and how we can all help build a more equitable future.
Dita Brixida Vizoso works on cooperation and conflict: braiding together ecology, somatics, and an eclectic blend of inquiry and communication practices. She practices somatic and collective approaches to trauma and interrelational dynamics, with an emphasis on whole-nervous-system coherence and its impact on the processes of active peacemaking, restorative justice and conflict transformation. In her experience, the link between injustice and trauma is something that has the potential to fuel more inequality, extractive relations, and further injustice. And when it is about Climate Justice, the usual fuzziness of the "victim" and "perpetrator" makes our blame even more dangerous. She's currently a co-convener and host of Reworlding, Grassroots To Global, and the Now What?! collective. Uppermostly, she's an embodied biosphere--beyond climate--activist, deeply committed to composting the devastating impacts of modern societies. A rewilder of self, of land and of people. A forager, farmer, fermenter, facilitator.
Dita will speak about the feedback loops between (in)justice and our (broken) relation with the world. How practices like restorative justice and active peace circles may be crucial in relation to allocating our resources where they're more effective. 
Our Changing Climate forum series:
Processwork Scotland is running this Open Forum in partnership with Processwork UK and MORE - Migrants Organising for Rights & Empowerment. The forum is part of a series, inviting a public conversation on the complex issues to do with our changing climate. The forums take place in the lead up to the COP26 climate conference that will be held in Glasgow in November 2021.
The forums will explore the relation of our changing climate with: 'Inner Resilience and Emotional Awareness', 'Our Changing Climate and Colonisation', 'Climate Migration and Scotland's evolving identity', and 'Climate Justice: How do we build a fair future?'.
An Open Forum is a facilitated public conversation enabling an exchange of multiple perspectives including people and groups receiving least exposure at the collective level.
The forums will take place online (Zoom) and are free to attend. As the events are organised on a voluntary basis, we welcome donations to go towards our speakers and the running of the series.
If you have any access requirements you would like to make us aware of, please let us know via the organiser contact button below. We will do our best to meet these requirements where we can, and to put these in place for future events.
Forum Series Schedule:
Monday 6 September, 6:45 - 9pm (BST): Inner Resilience and Emotional Awareness
Monday 11 October, 6:45 - 9pm (BST): Our Changing Climate and Colonisation
Monday 25 October, 6:45 - 9pm (BST): Climate Migration and Scotland's evolving identity
Monday 1st November, 6:45 - 9pm (GMT): Climate Justice: How do we Build a Fair Future?
www.processworkscotland.org.uk
Date and time
Location
Refund policy
Contact the organiser to request a refund.
Eventbrite's fee is nonrefundable.