After months of training, couching, and mentoring, Europe is about to select the region's best and brightest cleantech startups!
About this event
Forecast:🌡️September 28th to be the greenest day in Europe! 💚
After months of training, coaching, and mentoring, Europe is about to select the region's best and brightest #cleantech startups. 👏 The ClimateLaunchpad stage is ready to meet 30 teams from 10 countries! 🇦🇹🇬🇧🇫🇮🇫🇷🇮🇹🇱🇹🇵🇹🇪🇸🇨🇭🇳🇱
There is a chance of competition and the evening might bring some winners. 🏆
Despite the pitching 🎙️ competition being at the center, the event will spotlight the most pressing environmental issues and inspire us for change. 🙌
Expect up to 8 hours of pitching and in-between rounds of keynotes, workshops, and discussions. 💬
At the end of the day, a pinch of celebration is expected. ☂️🎉
Don't miss the green business forecast! 🔔 Register now!
-
ClimateLaunchpad is the world's largest green business ideas competition. It is part of the entrepreneurship offerings by EIT Climate-KIC, the EU's main climate innovation initiative.
ℹ️ Learn more: https://globalfinal.climatelaunchpad.org/regional-finals/europe/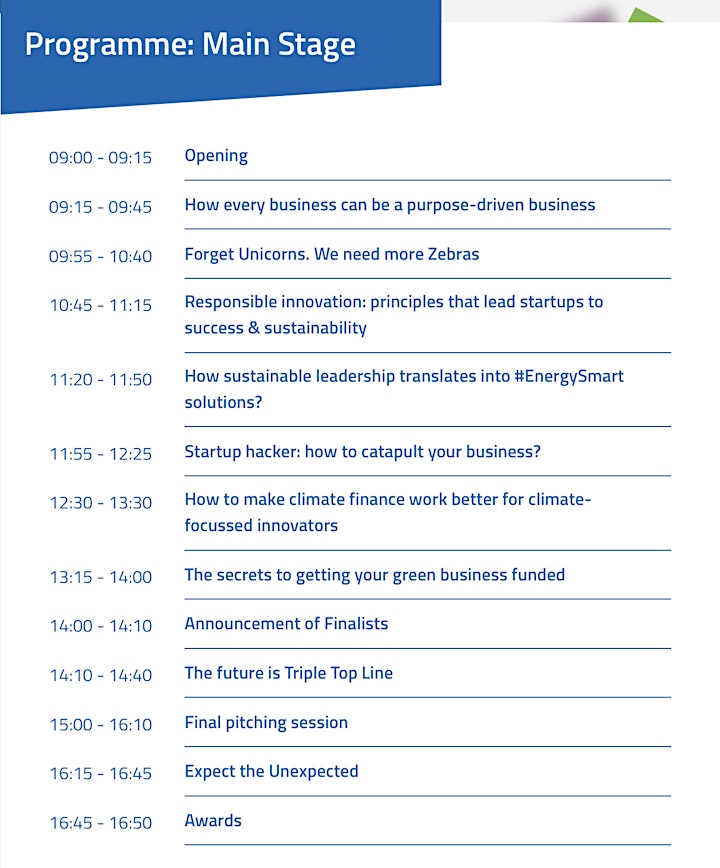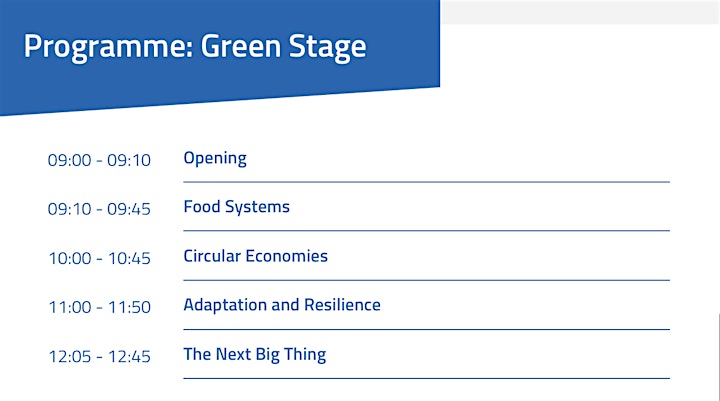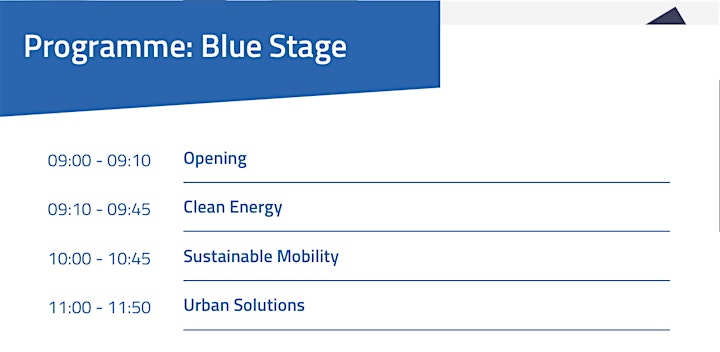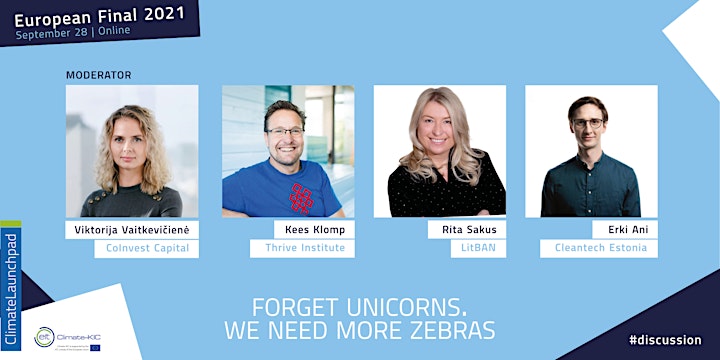 Forget Unicorns. We need more Zebras
#discussion
Participants: Rita Sakus, Co-founder and Board member of LitBAN; Erki Ani, CEO of Cleantech Estonia; Kees Klomp, Founding Partner of Thrive Institute.
Moderator: Viktorija Vaitkevičienė, CEO of Coinvest Capital.
Topic: In the startup world, UNICORN is a startup with a valuation of over $1 billion. They are praised and adored. But the past years revealed that sometimes what a unicorn offers isn't as important as the fact that it's a unicorn. The opposite of a unicorn is a ZEBRA company. In addition to economic goals, the founders of Zebras consequently pursue sustainable or social motives, like climate change and human rights. We've been too focused on the Unicorns. It's time to give the Zebras the attention they deserve.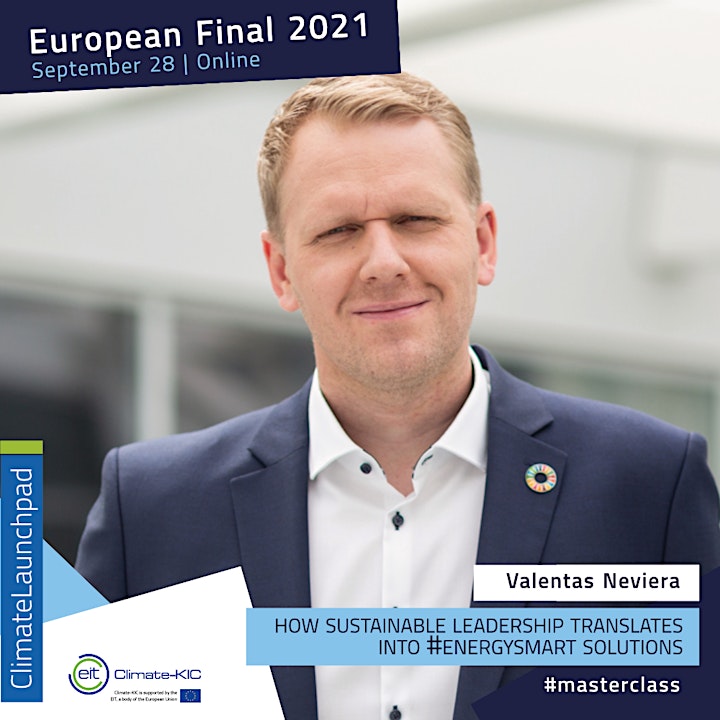 How sustainable leadership translates into #EnergySmart solutions?
#masterclass
Speakers: Valentas Neviera, Head of Sustainability at Ignitis Group & Karolis Mirinavičius, Innovation Project Manager at Ignitis Group.
Topic: Sustainability is widely discussed, talked about, and considered. It is more often raised as a priority in company boardrooms than ever before, discussed among colleagues. But how talks should translate into real actions? How company's aspirations for sustainability are structured and what acknowledged standards are available today? What pilot projects Ignitis Group is implementing for today's and tomorrow's sustainability impact?
Responsible innovation: principles that lead startups to success & sustainability
#masterclass
Speaker: Audronė Alijošiutė-Paulauskienė, Expert of Corporate Social Responsibility and Sustainable Development Policy at Baltic Environmental Forum Lithuania.
Topic: Innovation should not be just a new product or service; it should respond to the grand challenges of our time and take care of the future. Today's sustainability challenges – like climate change – are complex, multilayer, uncertain' divisible into sub-problems. In other words, they are 'wicked'. What are the principles of responsible innovation, what questions should be answered before novel products, processes, business models are in the market – let's explore this topic together.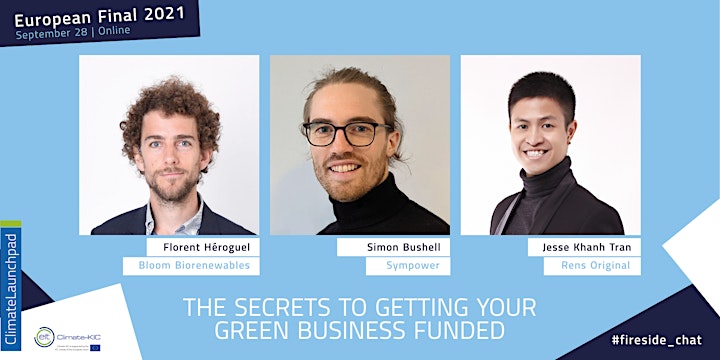 The secrets to getting your green business funded
#fireside_chat
Speakers: Florent Héroguel, Co-founder & COO of Bloom Biorenewables; Simon Bushell, Founder & CEO of Sympower; Jesse Khanh Tran, Co-founder & CEO of Rens Original.
Topic: Making a startup successful is a challenge in itself, but scaling a green business is an even harder journey. However, ClimateLaunchpad's alumni are here to prove that this journey is worth taking! The founders of three successful startup companies are -virtually- sitting together to have a chat about their green journeys, and discuss the lessons learned while raising funds.
This year, Bloom Biorenewables has raised €3.9 million with the support of Bill Gates, Sympower has raised €5.2 million in a Series B round, while RENS Original is successfully running their second crowdfunding campaign on Kickstarter (their first Kickstarter launch raised more than half a million dollars and became the most successful fashion Kickstarter campaign in the Nordics). The founders of these companies definitely have a lot to share!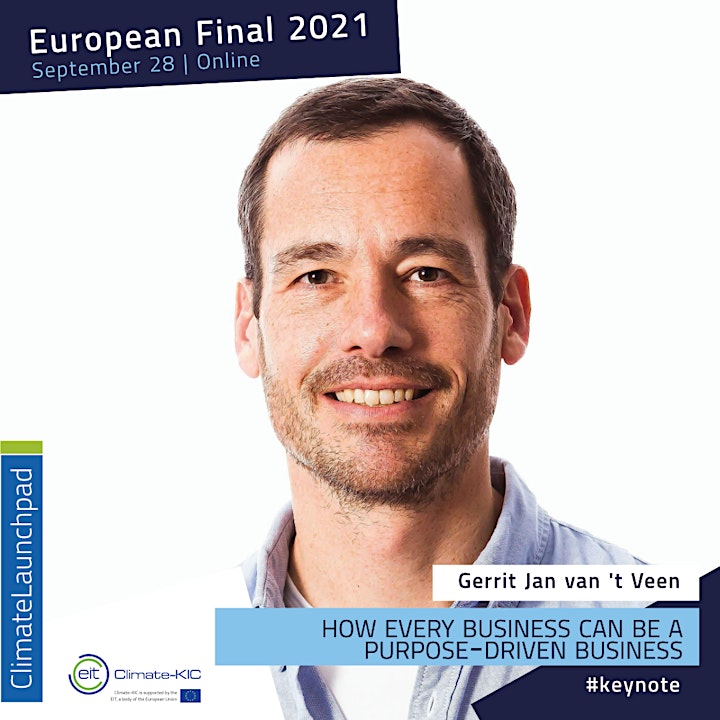 How every business can be a purpose-driven business
#keynote
Speaker: Gerrit Jan van 't Veen, CEO of WorldStartup
Topic: Gerrit Jan will talk about the current shift in our economies. From strictly transactional and profit-driven to integral and purpose-driven. And how you as an entrepreneur can start doing that today.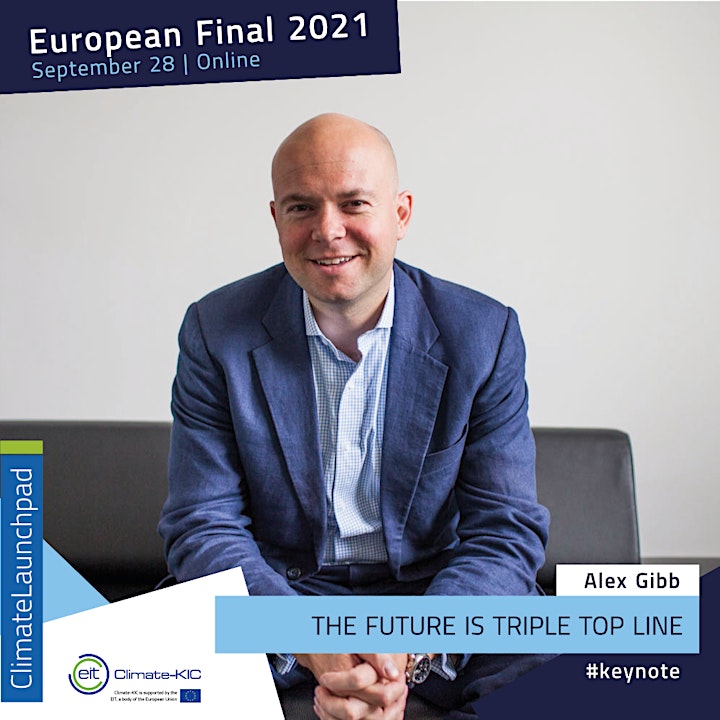 The future is Triple Top Line
#keynote
Speaker: Alex Gibb, Portfolio Entrepreneur, Partner at Katalista Ventures
Topic: The concept of the Triple Bottom Line - or people, planet, and profit - isn't new. However, the Triple Top Line is a forward-looking approach that helps businesses to create a positive impact, simultaneously unlocking significant business opportunities. Alex Gibb will encourage you to build the Triple Top Line thinking into your organization and inspire you to make a positive impact instead of just reducing the negative.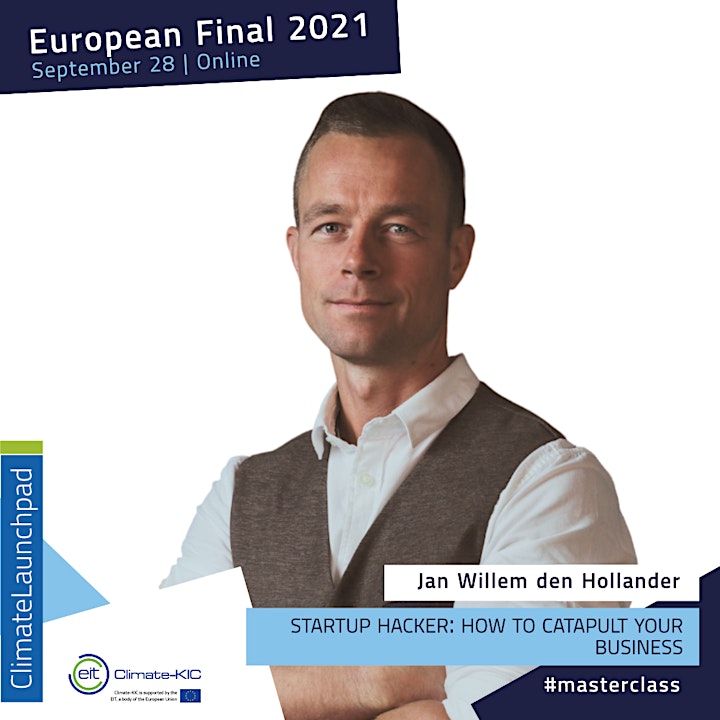 Startup hacker: how to catapult your business?
#masterclass
Speaker: Jan Willem den Hollander, Growth Hacker
Topic: In 30 minutes, you'll learn the basic structure of the growth hacking framework. See the magic of the G.R.O.W.S. process and how you can use it in your own organization. Learn this 5 steps framework for gaining quick insights of where you can expect the biggest win in your funnel.
Organizer of ClimateLaunchpad EUROPEAN FINAL 2021
Sunrise Valley Science and Technology Park is a non-profit organization, founded in 2003. The Park features long-standing traditions in development of entrepreneurship, promotion of business and science collaboration, provision of infrastructure and other innovation support services to young, innovative enterprises as well as to other knowledge-intensive business.