Clinical Excellence and Innovation Conference
About this Event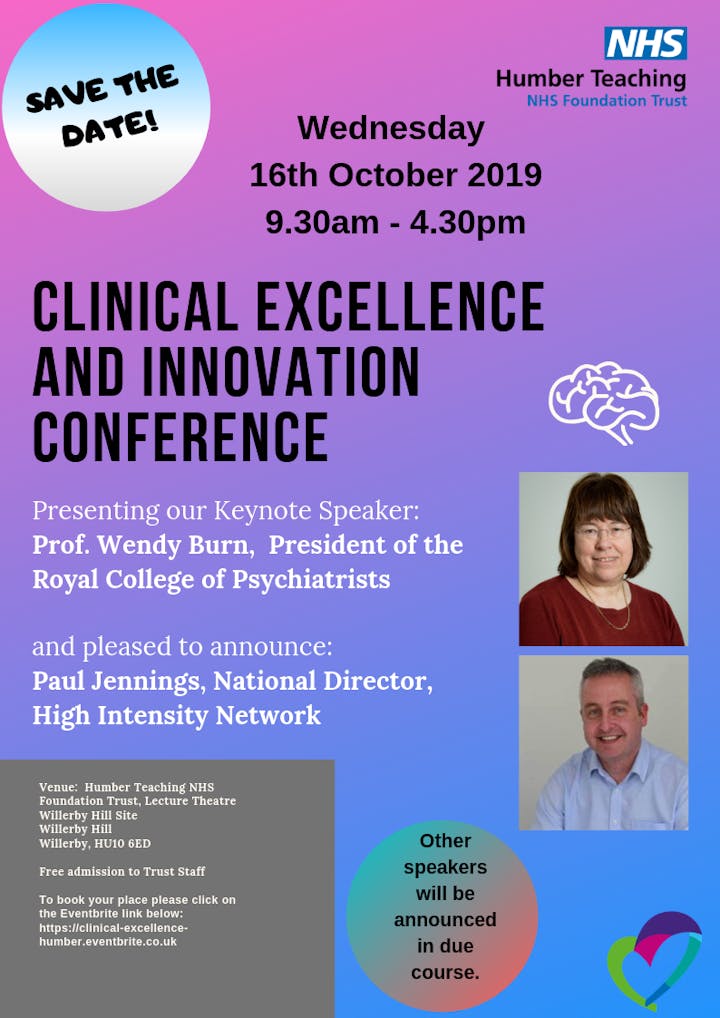 Cost: This event is FREE to Humber Teaching NHS Foundation Trust Staff and External Delegates from other NHS Trusts. Morning refreshments and lunch will be provided. Places are restricted and booking is via Eventbrite, please see the link below to register and book your place.
This event is suitable for: Humber NHS Foundation Trust Medical Staff, General Practitioners and Clinical Staff of all grades with an interest in Psychiatry.
This conference may be eligible for 6 CPD Credits, subject to your peer group approval and in line with the Royal College of Psychiatrists' guidelines.
The Medical Education Department are hosting their inaugural conference celebrating clinical excellence and innovation.
We are pleased to announce the following keynote speakers:
Professor Wendy Burn, President of the Royal College of Psychiatrists
Presentation Title: 'Priorities for the President'
Prof. Burn has been involved in the organisation and delivery of postgraduate training since she started as a consultant. She has held many roles in education including College Tutor, Training Programme Associate Medical Director for Doctors in Training. She set up the Yorkshire School of Psychiatry and was the first Head of School. In 2017 she was elected as President of the college and took office in June. Wendy was appointed as a Consultant Old Age Psychiatrist in Leeds in 1990 and currently works part-time in a community post. Her main clinical interest is dementia. She held regional leadership positions in this area from 2011 and was Co-Clinical Lead for Dementia for Yorkshire and Humber Strategic Clinical Network 2013-16.
Paul Jennings, National Director, High Intensity Network
Presentation Title: Innovating Excellence in Mental Health. So Why Not You?
Paul will be exploring the topic 'Achieving Clinical Excellence: Where to Start'. And will discuss his experience of being an innovator. He will encourage the audience to consider their own 'innovator within' and will also explain the innovative support programmes currently being run by NHS England including
Serenity Integrated Mentoring (SIM) (a model of care using specialist police officers within community mental health services to help support service users struggling with complex behavioural disorders).