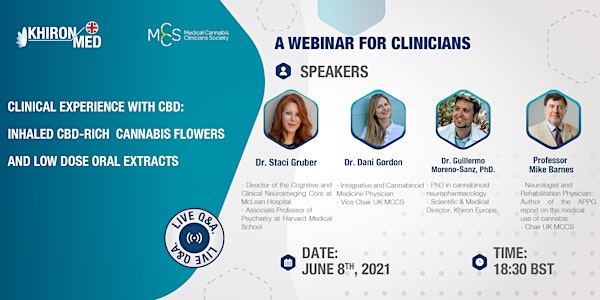 Clinical experience with CBD: dried flower and oral extracts
A comprehensive summary of the state of the evidence on the therapeutic potential of CBD-rich, cannabis-based medicinal products
About this event
Clinical experience with CBD: inhaled CBD-rich cannabis flowers and low-dose oral extracts
The approval of epidyolex for the treatment of refractory pediatric epilepsy is providing an increasing body of evidence on the clinical potential of cannabidiol (CBD) to treat different human conditions.
However, clinical research with CBD is generally conducted with much higher oral doses than what it is generally recommended for the symptomatic relief of some debilitating conditions such anxiety, depression, or sleep disorders, based on clinical experience.
Further, inhalation of CBD (e.g. vaporization of CBD-rich cannabis flowers) can be a suitable alternative to oral ingestion and has been found effective to treat several ailments such as anxiety, substance abuse disorders and migraines.
The goal of this webinar is to provide a comprehensive summary of the state of the evidence on the therapeutic potential of these CBD-rich, cannabis-based medicinal products as well as valuable insights from leading experts in the medical field.
Attendee Q&A
Attendees are welcome to ask questions during the live webinar. To ask a question in advance, please email the Medical Cannabis Clinicians Society at contact@ukmccs.org.
With thanks to Khiron for their kind support for this event.
Meet your speakers
Dr. Guillermo Moreno Sanz, Scientific and Medical Director (Europe) Khiron
Dr. Moreno-Sanz has authored 25+ scientific articles and 3 patents describing the role of the endocannabinoid system on pain perception. He holds degrees in Biochemistry and Organic chemistry from the University of Zaragoza, and obtained his PhD in Neurosciences from the Complutense University of Madrid in Spain. He gained broad international experience with long-term fellowships in the Netherlands, Italy and the US, where he has developed most of his career at the University of California, Irvine, working with Prof. Daniele Piomelli, where he discovered a new class of cannabinoid analgesics devoid of unwanted psychoactivity.
He participated in the elaboration of the 2017 report "The Health Effects of Cannabis and Cannabinoids" by the National Academies of Sciences. He then relocated to Spain and founded Abagune Research, a privately-owned company that provides scientific advice, research solutions and product development services to regulators, disseminators and operators within the international cannabis industry.
Dr. Staci Gruber, Director, Cognitive and Clinical Neuroimaging Core, McLean Hospital
Staci Gruber, PhD, is the director of the Cognitive and Clinical Neuroimaging Core and the Marijuana Investigations for Neuroscientific Discovery (MIND) program at McLean Hospital. She is an associate professor of psychiatry at Harvard Medical School. Her research focuses on the application of neurocognitive models and neuroimaging to better characterize risk factors for substance misuse and psychiatric conditions.
Dr. Gruber studies the impact of marijuana on the brain using neurocognitive, clinical and diagnostic assessments, and multimodal brain imaging techniques. She works to educate policymakers and the general public about the neurobiologic differences between adults and adolescents as well as additional factors that contribute to the impact of marijuana on the brain. In 2014, Dr. Gruber launched MIND, the first program of its kind designed to clarify the specific effects of medical marijuana use on a number of outcome measures.
Dr. Dani Gordon, Integrative Medicine & Cannabis Medicine Consultant
Dr. Dani Gordon is a Canadian, British and American Board Certified Medical doctor, writer, speaker and published researcher. She has treated thousands of patients with medical cannabis and has worked in North America and the UK where she trained the first UK cannabis physicians and advises various non profit groups including the Conservative Drug Policy Reform Group, Drug Science and the UK Medical Cannabis Clinicians Society (MCCS) where she is the vice chair.
Dr Gordon is the founder of Resilience Medicine Clinics, which focuses on enhancing quality of life with a focus on mental health, women's health, cognitive impairment and brain aging utilizing cannabinoid and integrative medicine. She is also the author of 'The CBD Bible' and the forthcoming Resilience Medicine and is regularly featured on tv and publications including the BBC, Vogue, Marie Claire, The Sunday Times and the Guardian.
Professor Mike Barnes (Moderator)
Medical cannabis expert and neurologist Professor Mike Barnes has dedicated the latter part of his career to medical cannabis excellence, education and clinical leadership. Chair of The Medical Cannabis Clinicians Society, Prof. Barnes co-authored the All-Party Parliamentary Group report on the evidence for medical cannabis as part of its Drug Policy Reform. As the first adopter of medical cannabis as a treatment option in the UK, Prof. Barnes shares his expertise and passion for the medical cannabis industry with international Governments, global cannabis organisations and specialist clinicians.
Upcoming events
Look out for regular webinars coming soon