Description
NOTE: This event is FREE to attend - £25 ticket fee is refunded on attendance.

Following the overwhelming popularity of the Interop Summit earlier this year, INTEROPen is delighted to be running a day of practical learning focusing on the Fast Healthcare Interoperability Resources (FHIR) communication standard that will be used for NHS care information.

The INTEROPen community is working alongside NHS Digital and NHS England to create and implement the use of a standard FHIR language, referred to as CareConnect, for the communication of health and care information across NHS services.
This educational conference, led by Dr. David Hay, FHIR Evangelist and Orion Health Product Strategist, and supported by Dr. Amir Mehrkar, clinical co-chair of INTEROPen and NHS Digital clinical lead for interoperability, is designed to help promote an understanding of FHIR amongst clinicians, equipping them to access and share clinical information from the point of care.
The agenda is designed to lead clinicians through a learning experience to put FHIR theory into practice with exercise sessions and demonstrations. The day will build upon the content shared at the www.interopsummit.com; we strongly recommend attendees revisit the summit day 1 videos here, including David Hay's "Why you WANT to be on FHIR" in preparation for this event.

A feedback form will be sent to all registered attendees in September inviting comment, and contributions to the agenda content.

Agenda
Below is an outline of activities for the day (subject to changes resulting from attendee feedback):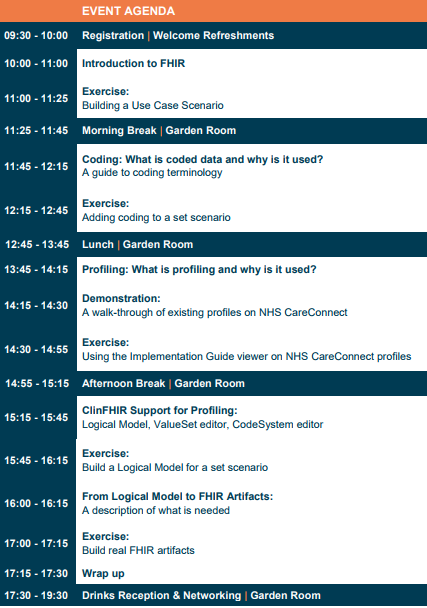 We look forward to seeing you there (don't forget to bring your laptops!)

Team INTEROPen

admin@interopen.org
@INTEROPen_API