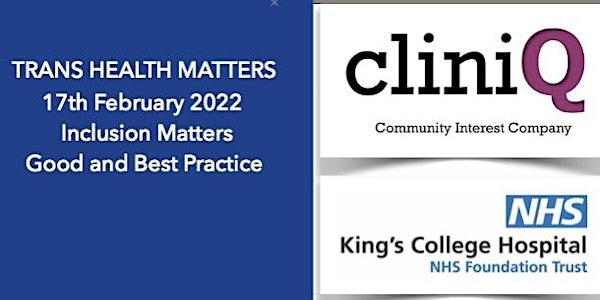 CliniQ 7th Conference. With King's College Hospital 17th February 2022
CliniQ Trans Health Matters Conference with King's College Hospital Inclusion Matters. What do we mean by good and best practice.
About this event
Trans Health Matters 2022 On-line Conference
Inclusion in All Health Matters
17th February 2022 Time: 13:00 to 16:30
What do we mean by 'Inclusion, Good and Best Practice' discussions, talks, recommendations, community voice.
Trans Health Matters is a series of conferences by CliniQ CIC Holistic Wellbeing, Sexual Health and HIV.
This event is delivered in partnership with King's College Hospital NHS Foundation Trust
Our aim is to advance and share best practice and to continue to build and develop services for trans and non-binary people that are inclusive, respect diversity and address health inequalities.
The event is for clinicians, commissioners, policy makers, community organisations, the voluntary sector and for trans, non-binary and gender diverse people.
We will have a strong rights and equalities focus and will look at specific health needs and issues surrounding trans and non-binary people's inclusion in the planning and delivery of health and social care services, with a view to reducing barriers to services and moving towards an inclusive approach to trans health matters.
CliniQ 7th Conference Trans Health Matters in partnership with King's College Hospital. 17th February 2022.
Programme: 13:00 - 13:10 Welcome and Introductions. Chair Michelle Ross (she/they) Founder & Director CliniQ CIC
13:10 - 13:30 Keynote: Inclusion Matters. Rico Jacob Chace (He/Him) Director at TransActual UK, Trustee at LGBT+ Consortium, Diversity & Inclusion Consultant.
13:30 - 13:50 Understanding and addressing health inequalities for trans and non-binary people. Dr Michael Brady. (he/him) National Adviser for LGBT Health, NHS England – followed by Q&A.
13:50 - 14:20 Sexual Health and HIV – What Needs to Change?Sexually Transmitted Infections and Trans and Non binary people. A first update on data. Steph Migchelsen, Principal Scientist
HIV Reporting System- an update: example in good data collection. Alison Brown Both sessions will be followed by a Q&A
14:20 -14:35 HIV Made Me Fabulous is a 10-minute film that tells the personal story of Juno Roche, a writer, activist, and trans woman, who has been living with HIV for over 25 years.
14:35 - 14:50 Older Trans People Matters - King's College Hospital and CliniQ our survey. Julie Whitney, Dan Bailey and Michelle Ross.
14:50 - 15:00 Comfort Break
15:00 - 15:15 Community Voices Victoria Gigante and Victoria Cordoba.
15:15 - 15:40 Cervical Screening Trans and Non binary peopleVideo: Speaker Octavian Star with Q&A
15:40 - 16:10 Panel Discussion – Why are Local Services Needed for trans and gender diverse people? 3rd Sector, Community, NGO's working with NHS. What needs to change? How do we implement the inclusion in all health service in partnership with community and NHS... Panel: Rico Jacob Chace. Victoria Gigante. Anna Kear. Dr Michael Brady. Flora Cohan. Dan Bailey, Julie Whitney (Indigo service speaker TBC)
16:10 Thank you's. Michelle Ross and Dr Michael Brady.