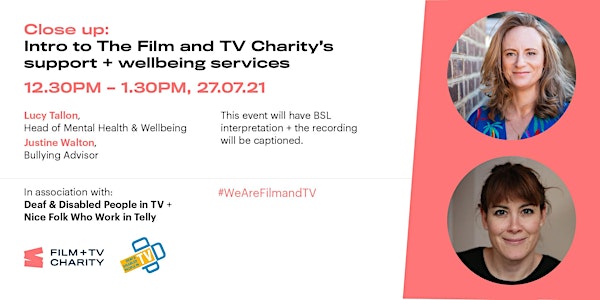 CLOSE UP: intro to The Film and TV Charity's support and wellbeing services
Register now for this lunchtime intro to The Film and TV Charity's services and hear about the ways the team can support you.
About this event
In association with Deaf & Disabled People in TV + Nice Folk Who Work in Telly.
This event is for everyone who works behind the scenes in the UK film and TV industry – including production, post-production, distribution, broadcasting and cinema – and will be especially useful for freelancers who might not have heard of the charity before.
With an intro from Charlie Pheby, Unscripted Casting Exec and co-Director of Deaf & Disabled People in TV, you'll hear from the Film and TV Charity's Head of Mental Health and Wellbeing, Lucy Tallon, and the charity's Bullying Advisor, Justine Walton.
This session will give you a chance to learn about The Film and TV Charity's services, such as accessible mental health support, including therapy, and expert bullying and harassment advice, which can be accessed via the charity's Support Line - 0800 054 00 00.
The charity provides a range of practical and emotional support to everyone working in film and TV, so if you're dealing with an unexpected bill, fatigue, stress or anxiety, or just need someone to talk to, this session is a reminder that we're here for you.
The Film and TV Charity relies on donations. Our services are completely independent, free of charge, and available 24/7.
This event will have BSL interpretation and a captioned recording will be made available after the event.
#WeAreFilmandTV