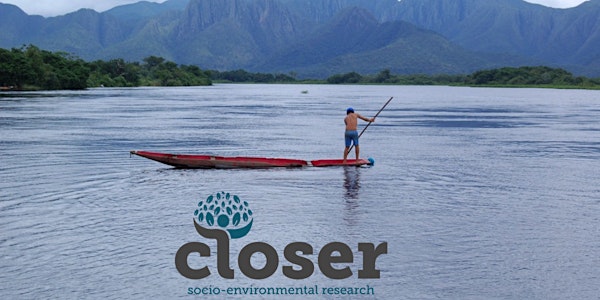 CLOSER & Guests - A Workshop on Challenges of Conducting Socio-Environmenta...
Location
King´s College London
Strand Campus
Old Committee Room
London
WC2R 2LS
United Kingdom
Description
CLOSER & Guests
A Workshop on Challenges of Conducting Socio-Environmental Research
ABOUT
Following our very successful round of CLOSER sessions at KCL and UCL in 2015 and 2016 respectively, we would like to invite you to join us on a whole day of exchange and networking through presentations and discussions on challenges of conducting socio-environmental research.

The aim of this workshop is twofold. First, to showcase work to fellow scholars and PhD candidates while reflecting on the disciplinary, social, cultural, gender, ethical and/or methodological challenges you have faced while conducting fieldwork. Second, to promote a networking space for future collaboration between scholars and practitioners working on socio-environmental research across biological rich-countries .
CONTACT
closeresearch@googlegroups.com
SPONSORS
King's Interdisciplinary Social Science Doctoral Training Centre
UCL Economic & Social Research Council DTC
PROGRAMME
The workshop is organised in three sessions with a maximum of 20 attendants each, according to the programme below. Further information on presenters and abstracts here.

Registration: Participants shall register for each session they intent to attend and are welcome to register for as many as they wish.
10:00 – 10:20 Welcome coffee
10:20 – 10:30 Introductions
SESSION 1 - BETWEEN CONSERVATION, DEVELOPMENT AND TERRITORIAL RIGHTS
10:30 – 10:55
Recognition and Political Struggle: Some case Studies of how Census Data is Connected to the Uprising and Development of Traditional and Indigenous Recognition Policies and Rights in Latin America
Thais Tartalha do Nascimento Lombardi (State University of São Paulo – Unesp)
11:00 – 11:25
Doing a PhD in Isla Lobos de Tierra, Peru: Recommendations for Conservation Research in Marine Protected Areas
Daniela Lainez del Pozo (University College London - UCL)
11:30 – 11:55
Resistance to top-down Environmental Conservation in the Brazilian Amazon and the Challenges of Deciding which Part of the History to Focus on
Grace Iara Souza (London School of Economics and Political Science - LSE/SOAS, University of London)
12:00 – 12:20 - Q&A
12:30 – 13:30 – Lunch and Networking
SESSION 2 – ENVIRONMENT, PUBLIC POLICY AND REGULATION
13:30 – 13:55
Changes in Brazilian Environmental Regulations: Drivers, Processes and Results
Flávia Donadelli (London School of Economics and Political Science – LSE)
14:00 – 14:25
Brazil's Environmental Assessment Regime Under Scrutiny: Bills 2004-2016
Larissa Boratti (ILARRAZ Advogados)
14:30 – 14:55 – Q&A
SESSION 3 - CONDUCTING RESEARCH WITH INDIGENOUS PEOPLES IN THE AMAZON
15:00 – 15:25
Happiness and Living Well: Working with the Baniwa People
Alíria Noronha (Federal University of Amazonas - UFAM)
15:30 – 15:55
On a War Footing: Territorial and Cultural Protection in an Amazonian Frontier
Carolina Comandulli (University College London - UCL)
16:00 – 16:25
The Medicinal Forest: Identity, Ethnic Revival and Conservation in Western Amazonia
Hernando Echeverri (University College London - UCL)
16:30 – 16:50 – Q&A
16:50 – 17:00 - Closing remarks
17:00 – 18:00 - Reception