Description
Join Cellar Arts: 'CloseUp' for an afternoon of fantastic short films by local filmmakers. From strange time warps to afternoon chats over tea; this eclectic selection of short works has something for everyone.
The Films being shown:
Kevin the very Old Rabbit. This delightful short film is a true collaboration and although only very recently released it has already won awards in the USA. Written by the Sussex based Children's Author Gordon Dioxide, narrated by Worthing Actor Obie Dean and animated by US based Tom Weston we get to share the adventures of Kevin the very old Rabbit. Running time 11minute 9 seconds
Bad day. Thanks to the Institute of Development Studies at Sussex University for allowing us to use their offices to make this film. There can be good days at the office but not on this day. Written by Dick Douglass and Directed by Dick and Obie Dean I am pleased to say that the office was not burned to the ground. Running time 2 minutes 6 seconds
Pick Ups. Filmed at a secret location in East Sussex. A brit leaves his wife in the UK and returns to Eastern Europe to be with his lover. However, things aren't quite what he hoped. Written and Directed by local filmmaker Luther Bhogal-Jones. Running time 6 minutes.
The Film. If I can do it anyone can – a philosophical look at filming. A first-time attempt at film making by Nigel Watson, Landlord of Anchored in Worthing, the award-winning real ale pub and sponsor of this event. Running time 5 minutes
Fog. William Blakes 'London' - another time, another place ... a social and environmental comment. Created by renowned Worthing based artist Nicky Bell. Running time 7 minutes
TOK. This unusual film used various locations in Sussex to meld this timeless time warp. Written and Directed by Jason Davidson this light-hearted journey through time raises the question 'What if…' Running time 18 minutes or is it longer or what if it is shorter than that…???
Tea in the Afternoon Written by Peter Gardiner. The 2bitproductions team have created another thought provoking piece. This time old age is the topic. Time fades but tea in the afternoon remains. Running time 5 mins
Peephole. On Business? Staying in a hotel? Attracted to the person in the next room? Just be careful. Written and Directed by Worthing filmmaker Richard Anthony Dunford this short piece may shock and amuse you. Running time 3 minutes 27 seconds
Hangry. Lost on their way to an air B & B, tired, irritable and hungry, Boyd and Clarey decide to turn back, but a surprise unexpectedly pleases them. Filmed in the wilds of Sussex. Written and Directed by Brighton Filmmaker Daniel Harding. Running time 5 minutes
The Lift. A car driver travels from the north to the south of England and on the way, he picks up a hitchhiker. Sci-Fi, Prophecy or Ghost Story? Only you can decide. Filmed on Location in Worthing and Brighton. Written by Dick Douglass. Directed by Jason Davidson and Dick Douglass. Running Time 7 minutes 54 seconds
Christopher Wren Builds a Cathedral. Based on a story by Tom Weston and adapted for the screen by Obie Dean and C.J. Revan this is a humorous look at the obstacles that may have delayed the rebuilding of St. Paul's Cathedral. Set in the 17th Century and Filmed in the 21st, this film directed by C.J.Revan and shot at St. Mary's House in Bramber has won awards for Best Lead Actor, Best Supporting Actor and Best Female Director. Running time 17 minutes 30seconds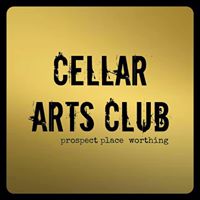 Find out more about Cellar Arts Club.
More about Colonnade House - Creative Hub:
Colonnade House supports the growth of the creative industries in Worthing by offering affordable workspace and by hiring the ground floor gallery and event space for exhibitions, networking, training and events. Find out more here.
This event is proudly sponsored by Anchored in Worthing Micropub
Films on the Gallery Wall is sponsored by:

Find out more at MHA Carpenter Box