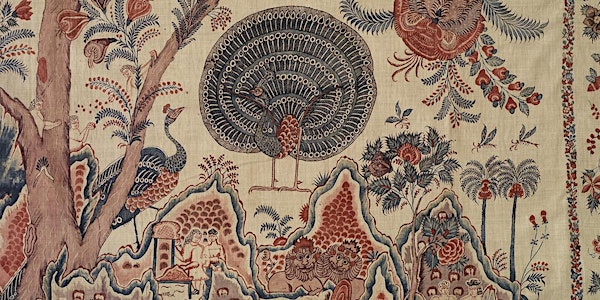 Cloth that Changed the World: A New Exhibition on the ROM's collection
Talk: Cloth that Changed the World: A New Exhibition on the ROM's collection of Indian Chintz
About this event
A talk by Dr Sarah Fee, senior curator at the Royal Ontario Museum
For the first time in 50 years, the Royal Ontario Museum (ROM)'s world-renowned collection of Indian chintz is being presented to the public in a new original exhibition. Lead curator Dr. Sarah Fee will share highlights from the exhibition and discuss its wider narrative arc that traces 750 years of global trade in, and desire for, this most-influential of India's trade textiles, from medieval times to the present. She will also share the challenges of bringing the exhibit to fruition during this time of global pandemic.
Sarah Fee is Senior Curator, Global Fashion & Textiles (Asia and Africa) at the Royal Ontario Museum, Toronto (ROM). She holds degrees in Anthropology (Grinnell College, BA, Oxford University, MSt) and African Studies (Institut National des Langues et Civilisations Orientales, PhD). She joined the ROM in April 2009 where she is responsible for the museum's collection of 15,000 textiles and fashion from Asia, Africa, and eastern Europe. In addition to Madagascar, where she did her doctoral research, she focuses on the textile arts of the wider western Indian Ocean world.
The talk will be followed by a discussion. Questions can be posted in the chat.
The talk will be held on Zoom. The link to connect to the talk will be published one week before the event and send to all pre-registered participants.