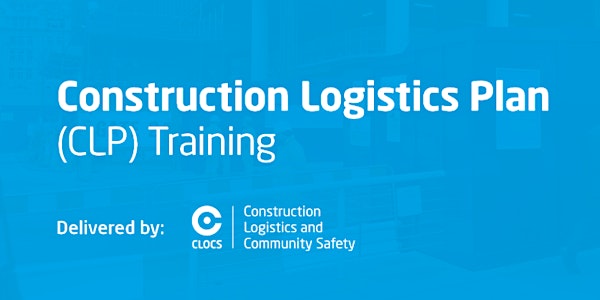 CLP Advanced Practitioner training online 25th/26th May 2022 - 2 x mornings
Refund policy
Contact the organizer to request a refund.
Eventbrite's fee is nonrefundable.
Sales Have Ended
Ticket sales have ended
Ticket sales for this event have ended. Please contact the CLOCS Team for information on future CLP Training dates. www.clocs.org.uk / support@clocs.org.uk
CLOCS is delivering CLP Practitioner course to aid all parties in Construction Logistics
About this event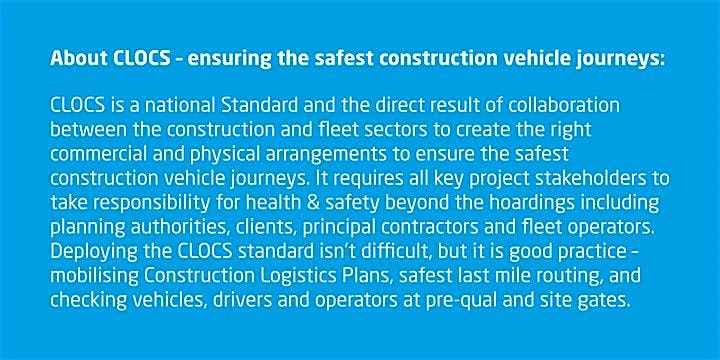 Construction Logistics Planning (CLP) Advanced Practitioner training delivered online by CLOCS (Construction Logistics Community Safety) and developed by Transport for London.
This online CLP Advanced Practitioner course has been developed for individuals involved in writing CLPs and focuses on the methodology using CLP tool outputs, for assessing and calculating vehicle movements on and off site during each of the construction phases.
CLP Advanced Practitioner is delivered by subject matter experts hosted on Zoom and delivered across 2 consecutive mornings from 09:10 to 13:15 with comfort breaks
About this event
Understanding and being able to provide effective Construction Logistics Plans is becoming even more important as society looks to the industry to provide safer, cleaner and greener logistics to drive down serious incidents, reduce emissions, improve efficiency and encourage active travel.
CLP Advanced Practitioner will explore the future of construction logistics and the drivers of change, reviewing the CLP template structure, what deliveries are required through each phase, vehicle type and load. Delegates will discuss which planned measures are appropriate to which phase, reviewing Forecast vs Actual data to produce accurate numbers for the CLP, establishing the cumulative effect on local communities and neighbouring construction projects.
The course will review specific examples of Local Authority escalation procedures, and common construction related complaints from the community, along with examples of collaborative monitoring and enforcement, CLP implementation, monitoring data, processes and requirements, and the three types of enforcement.
Delegates will have the opportunity to discuss with other delegates, what differences are experienced in priorities and expectations of planning regulators? What challenges are there in keeping the CLP a 'live' document? How do we best oversee data accuracy in the supply chain to improve vehicle management and who should be involved in the CLP and when?
Who should attend?
Construction Logistics Planning is the golden thread that underpins the CLOCS Standard. It is an important management tool for UK local authority planners, logistics professionals, developers, transport planning consultants, designers and CDM consultants, and principal contractors and for their supply chains.
CLP training delivered by CLOCS is also a forum for professionals to come together to discuss real life issues and topics, to share best practice and personal experiences, and to network with other industry professionals.Our industry experienced trainers strive to create a positive and lasting impact. We ensure delegates are from a good mix of background and experience – encouraging real-life, topical and sector relevant conversations and discussions.
Delegate reasons for attending CLP Advanced Practitioner
"More information on CLP costing using Vehicle Movements Calculator" Assistant Logistics Manager - Align JV
"To understand more of what is required at a pragmatic level for CLPs, i.e. vehicle numbers, what needs to be considered, where vehicles can go, providing routes." Sustainability Consultant - NRG Consulting
"Understanding of how to quantify vehicle movements" Senior Construction Manager – SCS Railways
"It is useful for me as a transport planner to better understand how to predict vehicle movements." Associate Transport Planner - TTP Consulting
About CLPs
The CLP focuses specifically on construction supply chains and how their impact on the road network can be reduced.
A CLP differs from a Construction Management Plan (CMP) or Construction and Environmental Management Plan (CEMP) in that CLPs are developed earlier in the planning process and focus specifically on logistics.
The information and planned measures identified in the CLP can also be included in the CMP or CEMP.