Event Information
Location
Room 313, Third Floor
School of Law, Queen Mary University of London
Mile End Road
London
E1 4NS
United Kingdom
Description
CLSGC Symposium on Professor Renisa Mawani's 'Across Oceans of Law'
Date and time: Tuesday, 3rd March | 4pm - 7pm
Venue: Room 313, Third Floor, Schoo of Law, Queen Mary University of London, Mile End Road, London E1 4NS
The CLSGC is delighted to be hosting an interdisciplinary symposium on Professor Renisa Mawani's 'Across Oceans of Law'.
Professor Mawani is Professor of Sociology at the University of British Columbia. Professor Mawani will introduce the book, and this will be followed by comments and discussion.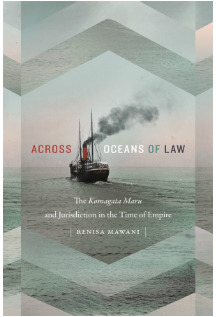 Chair:
Commentators:
The event is organised by Dr. Maks Del Mar.
Date and Time
Location
Room 313, Third Floor
School of Law, Queen Mary University of London
Mile End Road
London
E1 4NS
United Kingdom