Location
Tower Bridge Quay
St Katharine's Way
London
E1W 1LD
United Kingdom
Club 8090 Throwback Luxury Yacht Affair Saturday 27th August 2022
About this event
Club 8090 All White Throwback Luxury Yacht
Party
Saturday 27th August 2022
* Attractions *
*TOP UK COMEDIAN CURTIS WALKER*
* Sumptuous Caribbean Buffet Seafood, Meat & Vegan Option *
* Free Ice Cream & Ice Pole Meet N Greet *
* Professional Photographers On Board *
* Two Decks (Two Outside Decks)*
* Free Glass of champagne (Perrie Laurent) On Boarding. There is a non Alcoholic Option too
* Two Rooms Of Banging Music *
* 7 Star Entertainment * 
Registering plus Meet-N-Greet: from 4:00pm.
Pirority Boarding For Booth & Table reservations
Boarding Gold Wristband holders 6:15pm, White Wristbands Tkt holders 6:45pm, Cast off :7:30pm returning @ 1am
Please note all Patrons must wear majority white (No white no admission)
Tickets Call Terry 07484-507-563 or book via Eventbrite.co.uk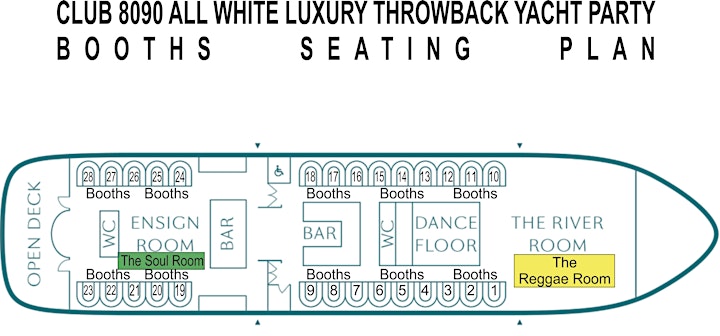 Refill Caterers
Food That Melts in Your Mouth
3 COURSE BUFFET MENU.
Course 1
Butlered Hors d' Oeuvres Service
Vol-au-vents & Crackers with various fillings (Ackee 'n' Saltfish, Prawns, Callaloo), Satay Chicken & Prawn pieces. Vegetable Medley Skewers
Course 2
Buffet Service
Vegan (Option)
Stuffed with Tropical Vegetates Aubergines
Cauliflower and Kale pasta bake.
Coconut spiced vegetable. Vegetable Medley: Sweet Potato, Carrots, Okra & Boiled Nut Squash.
Seafood (Option) * When selecting this food option add a seafood surcharge when booking.
Salt and Vinegar flavoured Seabass fillet
Grilled Salmon
Grilled lobster tail with a delicate sauce
Meat (Option)
Minted Stew Lamb
Curried Goat Smoked BBQ and Jack Daniel flavoured chicken,
Authentic Jamaican jerk chicken.
Side Dishes (With all options)
Pineapple Rice Callaloo Rice Rice with Gungo peas Cuscus with Lemon and Coriander
Mixture of salads: Caesars Salad, Potato Salad & Pasta Salad.
Course 3
Served on platters by waiters/waitresses
Desserts
Chocolate mousse served with Ice Cream
Apple Crumble served with custard or Brandy sauce
Pineapple & Coconut Cake.
Fruit salad
* Menu subject to change at short notice
2 ROOM OF MUSIC
Room 1. Esign Room (100% Soul, RnB, Boogie, Garage, Old Skool Hip Hop)
DJ Aith B [Soul II Soul Fame & We Love Soul]
Cassy M & Mr Scorcher [Motivation]
DJ June Furlong [Mi Soul]
Lady M [Whitelion]
Room 2. Rivers Room (100% Reggae, Revival, Lovers Rock, Old Skool DanceHall & Soca).
Daddy Ernie [Vibes Fm]
Construction ESQ [Peter & Samson]
DJ Countryman [Birmingham]
Studio One [Paddy, Leroy & Beazo]
Add One or Two Day Stay At The Tower Hotel 4*
Just for you we have negotiated a special deal for patrons attending The All White Luxury Throwback Yacht Party
One Night Stay (Sat) £100 pp based on two people sharing * £80 single occupancy surcharge.
Two Nights Stay (Sat & Sun) £175pp based on two people sharing * £155 single occupancy surcharge.
Why not make a Bank Holiday Weekend of it