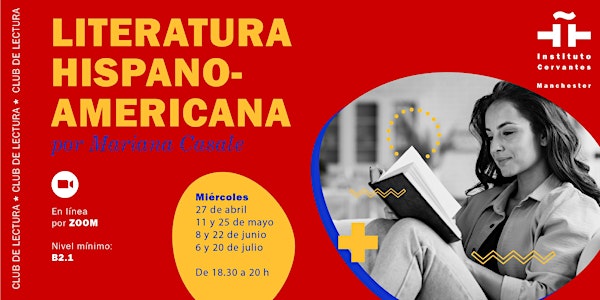 Club de Literatura Hispanoamericana. Primavera: Séptima sesión
Refund policy
Contact the organiser to request a refund.
Eventbrite's fee is nonrefundable.
Únete a nuestro Club de Lectura sobre Literatura Hispanoamericana para conocer los nuevos caminos de la narrativa en América
About this event
El Instituto Cervantes de Mánchester lanza una nueva edición de su Club de Lectura de Literatura Hispanoamericana dirigido por la Dra. Mariana Casale. Un espacio dirigido a nativos y hablantes de español para descubrir los nuevos estilos y narrativas de la literatura hispanoamericana, a través de autores consagrados y, también, descubriendo a los nuevos escritores más prometedores.
Unas sesiones que también acercan a la literatura a través de la biblioterapia, asumiendo que la lectura y la escritura tienen buenas propiedades para los lectores.
Esta edición de primavera continúa con el tema «Perder la cabeza: percepciones de salud mental en los relatos latinoamericanos contemporáneos», con la lectura de «Solo vine a hablar por tel´éfono» (Doce cuentos peregrinos, 1992) de Gabriel García Márquez y «El patio del vecino» (Las cosas que perdimos en el fuego, 2016) de Mariana Enríquez.
La sesión es en español y por la plataforma Zoom.
Dra. Mariana Casale: Master en Literatura Inglesa (Londres), Doctorado en Estudios Culturales Latinoamericanos (Manchester), tesis doctoral sobre Jorge Luis Borges. Especialista en literatura comparada, ficción corta y experimental, y biblioterapia narrativa. Consultor literario, facilitador y formador.
Registrándote en la sesión recibirás un correo electrónico con los materiales y el enlace de acceso a Zoom.
Actividad en Español (Nivel mínimo B1.2)
Más información del programa programa.
Correo electrónico: cultman@cervantes.es
Instituto Cervantes in Manchester is launching a new edition of its Latin American Literature Reading Club led by Dr Mariana Casale. A space aimed at native and non-native speakers to discover the new styles and narratives of Latin American literature, through established authors and also discovering the most promising new writers.
Sessions also approach literature through bibliotherapy, assuming that reading and writing have good properties for readers.
This spring edition continues with the theme "Losing it: Perceptions on Mental Health in Contemporary Latin American Literature", reading "Solo vine a hablar por tel´éfono" (Doce cuentos peregrinos, 1992) by Gabriel García Márquez and "El patio del vecino" (Las cosas que perdimos en el fuego, 2016) by Mariana Enríquez.
The session will be in Spanish and by Zoom free software.
Dr Mariana Casale: MA in English Literature (London), PhD Latin American Cultural Studies (Manchester), doctoral thesis on Jorge Luis Borges. Specialist in comparative literature, short and experimental fiction, and Narrative Bibliotherapy. Literary consultant, facilitator and trainer.
By registering for the session you will receive the materials and the link to access Zoom.
Activity in Spanish (minimum level B1.2)
More information about the full programme.
Email: cultman@cervantes.es