Description
Club 100 is back for AyiaNapa 2019!
Sixt year running we are glad to say that everyone that booked their Club100 Package with us had a tremendous time and really enjoyed the best of Ayia Napa without spending a fortune and above all without the stress of chasing after tickets, as all their week is planned with the best and must do events in the resort.
After such a high demand last year, we have decided to even make it a lot better this year. We are glad to say we have managed to tailor the best events to give you the most amazing and unbeatable experience in Ayia Napa covered by just £125!
Club100MegaDeal is without a doubt the best deal you will ever have on your holiday trip to Ayia Napa. Its an essential money saving deal for all the must do events throughout your stay. It might seems too good to be true, but yes for the sixt year running we have come up with this insane itinerary.
The Package is valid for a week (7 days) from the day you decide to Book it!
We have a Club100 Rep at every event just in case you missed the collection hours, You can go straight to any of the events to collect your card and access the event

By purchasing your Club 100 Mega Deal you get the following events and parties:
Monday
Daytime - Nissi Beach Party (3pm) (Join us as we take over the world famous Nissi Beach, Surrounded by high rocks, fine sand and clear water, this is the most popular beach on the island. Special guest DJ's and host every Monday playing the best music)
Night time - Kandi Street Party (Includes free T-shirt, 1 hour open bar, free shots, bar crawl, entertainment & club entry to the biggest club night of the week with international DJs and acts)
After Party - Chralie Sloth / Tim Westwood / Dj Russke + more @ Club ICE every monday
Original Value = €30 + €25
Tuesday
Daytime - Kandi Boat Party (Kandi Boat - Is the hottest boat party on the island and its now exclusive to only club 100 members it includes, T-shirt, Transfer, Open bar for 2 hours on the boat, Club entry, Plus after party entry)
Night time - UV Paint Party @ Club Ice (At night you also get a free entry to the biggest paint party in the Mediterranean @ Club Ice Arena. Get ready for the carnage!)
Original Value = €55 + €20
Wednesday
Special Event at Club ICE and entry to Housecat at Club Shuffle
(Shuffle is the only Deep House/Minimal Tech Club in Napa)
Original Value = €15 + €15
Thursday
Daytime - The Infamous Pambos Pool Party (2 pm) - (Includes 1 hour open bar)
Night time - Free entry to the Iconic club Black & White and Foam Party @ Club Ice! (One of the most recognized clubs, situated in the heart of Napa's music scene. First opening its doors in the mid 1980′s, this legendary urban music venue has earned it's reputation of being one of the hottest nightspots in Europe)
(You also get a free entry & queue jump to the biggest foam party in the Mediterranean @ Ice Arena.)
Original Value = €30 + €20
Friday
Kandi Fest (Ayia Napa's biggest live event, previously known as Kandi beach Party. Nearly a decade of putting together the best parties and live shows in the resort! Kandi Fest is taking place a brand new open air club called The Dock right next to the waterpark. Brand new state of the art sea view venue with bigger stage and VIP booths set up with the best soundsystem on the island!)
We have also confirmed our biggest line up to date this summer with some of the best acts and djs out of the UK and US. Kandi Fest will now be held exclusively at the biggest open air venue in the mediterenean with over 5000 capacity
(Includes: T shirt, coach transfer back to the strip, biggest acts line up, Club entry to Kandi Friday @ Club Ice & Afterparty)
Original value €65 + €20
Saturday
UK PRESENTS - (Live P.A. from the UK at Club ICE) (9pm) - (Includes 2 hours open bar)

(Later on, you also get a free entry to Garage Nation x House Of Silk @ Club Ice Arena)
Original Value = €30 + €20
Sunday
Club Crawl (On Sunday night everybody with the Club100MegaDeal cards are allowed to go to Club Ice, Club Black N White, & Club Shuffle (Club & Afterparty) totally free… You will be given access to all the 3 clubs on one night!)
Original Value = €30
Extra
Also included in the package is the AyiaNapaMVP Wristband (The biggest money saver for Ayia Napa with over 50 amazing deals confirmed saving you up to €300 in the resort! Visit www.AyiaNapaMVP.com for more info.)
Original Value = €25
AND ON TOP OF IT ALL YOU GET A QUEUE JUMP AND PRIORITY ACCESS TO ALL VENUES ALL FOR ONE AMAZING PRICE OF £125 MAKING YOU AN OFFICIAL CLUB 100 MEMBER...

Club100MegaDeal Ayia Napa. The Ultimate Weekly Package!
HOW IT WORKS:
You will receieve an e-ticket after placing your order. Print or screenshot this ticket and bring it with you to Ayia Napa. The collection point this summer will be at the Igloo Bar (next to Club ICE on the main Ayia Napa strip) from 9:30pm until 2:00am. Take your printed ticket there and you will exchange it to the Club100MegaDeal cards.
This card will be give you a guarantee access to every events, clubs, bars and establishment advertised. You will also be receiving your Ayia Napa MVP wristband right there as well to save you a lot on discounts and freebies in over 45 establishments all over the resort. It also comes with a guide book and a Map with full details of where to go and how to get there. Also we will have a rep on stand to explain to you everything you need to know about Ayia Napa and give you the full Club100 intinerary with time, place and meeting points for all events.
For more information about Club100MegaDeal, please visit the official website: https://club100megadeal.com/ , email info@club100megadeal.com or just give us a call or whatsapp on: +44 7472723322.
NOTICE:
THE PACKAGE IS AVAILABLE FROM 30TH OF MAY AND RUNS UNTIL AUGUST 25TH, WHILST ALL VENUES INVOLVED ARE UP AND RUNNING. THIS YEAR'S CLUB100MEGADEAL IS LIMITED! SO GET YOURS AS SOON AS POSSIBLE!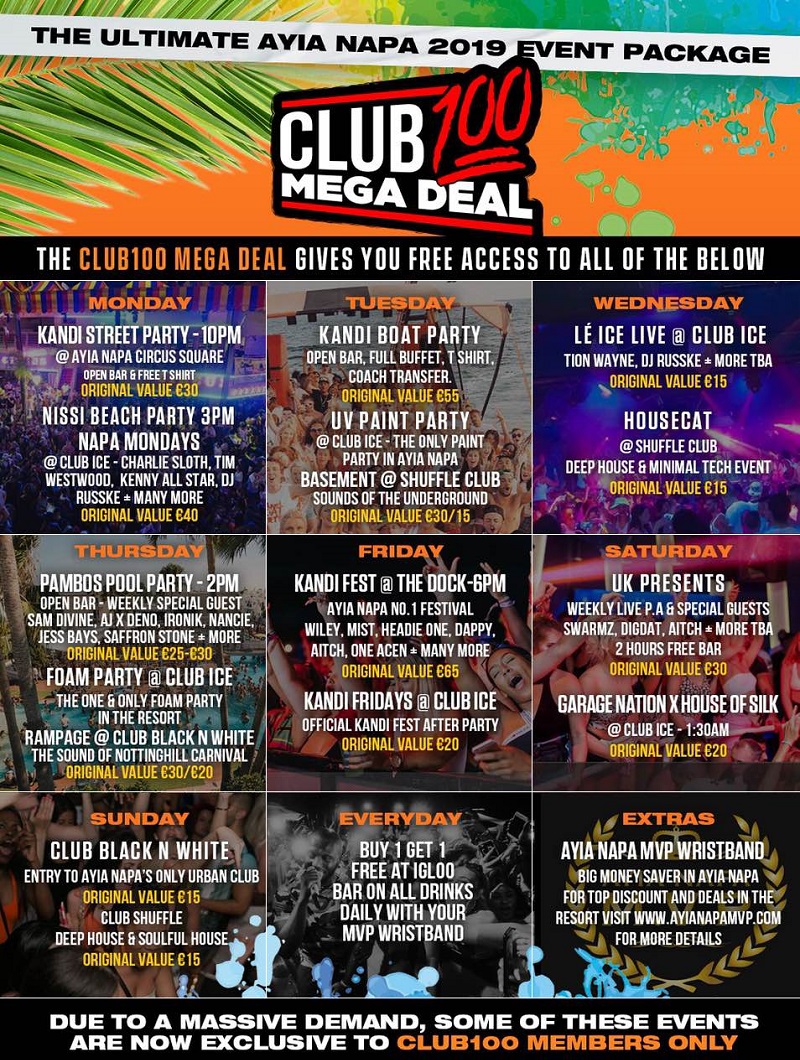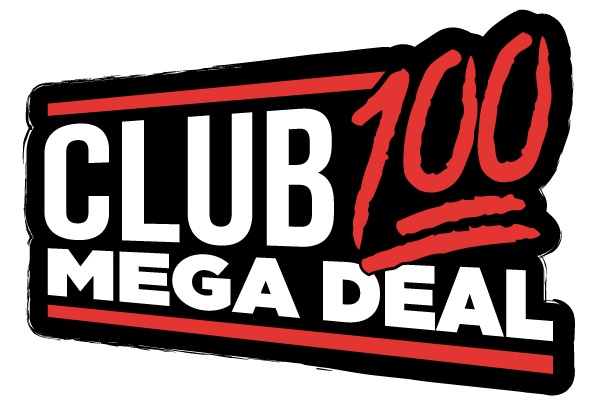 .
Organizer of Club100MegaDeal Ayia Napa 2019 Events Package