Description

In Partnership with:

Imagine where your business would be if you could;
Learn how to be a better you, and a better leader

Take control of your business and your team

Learn the Profit Multiplier System and strategies to improve your profits

Work ON your business instead of IN your business

Take immediate control of the time you spend

Truly understand the simplicity of business financials

Turn your marketing into an investment

Leverage your resources to maximise profitability

Recruit, motivate, educate, retain exceptional employees

Systemise your business to maximise efficiency

Provide consistent, exceptional customer service

Learn how to re-invest to create personal wealth

Learn the Success Mindset

Get the quality of life for you and your family that you started your business for in the first place.
If your business right now is not providing the returns in time, money or satisfaction you deserve... It's 'Time TO ACT'.
Attendance at our Discover a Better Business; Discover an Exceptional Future Seminar is by invitation only and FREE to business owners who are serious about developing themselves, their business and their profits. It is an opportunity to re-energise yourself, re-focus your business, and learn better ways of doing things...
"You should never accept a fraction of your profits, when for the same effort or less, the same people or fewer, the same time or less....your business can deliver so much more to you."
If what you are doing right now in your business is not getting you to where you want to be ...It's 'TIME TO ACT'
If you are ready to take your business to the next level but not sure how to make the step change...It's 'TIME TO ACT'
If you are consistently wishing your team, your business, and your life was better; instead of wishing you were better ... It's 'TIME TO ACT'
If you spend your days fire-fighting and are working longer hours than your staff and take shorter holidays ...It's 'TIME TO ACT'
If cash flow is tight and/or profits are poor in relation to overall sales and you are finding it hard to motivate yourself or your team ...It's 'TIME TO ACT'
If you need to generate more enquiries and your sales team don't perform as well as they should ...It's 'TIME TO ACT'
If you have taken your business to a good point but it seems to break down when you're not around ...It's 'TIME TO ACT'
Register for our FREE event and add massive value to your business on the day.
Discover at the event how our Business Academy in Partnership with ClubFive55 can help you and your business...

For those business owners frustrated with the performance of their business but don't yet know how to make that step change... then this is the breakthrough you have been searching for…
Business Academy is a business education program that encompasses a rolling syllabus of 8 business building sessions tailored to all your clients' needs and delivered on a monthly basis, at an affordable investment.. At each 2.5 hour workshop, held during working hours or in the evenings, we will cover everything you need to know on that particular subject, with step by step online guides for them to implement and profit from. Business size, type or longevity is not important, what is important is your commitment to your future.
Register for our FREE Discovery Event and get ready to Unleash Your Business Potential:
Culture & Leadership; Time Management; Financials & Profitability; Marketing; Sales; Customer Service; Winning Team; Personal Wealth Creation
Your Discovery Event and Business Academy Coaches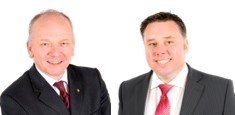 Duncan Tannahill & Derek Mair are multiple award winning Business, Leadership & Executive, accredited coaches & business owners with a combined 55+ years business experience.