Sales Have Ended
Registrations are closed
Sorry, ticket sales for this event have now ended.
Sales Have Ended
Registrations are closed
Sorry, ticket sales for this event have now ended.
Description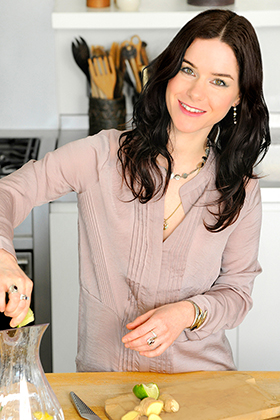 Speaker: Lorna Driver-Davies
A disruption in the circulation of female hormones can manifest as weight control issues, skin problems, mood changes, increased stress levels, hot flushes and fertility concerns. In order to re-balance hormones, good nutritional habits and a focus on detoxification are key. This is because our liver and other organs, such as our kidneys and gut, act as systems of detoxification. Just like a factory that never closes, these organs are designed to manage the levels of circulating female hormones that enable us to stay balanced.
Once our body has finished using these hormones it's essential to effectively excrete them. This process isn't only about the removal of hormones we naturally produce, but also involves reducing the chemical load we acquire from the environment – a load which can have a negative effect on our body if not efficiently disposed of.
In this talk, Naturopathic Nutritional Therapist Lorna Driver-Davies will explain how to re-balance hormones using nutrition and botanicals for long term benefit.
Location: Friends' Meeting House Ship Street, Brighton, BN1 1AF
Lorna Driver-Davies, the Senior Nutritional Therapist at Wild Clinics and a herbal medical dispenser, has held clinics at Grace Belgravia Medical Clinic in London and lectured in nutrition, naturopathy, herbal medicine and botanicals at CNM (College of Naturopathic Medicine). She regularly teaches and lectures to other medical, nutritional and corporate professionals and is sought after as a nutrition expert by the media. Lorna has a strong family tradition of natural practitioners being the daughter of the well-known medical herbalist Jill Rosemary Davies and the great, great granddaughter of an apothecary, and has been surrounded by good nutrition, naturopathy and herbal medicine since birth.

Lorna has a special interest in female hormone nutrition, including adrenal gland and thyroid health. Passionate about supporting women, she has particular expertise with women who have endometriosis, PCOS and other gynaecological conditions (such as fibroids) or menstrual irregularities. Lorna's integrated approach to female health is focused on helping women gain more control and a feeling of happiness or balance with their hormones and female gynaecology. Her approach considers the 'whole person' and recognises the role of energy, the immune system, the digestive system, detoxification and genetics in hormone health.