CNM Finland - Yleisöluento: Suolisto - hyvinvoinnin peruspilari! & avoimien ovien tilaisuus 20.08.2016.

Saturday, 20 August 2016 from 11:00 to 13:00 (EEST)
Event Details
Yleisöluento: Suolisto - hyvinvoinnin peruspilari! (1h)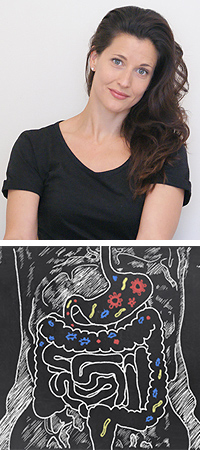 Helsinki – launtaina 20.8. klo.11-13.00
Puhuja: Annamari Seilola (dip ravintoterapeutti, CNM-kurssikonsultti)

Yhä useampi kärsii suolistovaivoista kuten turvotus, närästys ja ärtyneen suolen oireyhtymä. Tiesitkö, että suoliston hyvinvointi määrittää pitkälti yksilön yleisen terveydentilan? Huonossa kunnossa oleva suolisto ei aiheuta oireita vain paikallisesti vatsan alueella, vaan huonovointisuus heijastuu ongelmina myös muualla kehossa.

Ravinnolla on suuri merkitys suoliston terveydelle. Fermentoidut ruoat eivät tarjoa ravintoa ainoastaan kehollemme vaan ruokkivat myös suolistobakteeristoa.Tule mukaan kuuntelemaan suolistosta ja kuinka voit edesauttaa suoliston hyvinvointia. Luento käsittelee seuraavia aiheita:

    Ruoansulatuskanava

    Yleiset oireet

    Suolistobakteeristo

    Suoliston hyvinvointia tukeva ruokavalio

    Ravintolisät
Tämä luento toteutetaan yhdessä CNM avoimien ovien tilaisuuden kanssa. Luennon jälkeen saat tietoa ravintoterapeutin opinnoista CNM:ssa. Esitelmä kestää tunnin. Esitelmän pitää CNM:sta valmistunut Päivi Jalasvirta, joka vastaa kysymyksiin mielellään.
Paikka:  Iso Roobertinkatu 20-22, 00120 Helsinki (6.kerros)..

www.cnmfinland.fi
Onko sinulla kysyttävää? Voit ottaa meihin yhteyttä lähettämällä sähköpostia osoitteeseen info@cnmfinland.fi tai soittamalla numeroon 040 324 5197
When & Where

Iso Roobertinkatu 20-22, (6. kerros)

00120 Helsinki
Finland


Saturday, 20 August 2016 from 11:00 to 13:00 (EEST)
Add to my calendar
Organiser
CNM is a leading training provider in a range of natural therapies with an unmatched focus on clinical application and practice.