Description
South Africa has long been embedded with housing issues resulting from its history of apartheid, and its current realities with rapid urbanisation and wealth inequalities. Having sound residential foundations for citizens is key for a more integrated, sustainable and successful future for South African society. Real progress requires holistic issue identification and problem solving collectively among all sectors.
Co-creating the future of housing in South Africa will challenge these issues and flex proposed solutions with a curated selection of panelists and presenters to investigate how to move towards affordable housing solutions by bridging the gap between the private sector, civil society and government.
Future Cape Town along with our partners dhk Architects, Urban-Think Tank and DesignSpaceAfrica invites you to be part of the forum which will be hosted on the top floor of the Media 24 Building in the Foreshore, of the Cape Town CBD on March 16, 2016 at 18:00.
Programme
18:00 - 18:30 : Arrival of guests
18:30 - 19:00 : Attendees, panelists and presenters take their seats
19:00 : Opening Presentations
Guy Briggs, DHK Architects and Urban Designers
Content: Introductions and framing of the issues to be discussed
Duration: 10 minutes
Alfredo Brillembourg, Urban Think Tank/ETH
Content: TBA
Duration: 10 minutes
19:20 : Panel Discussion 1:
Content focus: What are we trying to achieve? (social context considerations/where
we are and where we want to be)
Moderator: Guy Briggs
Duration: 30 minutes + 10 minutes Q & A
Luyanda Mpahlwa, Design Space Africa

Andy Bolnick, Ikhayalami

Khalied Jacobs, Jakupa Architects and Urban Designers

Gavin, Silber, Ndifuna Ukwazi

VPUU representative (TBC)
20:00 : Short film: 10 minutes
Break: 30 minutes
20:40 : Midway Presentations
Francesco Orsini, URBAM & Universidad EAFIT
Content: TBC
Duration: 10 minutes
Content: TBC
Duration: 10 minutes
Bovain Macnab, SHAC – Suburban Housing Action Campaign
Content: Strengthening Emerging Property Markets: Unlocking Opportunity
Duration: 10 minutes
21: 00 : Panel Discussion 2:
Content focus: How do we deliver? (economic facilitation and delivery)
Moderator: Andrew Boraine
Duration: 30 minutes + 10 minutes Q & A
Deon van Zyl, Director of URBA/Chairman of the WC Property Development Forum

Willem Steenkamp, Advisor to Minister of Human Settlements, Western Cape Government

Representative from DAG (TBC)

Bulelwa Makalima-Ngewana, Cape Town Partnership
21: 40 : Conclusions
Rashiq Fataar, Future Cape Town
We hope to see you there.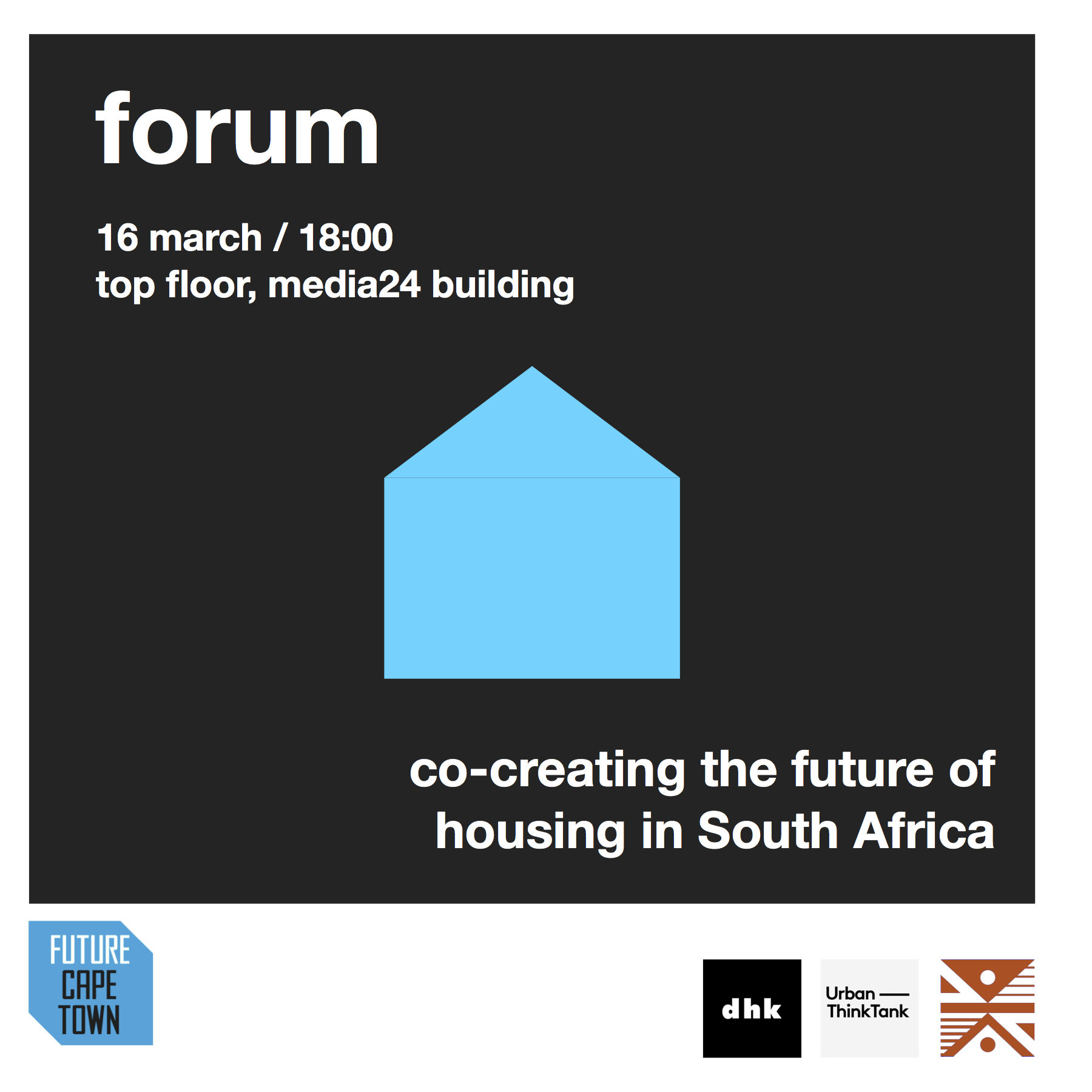 Organiser of Co-creating the future of housing in South Africa