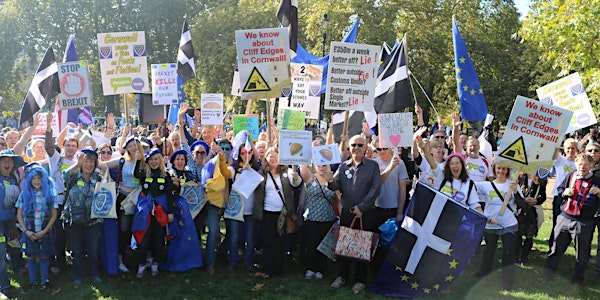 Coach to London - Saturday 23/03/19 - Put It To The People - People's vote...
Event Information
Location
Return travel from Cornwall to London, Park Lane W1K 1AB.
Park Lane
London
W1K 1AB
United Kingdom
Description
We were there in June, we were there in October, join us on the 23rd of March for the "Put it to the People" march to make the calls for a People's Vote too loud to ignore!
On the 23rd of March, with six days before the Government hopes to take Britain out of the EU, Hundreds of thousands of people will march on Parliament offering a solution to a crisis that threatens their living standards, businesses and jobs.
We, the people demand a People's Vote so we can have a final say. We MUST make it huge.
Sharing the journey with 50 kindred spirits on the bus will be FUN and we plan to make this a really enjoyable day to remember right from the early start to the late finish. More details to follow.
We have decided to run 2 coaches and have added 3 extra pick up locations (Penzance, Redruth and Launceston as well as St Austell, Truro and Victoria). We hope this will make it easier for more people to join us.
We have worked to get ticket prices as low as possible and encourage you to book early to get our early bird discount. This offer ends midnight on March 3rd. This is our second time organising coach travel from Cornwall and we trust the take up will be massive. The feedback from October was overwhelmingly positive so rest assured it will be a great experience.
We will be dropped off close to the start of the march and collected not far from the finish, so we can all stick together and make Cornwall's presence unmissable. It is essential that the fight to stop Brexit is not seen as a London-only issue.
Bring your friends and family and help make history!
Please make sure you select the ticket for your chosen start point.
St Blazey - PL24 2JA

Truro - TR1 2EQ

Falmouth, The moor - TR11 3QA

Victoria near Roche on the old A30 - PL26 8LQ. (please note - NOT the new Cornwall Services)

Penzance - TR18 2LT

Redruth/Camborne (Pool Heartland Car Park) - TR15 3QT

Launceston - PL15 7AE
See individual ticket listings for the departure times for each location.
The coach is scheduled to leave London for the return journey at around 18:00, from the Westminster area and will return to its original departure locations.
Aren't able to come? Why not help us cover the transport costs by donating to help cover the cost, donations can be made from the ticket listings options.
Keep a lookout for our emails for updates about the march and parking information etc.
TERMS & CONDITIONS
Cornwall for Europe are providing return transport from your departure location to London on the 23rd March 2019 only. We are not in any way responsible for the Put it to the People's Vote March, and the transport will go ahead in all circumstances, even if the event is cancelled. Tickets are non-refundable, with the following exceptions:
Cornwall for Europe cancels the transport.

The event is cancelled and the coach company agrees to refund us all the money (partial refunds will be issued if we receive partial refunds).
If you are unable to travel, and we have sold all other tickets, we will try to sell yours, and if we do, we will refund you.
The times given for departure are DEPARTURE TIMES.
We recommend you arrive at least 15 minutes earlier. WE CANNOT wait and we will leave without you if you are not there.
FAQs
Are there minimum age requirements to attend the event?
No, this event is family friendly, and we encourage children to attend, but please note it is a long day, so may not be suitable for very young children. You will of course be the best judge.
What will the travelling conditions be like?
There are toilet facilities on the coach, plus a few scheduled stops. It will be possible to leave items on the coach for the day at your own risk (Pillows and blankets for example).
What are my parking options?
There will be details of the nearest car parks to all coach collection points, along with costs, on our website and emails.
What should I bring?
We advise you bring food and water for the day as there may not be much time to buy food at least until the march is over. The coaches will make a scheduled stop on the way to London at a service station. Other than that, flags, placards, whistles, etc.
What's the refund policy?
The coach tickets are non refundable. The only exception will be if all tickets have sold and we are able to sell your ticket to someone else.
Do I have to bring my printed ticket to the event?
Yes. We will have lists of those who booked, but please, please bring your tickets to save everyone time. You can show us your ticket on your phone app as an alternative.
Is my ticket transferrable?
Yes, but please see our Refund Policy, AND let us know in advance who will be travelling in your place so we can do a transfer and issue your ticket to the new attendee.
Can I change my departure location?
Yes, on the condition that tickets are still available for the location you wish to change to. Please email us with your request and we will issue new tickets if available.
Location
Return travel from Cornwall to London, Park Lane W1K 1AB.
Park Lane
London
W1K 1AB
United Kingdom