Location
Unity House
Preston New Road
49 - 51 Preston New Road
Blackburn
BB2 6AE
United Kingdom
Coach Trip to join a dance to celebrate our rightful place on land at an acoustic set in the wild beauty of Pennington Flash nature reserve
About this event
Coach Trip
Book a seat on Idle Women's coach trip to enjoy a day out at Pennington Flash nature reserve in Wigan and take part in a special women only music and dance with live drumming, brass instruments and refreshments.
Featuring musicians including Sophie Fishwick, Ladies of the Midnight Blue, Hannabiell Sanders, Yilis del Carmen Suriel, Deb Mawby, Eternal Taal, Sophie Wozencraft, Liz Whittall
Event Details
Wigan and Leigh is the first of our Stadium for the Future events, set in the wild beauty of Pennington Flash, women are invited to an acoustic rave created with brass and drums.
Women can bring their own drums to join in via warm-up sessions, dance or simply to enjoy the experience of good company, live music and a beautiful place.
We will be dancing rain or shine .
Access and what to bring
Accessible toilets on site
Drinking water and some light food will be provided.
Parking available nearby - further details of location in Pennington flash, parking, public transport and FAQ's about the event will be issued via email before the event.
Welcome to bring your picnics, camp chairs and blankets but it's not essential.
Bringing drums to join in is welcome but not essential.
This event is in a field with unsteady ground and it's not possible to drive to the site.
Please contact us directly to discuss how can support you to access the event
Who's it for?
All women are welcome.
Eid Celebrations welcome!
Children are welcome to accompany adults.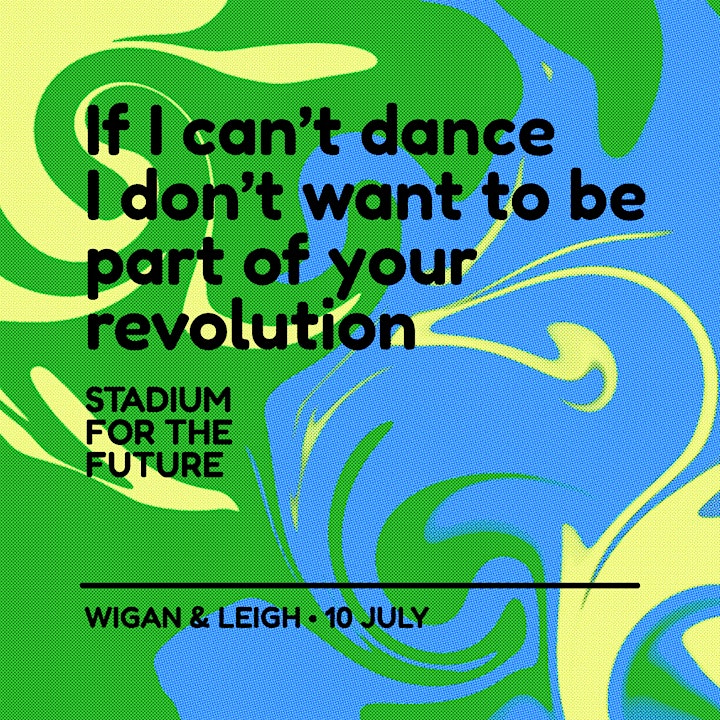 About Stadium for the Future (If I can't dance I don't want to be part of your revolution)
Idle Women are planning a stadium for the future - a living stadium conceived, engineered and hand built by and for women. Not a concrete monolith but a stadium to re-imagine environmental recovery and reciprocity, a self-sustaining ecosystem of women's doing, creating, training, playing and manifesting a different world.
During and as part of the UEFA Women's EURO 2022 football championship in July, women from across the UK will gather in fields and underpasses to dance the stadium into existence at site specific women only raves.
Coordinated with community groups, older women, activists, musicians and DJs, Stadium for the Future will culminate in a sound piece which will broadcast until the stadium build is complete.
Stadium for the Future celebrates and makes place for all women along the canal networks that connect the #WEURO2022 locations - an underpass in Milton Keynes, Pennington Flash Nature reserve, beside the river Thames in Hounslow and a community sports centre in Brent. Amplifying women's essential role in solving the social and environmental challenges we face as a global community.