Description
Are you trying to energize your unenthusiastic team(s) without much success? Did you know you could be harming your tired team(s) by using traditional agile coaching techniques? Would you like to learn a set of research-backed coaching and facilitation practices, powered by neuroscience and tailored to work with exhausted people?
If you are working with tired, exhausted or even burnt-out teams, they need special treatment, which is sometimes counterintuitive to agile coaches. This practical 2-day workshop, will give you a clear idea of how your coaching approach should change when working with tired agile teams. We will cover a set of practical steps and coaching and facilitation techniques tailored for working with tired teams. You will learn skills that will enable you to help worn out teams transition into a better way of working, resulting in true intrinsic motivation and creativity, and produce steady results.
LEARNING OUTCOMES
why traditional Agile transformation might be harmful if the team is tired

what is AgileEnergy

phase 
do's and don'ts of working with tired people
tailored coaching and facilitation techniques for tired teams
WHO SHOULD ATTEND
Scrum Master
Agile Coaches
Managers
Leaders
Change Agents
WHAT YOU WILL LEARN:
The Tired Team
why it's harmful not only for the team, but for the whole organisation, and for you personally.
The Downward Spiral
what the triggers are for downward direction to burnout and how to stop and reverse it.
Neurological and biological basis of tiredness and burnout

The difference between tiredness and burnout and how to understand how your team feels .
AgileEnergy Phase
Timings, conditions, subphrases
.

Agile Coaching
Techniques based on neuroscience which help reverse the downward spiral
.

Facilitation techniques
that work for tired teams (and those that don't)
.

Project adjustments
that need to be considered when your team is exhausted
.

Personal protection
How to protect yourself from exhaustion and burnout
.

Leadership
How to be a leader without being worn out
.

Adding productivity to your team and preventing burnout again.
ABOUT THE TRAINER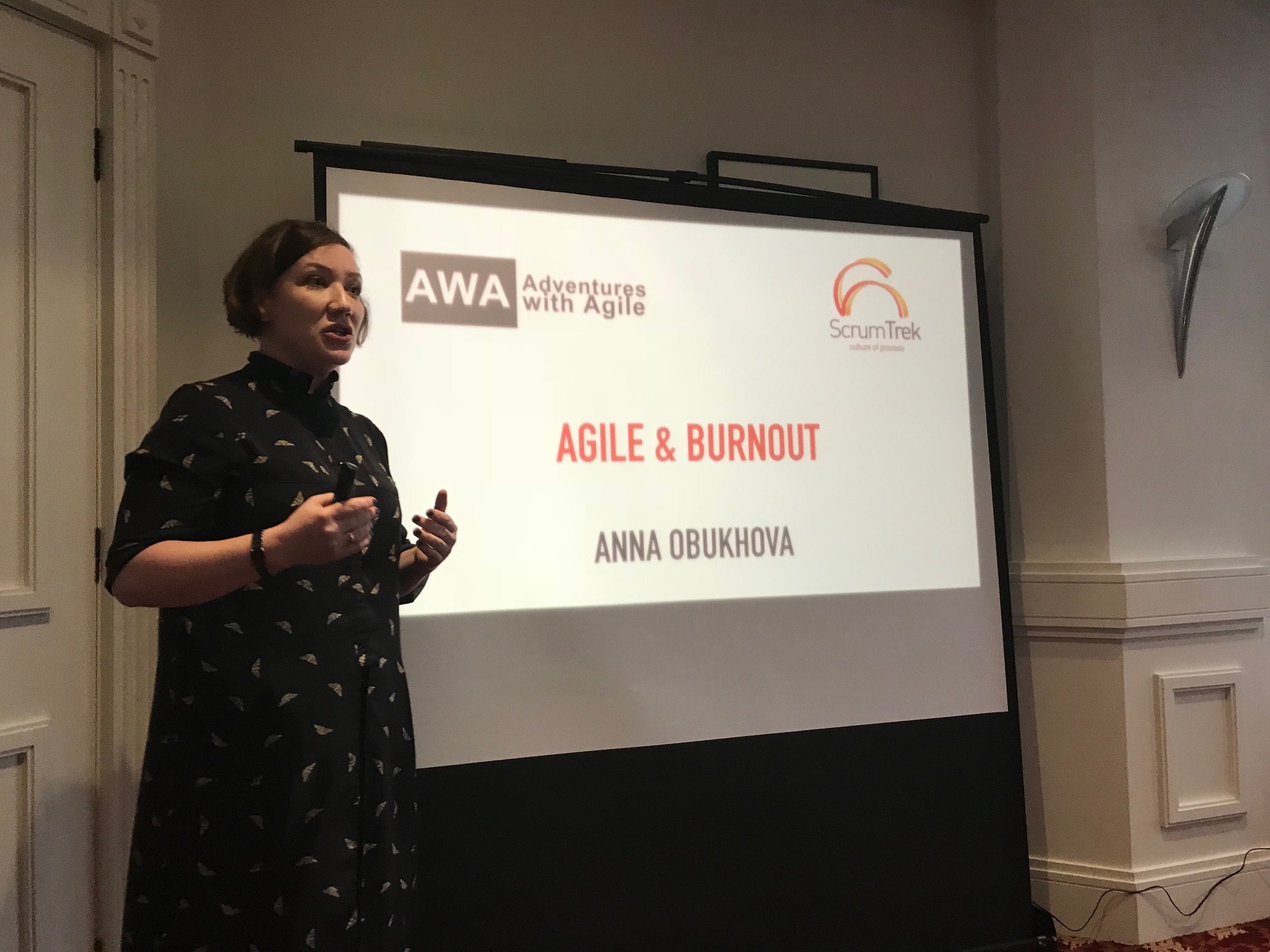 Anna Obukhova is an experienced Agile Coach and trainer using neuroscience and biology to explain Agile productivity and enhance Agile coaching techniques. This perspective of Neuroscience and Agile was agreed to be novel and worth sharing by many conferences, to name a few: ALE Bucharest, Agile Days Moscow, Global Scrum Gathering Paris, Agile Cambridge, Agile Tour London, Agile on the Beach (UK), Agile 2017 (Orlando), Global Scrum Gathering Dublin. This training about Coaching Tired Teams is joining 14 years of Agile experience and 10+ years or knowledge and practice of coaching in tiredness and mechanism of Burn-out fields (with biological, coaching and psychological knowledge). She is currently combining the career of Agile Coach and Personal Performance Coach helping burned-out clients.
Speak to the Course Organiser
Email: training@adventureswithagile.com
Call: 0203 369 1125
Website: www.adventureswithagile.com
Speak to the training organisers - Adventures with Agile

To speak to the organisers of this course for further details:
Call: 0203 369 1125
Email: training@adventureswithagile.com