Languishing to Flourishing: Enhancing Resilience & Wellbeing During Adversity - COACHING AT WORK ONLINE ANNUAL CONFERENCE
About this event
#cawconf2021
Sessions include:
Bob Garvey - Keynote in memory of David Megginson
Alister Scott - The hard challenge of Compassion and Culture in Coaching: Do you really care?
Charmaine Kwame - NHS Leadership Academy case study
Mark McMordie - Psychological Safety: Creating The Conditions for Flourishing
Kathryn Jackson - Big Little Choices - Lessons from coaching in adversity
Magdalena Bak-Maier - The Divided Self: Exploring Parts 'in Need' of Coaching
Yvette Sargood - Mindfulness, a methodology to liberate the potential of leadership talent
Ivan Beaumont - Team coaching using the PERMA approach
Liz Hall - A mindful somatic exploration to recharge batteries and explore what's emerging
Michelle Chambers - Cultivating Resiliency with Team Coaching Through Times of Disruption
Coaching at Work Editor's Awards 2021
For more details about the speakers and session content, please see our conference website here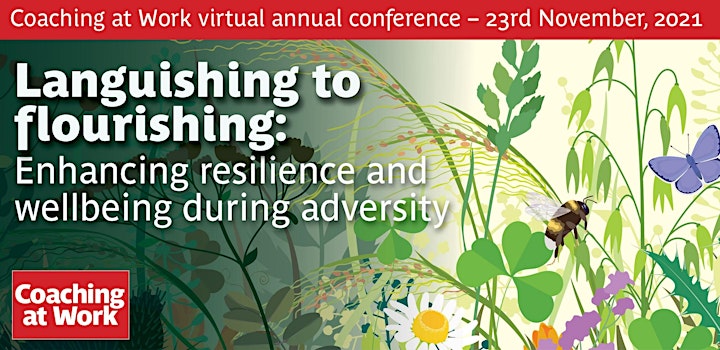 Re: Conference and Coronavirus (COVID-19): latest information and advice
Due to the current circumstances, we have moved all our events for 2021 to date online. If you have any questions regarding this, then please contact us.
Best wishes
Coaching at Work Team
Organiser of COACHING AT WORK ONLINE CONFERENCE: LANGUISHING TO FLOURISHING