Description
A great learning experience, not just a course! The breadth of content and methods used is fantastic and will help me be more confident as an Enterprise Agile Coach - Claire Donald - Director of Agile Delivery


ABOUT THIS COURSE:
Moving towards Enterprise Agility is a combination of process and the reaction to that process by those involved. This course gives you the skills needed to help individuals, teams and whole organizations through the challenges they face when embracing the agility mindset.
During this deeply immersive 3 day course, you will learn the coaching, large-scale facilitation and organizational development skills needed to succeed with agile transformation at an enterprise level.
If you want to learn skills needed to support the shift in moving towards sustainable enterprise agility then attend this Coaching for Enterprise Agility course. You will also have the opportunity to become an ICAgile Certified Professional in Coaching Agile Transitions, the only course in the UK to offer this advanced certification,
AGENDA
Team Emotional Intelligence

Field of Enterprise Coaching

Personal and Professional Mastery

Ethics

Knowing your own limits

Creating a case for change

Meeting organizing tools

Human Change Process

Organisational Change Process

Agile Mindset

Organisational Systems Entry

Organisation Assessments

Impediments

Communicating at the Organisation Level

Educating at the Organisation Level

Facilitating at the Organisation Level

Large Group Facilitation Methods

Co-Creation of Strategy

Q and A
This course shares learnings based on our experience of running multiple agile adoptions and the work of those who have trained and spoken at AWA events. This course can be taken with the ICAgile-Accredited Enterprise Agility Masterclass to combine Organisational Development, Leadership Coaching, Structural and Process Design with the enterprise level coaching skills that this training provides.
WHO SHOULD ATTEND
Team coaches
Multi-team coaches
Enterprise Agile Coaches
Leadership
Senior Managers
Anyone who is managing a team in an organisation moving towards agility
PREREQUISITES
We do not cover the coaching basics in this course. To get the most out of your training experience it is recommended you have at least 3 years experience working as a team coach using professional coaching techniques or have attended an ICAgile Certified Professional - Agile Coaching course, or equivalent.

WHAT OUR STUDENTS SAY:
A great learning experience, not just a course! The breadth of content and methods used is fantastic and will help me be more confident as an Enterprise Agile Coach - Claire Donald - Director of Agile Delivery
In psychologically safe and all inclusive training environment, you learn more about a topic. I absolutely enjoyed Simon's course. - Akiko Kato - Director
Absolutely recommended for coaches acting on an enterprise level - Kaboel Karso - Principal Consultant
Building upon your expertise in lean and agile, while leveraging pure coaching skills, this awesome course offers a full & practical as well as super applicable, selection of approaches and models for the A-Z of Enterprise Agile Coaching - Georg Fasching - Enterprise Coach
Simon has heaps of knowledge that he shares in a fun and ego-less way – David Purdie – Enterprise Consultant
Gave me a greater understanding of how you coach at an organisational level – Agile Coach
After the Enterprise Agility Masterclass this training converges and deepens on how, what and when to do agile transformation – Rafael Ribiero – Agile Coach
So many "aha" moments during this course. Simon was truly wonderful in his delivery of the material and I am leaving feeling so much more enriched – Abisola Fatokun – Agile Coach


ACCREDITATION
This course is offered for the ICAgile Certified Professional- Coaching Agile Transitions (ICP-CAT) certification. This continuing education certification is a key step toward achieving the ICAgile Certified Expert-Enterprise Agile Coaching (ICE-EC) designation the industry's first competence-based certification for Enterprise Agile Coaching. To be eligible for the ICP-CAT, you must not miss more than 1 hour of class. Learn more at ICAgile.
WHAT YOU WILL RECEIVE
Course manual and notebook
Content that underpins AWA Consultancy that will help you understand the why and how organisations change

Improved skills and knowledge that will enable you to mentor and coach others

Skills so that you can work at scale across multiple teams

An understanding on how to influence and help managers, leaders, and other areas outside of delivery teams.

Access to monthly coaching sessions for all CEA alumni

Access to Slack channel community for all CEA alumni

Tasty breakfast and lunch, and teas/coffees/water

Membership to Adventures with Agile community for organisational change and agile.
YOUR TRAINER - SIMON POWERS
Simon Powers has over 20 years' experience helping very large organisations to thrive in the market and to be better places to work. He works with the board of directors or senior managers to transform the way that they see themselves, each other, and their organisations. The results are better organisational design, better processes, more engaged staff, and an organisation that is customer focused and more successful. He has been using Agile and Lean for the last 14 years, initially within IT, but in the last 5 years across the entire organisation. Simon founded Adventures with Agile (AWA), a global community of practice for organisational change in 2014. He founded the AWA consultancy in 2015, and his experience comes from both his own direct experience and through the consultants that work for Adventures with Agile working across many of AWA's clients.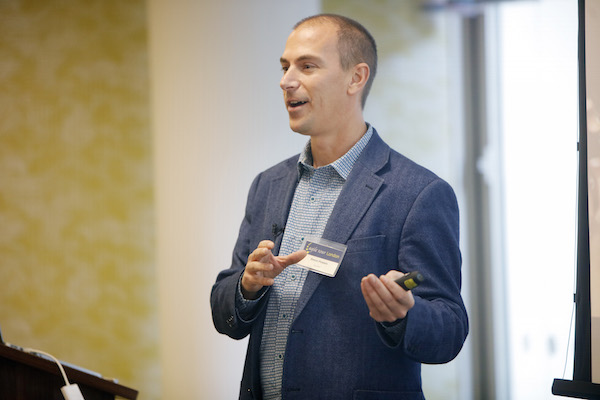 Simon has hosted and trained with some of the world's foremost thought leaders including Craig Larman and Bas Vodde (creators of Large Scale Scrum), Lyssa Adkins (Coaching Agile Teams), Scott Ambler and Mark Lines (Disciplined Agile), Sharon Bowman (Training from the Back of the Room), David Snowden (Cynefin and Sense maker), David Anderson (Kanban), Don Reinertsen (Lean Product Delivery), Michael Sahota (Leadership), Alistair Cockburn (Heart of Agile), and many others. Simon has won awards for the person who has done the most to promote agile globally in 2016, the most popular agile conference speaker in 2016, and was part of the program that won the best implementation of agile in the UK public sector in 2015. He has lectured at university, spoken at conferences all over the world, writes for the AWA blog, and has released multiple whitepapers. He is currently writing a book on Enterprise Agility.
Simon has multiple qualifications in the field of agile, coaching, and lean, and regularly teaches and coaches others in the same.
Certified ICAgile Agility in Enterprise Trainer
ICAgile Certified Professional - Agility in the Enterprise (ICP-ENT)
Sits on the Disciplined Agile Consortium Board
Certified Agile Leader (Scrum Alliance)
Certified Agile Coach (ICAgile)
Certified Trainer from the BACK of the Room
Certified Disciplined Agile Black Belt Practitioner and Trainer
Certified LeSS Practitioner (Large Scale Scrum)
Certified SAFe Program Consultant
Barefoot Professional Coaching Certificate
Winner of the most popular Agile Conference Speaker 2016
Winner of Person Who Has Done Most to Promote Agile Globally 2016
Winner of Best Implementation of the Agile Transformation in Public Sector 2015
We're endorsed by the Scrum Alliance


By attending this course you will be eligible to earn up to 15 Category C SEU Points.
Speak to the training organisers - Adventures with Agile

To speak to the organisers of this course for further details:
Call:

0203 369 1125

Email:

training@adventureswithagile.com