Codex4SMEs |Double session "Information and Networking Event" in Galway
About this event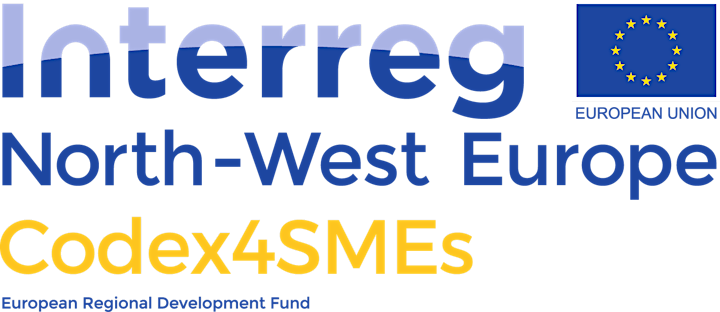 The Interreg North-West Europe project Codex4SMEs (Companion diagnostics expedited for small and medium-sized enterprises) aims at improving healthcare by the enhanced adoption of Personalised Medicine. The objective is to establish a network, which supports SMEs along the value chain of companion diagnostics development.
http://www.nweurope.eu/projects/project-search/codex4smes-companion-diagnostics-expedited-for-smes/
You are invited by WestBIC, CÚRAM and their European partners to the Codex4SMEs Information and Networking Event at 9.00 am on Wednesday, 18th September 2019 at Hotel Meyrick, Galway where you can:
Meet the 9 European partners involved in the Codex4SMEs project (described below)
Discover the supports that this project can bring to your SME.
Listen to companion diagnostics experts.
Find out what larger pharmaceutical companies are developing.
Hear how the new regulations will affect Companion Diagnostic SMEs.
Discover how to convince investors to invest in your SME.
Partake in arranged networking sessions to meet other key players, stakeholders or potential new collaboration partners
Programme
0900: Welcome and introductions
0905: Introduction and overview of Interreg Codex4SMEs project and the supports for SMEs - Dr Margot Jehle, Lead partner, Codex4SMEs
0920: Pathway to regulation and market for IVD Companies and start-ups: Diarmuid Cahalane, Metabolomic Diagnostics
0940: How to convince the investor to invest in your SME: Ultan Faherty, Halo Business Angel Network.
1000: The transfer of diagnostics tests from "bench to bedside" John O'Loughlin, Rotunda Hospital
1030: Tea break and parallel networking Part 1
1100: Evaluation of how different IVD's perform from clinical prospective Dr Fergus Mc Carthy , Obstetrician, Cork University Maternity Hospital
1130: Engagement with Pharmaceutical Companies Dr Leonard Marshall, Access and Innovation Manager, Roche Diagnostics
1200: Questions and discussion.
1230: Lunch
1300: Networking Part 2
1400: Overview of funding access and sustainability of projects within European environment Jeanette Mueller, Accelopment
1430: Networking Part 3
1500 Finish
Funding details:
EU FUNDING: €1.9m
TOTAL BUDGET: €3.16m
TIMELINE: 2017-2020
Organiser of Codex4SMEs Information and Networking Event:
WestBIC: WestBIC is an EU Business & Innovation Centre operating in the Northern and Western Region of Ireland. WestBIC is an EU BIC and is Quality Accredited with the European Business and Innovation Centre Network (EBN). WestBIC accelerates start-ups and SMEs in many different sectors.
CÚRAM: CÚRAM is a national centre funded through Science Foundation Ireland. While led by National University of Ireland Galway, CÚRAM's academic partners include UCD, UCC, TCD, UL and RCSI. CÚRAM aims to create a sustainable future for the Medtech sector in Ireland and train the next generation of world class Medtech scientists and entrepreneurs.‌