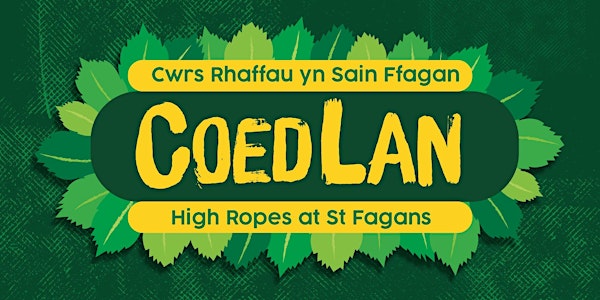 COEDLAN: Cwrs Raffau Sain Ffagan | High Ropes at St Fagans
Location
St. Fagans National Museum of History
St Fagans National Museum of History
Cardiff
CF5 6XB
United Kingdom
COEDLAN: Cwrs Raffau Sain Ffagan | High Ropes at St Fagans
About this event
Dewch i fwynhau cwrs rhaffau cyffrous newydd fry ym mrigau'r coed bedw yn Sain Ffagan Amgueddfa Werin Cymru.
Dringwch, neidiwch, camwch a siglwch eich ffordd drwy'r coed fry uwchben adeiladau Sain Ffagan, cyn cymryd y wifren wib yn ôl i dir cadarn.
Taclwch 18 rhwystr CoedLan, gan gynnwys y boncyff balans, y bont gam, y rhwydi cargo a'r wifren wib.
Mae'r cwrs yn costio £15 y pen am un daith lawn o gwmpas y cwrs, sy'n cynnwys gwifren wib 50m i orffen.
Gwybodaeth Pwysig:
Rhaid bod o leiaf 110cm o daldra, a dros 6 oed i gymryd rhan.
Rhaid i blant rhwng 110cm a 130cm fod yng nghwmni unigolyn dros 130cm o daldra ac yn 12 oed neu hŷn. Y pwysau trymaf a ganiateir yw 18 stôn.
Ewch i'r gwefan i ddarlen am ein rheolau,rheoliadau a ymddygiad.
Sylwer: nid yw tocynnau CoedLan yn cynnwys parcio. Mae lle parcio cyfyngedig ar gael yn Sain Ffagan Amgueddfa Werin Cymru am £6 y diwrnod. Ar ddyddiau prysur, efallai bydd rhaid i chi giwio i barcio, felly gwnewch yn siŵr eich bod yn gadael digon o amser cyn eich sesiwn i gyrraedd yr Amgueddfa
-------------------------------------------------------
Experience an exciting high ropes course perched in the beech trees at St Fagans National Museum of History.
Climb, swing, balance and wobble your way through the trees, and see the sights of St Fagans from above, before zipping back down to earth.
Tackle CoedLan's 18 different obstacles, including a balance beam, zig zag bridge, cargo nets and a zip wire.
The course costs £15 per person for one full circuit of the high ropes which includes a 50m zip wire to finish.
Important Information:
Participants must be aged over 6 and over 110cm tall in order to take part.
Children between 110cm and 130cm must be accompanied by an individual over 130cm and aged 12 plus. The maximum weight is 18 stone.
To read our rules, regulations, and etiquette, please click here.
Please note; CoedLan tickets do not include parking. St Fagans National Museum of History has limited car parking at a fee of £6 per day. Please be advised that during busy times you may be required to queue for car parking, and as such please ensure you allow sufficient time before your session in order to park and enter the Museum.