Coffee, Women and Business | Coffi, Menywod a Busnes
About this event
THIS SESSION WILL BE DELIVERED IN ENGLISH ONLINE. Welsh documents are available upon request.
MI FYDD Y SESIWN HON YN CAEL EI GYNNAL YN SAESNEG AR-LEIN. Mae yna ddogfennau Gymraeg ar gael os oes angen.
(Please scroll down for English)
Coffi, Menywod a Busnes
Mae teimlo dan straen, wedi'ch llethu neu heb egni yn rhywbeth rydym yn aml yn ei anwybyddu nes bod y cyfan yn mynd yn ormod. P'un a yw'n waith neu'n rhywbeth sy'n digwydd gartref sy'n cymryd eich holl egni, rydym am helpu.
Mae mis Ebrill yn Fis Ymwybyddiaeth Straen a'r thema eleni yw 'Adennill Cysylltedd, Sicrwydd a Rheolaeth'. I'ch helpu i oresgyn teimladau straen a llethu, rydym yn rhoi'r cyfle i chi gael gwared ar y straen gyda Kara Newsome, un o gleientiaid yr Hwb ei hun a'r meddwl y tu ôl i Out of the Woods Hypnotherapy.
Bydd Kara yn eich arwain drwy awgrymiadau a thechnegau i ymlacio, adennill cydbwysedd a'ch cael mewn hwyliau da eto. Bydd hi'n rhoi sesiwn gyflwyno ar hypnotherapi grŵp i chi er mwyn ymlacio fel bonws ychwanegol!
Beth fydd cynnwys y cwrs?
Bydd Kara yn trafod cyfuniad o dechnegau y gellir eu defnyddio i gynnal meddylfryd cadarnhaol; yn ymestyn o Therapi Gwybyddol Ymddygiadol (CBT), Rhaglennu Niwro-Ieithyddol (NLP) a Theori Hypnotherapi, i ddulliau profedig Kara ei hun.
Ar gyfer y sesiwn hypnotherapi, bydd Kara yn gofyn i chi ddiffodd eich camera a bod yn rhywle cyfforddus i ganiatáu i chi wirioneddol ymlacio – fel soffa er enghraifft.
Bydd cyfle i rwydweithio mewn ystafelloedd trafod a rhannu pa dechnegau llonyddu sy'n gweithio i chi. Bydd amser hefyd ar gyfer holi ac ateb fel y gallwch ofyn am gyngor wedi'i deilwra gan Kara.
Ar gyfer pwy mae'r digwyddiad?
Mae Coffi, Menywod a Busnes yn gyfarfod rhithwir lle gall cyfranogwyr annog, cefnogi a grymuso ei gilydd.
Mae croeso i unrhyw un a hoffai ymlacio ychydig yn ystod eu diwrnod neu gael awgrymiadau defnyddiol ar gael gwared ar straen, ymuno â ni ar gyfer y sesiwn hon.
Cefndir y siaradwr
Mae Kara Newsome yn hypnotherapydd cwbl gymwys sy'n gweithio yn y Drenewydd a'r cyffiniau, yn ogystal ag ar-lein. Mae Kara yn arbenigo mewn hypnotherapi i'r rhai sydd â phryder ac iselder, poen neu IBS, y rhai a hoffai golli pwysau, rhoi'r gorau i gaethiwed neu wella ffobia. Mae Kara hefyd yn gymwys i helpu plant â phryderon ynghylch arholiadau, caethiwed perthnasol, ofnau neu faterion ymddygiad.
______________________________
Coffee, Women and Business
Feeling stressed, overwhelmed or burnt out is something we often ignore until it all gets too much. Whether it's work or something going on at home that is taking up all of your energy, we want to help.
April is Stress Awareness Month and the theme this year is 'Regaining Connectivity, Certainty and Control'. To help you overcome stress and overwhelm, we're giving you the chance to de-stress with Kara Newsome, one of the Hub's very own clients and the brains behind Out of the Woods Hypnotherapy.
Kara will talk you through tips and techniques to relax, regain balance and get you back on form again. She will give you a taster group hypnotherapy session for relaxation as an added bonus!
What will the event cover?
Kara will discuss a combination of techniques that can be used to maintain a positive mind-set; stretching from Cognitive Behavioural Therapy (CBT), Neuro-Linguistic Programming (NLP) and Hypnotherapy Theory, to Kara's very own tried and tested methods.
For the hypnotherapy taster session, Kara will ask you to turn your camera off and be somewhere comfortable to allow yourself to really relax – like a sofa for example.
There will be the opportunity to network in breakout rooms and share what calming techniques work for you. There will also be time for Q&A so you can ask for tailored advice from Kara.
Who is this workshop for?
Coffee, Women and Business is a virtual meetup where participants can encourage, support and empower each other.
Anyone who would like to experience a little relaxation in their day or pick up some helpful hints on de-stressing is welcome to join us for this session.
About the speaker
Kara Newsome is a fully qualified hypnotherapist working in and around Newtown, as well as online. Kara specialises in hypnotherapy for those with anxiety and depression, pain or IBS, those who would like to lose weight, quit addictions or cure phobias. Kara is also qualified to help children with exam anxieties, relevant addictions, fears or behavioural issues.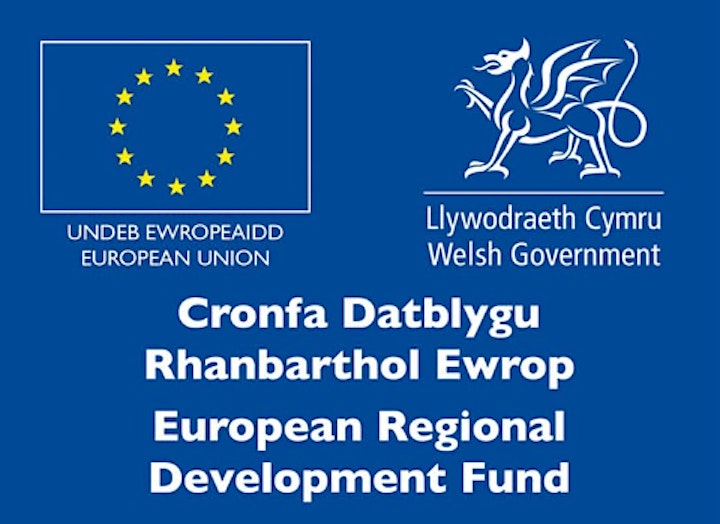 Mae Hybiau Menter Ffocws yn darparu gofod arloesol i ddeori a sbarduno busnesau newydd a'r rhai sy'n ehangu. Mae Hwb Menter Ffocws y Drenewydd a Hwb Menter Ffocws Caerfyrddin yn cael eu hariannu'n rhannol gan Gronfa Datblygu Rhanbarthol Ewrop trwy Lywodraeth Cymru
Mae'r digwyddiadau a ddarperir neu a gynhelir gan raglen Hybiau Menter Ffocws Llywodraeth Cymru am ddim ac yn agored i bobl o bob oedran, ond rhaid archebu lle ymlaen llaw. Mae'r niferoedd yn brin a disgwyliwn alw mawr am lefydd, felly archebwch yn gynnar i ddiogelu'ch lle.
Focus Enterprise Hubs are an innovative space to incubate and accelerate new, and growing businesses. Focus Newtown and Focus Carmarthen Enterprise Hubs are part funded by the European Regional Development Fund through the Welsh Government
Events delivered or hosted by the Focus Enterprise Hubs programme for the Welsh Government are free and open to all ages but must be booked in advance. Please be advised that numbers are limited and we expect high demand for places, so book early to secure your place.