COFILMIC with GUMPTION - Wed 27th June

Wednesday, June 27, 2012 at 4:00 PM (BST)
Event Details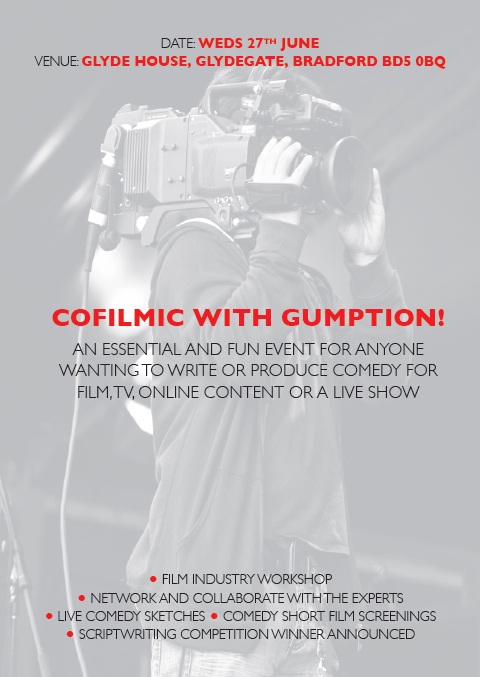 This is an exciting mixture of industry specialists, networking, live sketch comedy and comedy short film screenings and kicks off a permanent COFILMIC hub for Bradford and Leeds, alongside the creative talents of GUMPTION.
Event 1: Filming Funny (4pm to 6.45pm)
This practical session will demonstrate the importance of good film and script editing in order to achieve maximum effectiveness. This session is particularly useful for those with an interest in comedy but is also recommended for all filmmakers and writers.
Director Jason Wingard and script consultant Michael Jacob will share their tips and expertise on how to cut your films and scripts to bring out the best of your original idea.
With plenty of examples, including 'before and after' clips, this event will be both informative and extremely entertaining!
SPEAKERS:
David Robertson-Brown, Director, Gumption & Bradford Comedy Club.
Janet Harrison, Managing Director, COFILMIC.
Joanna Blake, is the comedy entertainment development producer for the BBC. She has worked on shows for Channel 4, Hat Trick, BBC3 and Freeform Productions. She is interested in finding fresh comic talent and helping develop new writers.
Jason Wingard, Director. Jason worked for five years as a comedian before he realised he wasn't that funny!  Despite this he was runner up in the North West Comedian of the year 2011 losing out to Justin Moorhouse. Graduating with a first class honours degree in Film and Photography in 2004, he has made many films, with a particular interest in directing comedy. In 2010 he won the Virgin Media Shorts People's Choice award with comedy film Ben and Jackie and had two films shortlisted for the Reed Film Competition.  It was 2011 when he won the Virgin Shorts Grand Prize, with a value of £30,000 for his short film 2:20 which is currently being screened in 214 cinemas nationwide. He has now started to work with the BBC, having made five TV pilots, including a panel show hosted by Warwick Davis and a character based show with comedian Tom Binns.
Michael Jacob is a script consultant and former executive producer in BBC Television. Michael has worked on more than 350 broadcast episodes of sitcoms and sketch shows, including Birds of a Feather, Goodnight Sweetheart, My Family, 2 Pints of Lager and a Packet of Crisps, and The Smoking Room. Michael also mentors new writing and production talent.
NETWORKING - Your chance to booze and schmooze with film makers, sketch performers, writers and our invited industry guests to make some exciting collaborations!
 --------------------------------------------------------------------------------
Event 2: Screenings & Sketches (7pm to 8.45pm)
SPEAKERS
David Wilson, Director of Bradford's UNESCO world City of Film project. 
Joanna Blake of BBC Comedy to reveal the winner of the Funny Film Script competition. This will be made in the autumn of 2012 and be part of the COFILMIC Film Festival in 2013.
Janet Harrison will introduce the screenings of the 10 award winning short films, sitcom pilots and sketches from the very first COFILMIC Comedy Film Festival, staged at the Comedy Store, Manchester. There will be some live sketch performances too!  Plus, you also get a chance to vote for your favourite films and win some tickets for the next festival in October 2012. 
After the screenings and sketches, the bar will remain open so you can continue to enjoy the delights of Glyde House.
 --------------------------------------------------------------------------------
We would like to acknowledge the kind sponsorship of this initiative by 
Bradford City of Film

 --------------------------------------------------------------------------------
To see Whats On at Glyde House, please click here.
Glyde House is a business centre and members club run by Gumption Centres Ltd. To find out more about their facilities, please click here.
When & Where

Glyde House
Glydegate
BD5 0BQ Bradford
United Kingdom


Wednesday, June 27, 2012 at 4:00 PM (BST)
Add to my calendar
COFILMIC with GUMPTION - Wed 27th June