Coginio ar y Cyd Teuluol gyda| Family Cook-along with: Beca Lyne-Pirkis
Gŵyl Fwyd Ddigidol Amgueddfa Cymru 2021 | Amgueddfa Cymru Digital Food Festival 2021
About this event
Ymunwch â'r cogydd, sgwennwr bwyd a'r cyflwynydd teledu Beca Lyne-Pirkis am benwythnos o goginio ar y cyd hwyliog a hamddenol i'r teulu cyfan.
I Beca, mae bwyd yn aml yn rhan o ddigwyddiadau cymdeithasol mawr gyda'r teulu, felly bwriad y sesiwn hon yw casglu'r teulu cyfan o gwmpas bwrdd y gegin er mwyn coginio pryd dau gwrs blasus. Cynlluniwyd y ryseitiau yn ddigon syml i ddwylo bach allu helpu, ac maen nhw'n hawdd eu haddasu ar gyfer cogyddion ifanc brwd.
Bydd pawb sy'n mynychu'r cwrs yn:
Ymuno â grŵp bychan, cyfeillgar ar gyfer sesiwn goginio ar y cyd fyw yn para 1½ awr.
Coginio pryd 2 gwrs i'r teulu
Dysgu sut i greu toes pizza cartref
Coginio o gysur eich cartref gyda chanllaw cam wrth gam gan Beca.
Caiff y cwrs yma ei gynnal yn Saesneg.
Ryseitiau:
Pizzas gyda thoes cartref
Cebabs trofannol gyda saws dipio siocled
Gwybodaeth Bwysig
Addas i: 6+. Rhaid i blant fod yng nghwmni oedolyn, bob amser.
Noder: Nid yw pris y tocyn yn cynnwys y deunyddiau/offer. Caiff rhestr gynhwysion ei rhannu gyda'r mynychwyr cyn y digwyddiad.
Rhaid prynu pob tocyn ar gyfer y digwyddiad hwn ymlaen llaw. Nifer cyfyngedig o docynnau sydd ar gael.
-----------------------------------
Join Welsh cook, food writer and TV presenter Beca Lyne-Pirkis for a fun and relaxed weekend cook-along suitable for the whole family.
For Beca, food is often associated with big social gatherings with the family, so this cook-along is aimed at getting everyone around the kitchen table together to cook a delicious two course meal. The recipes are designed to be simple enough for little hands to get stuck in, and easily adaptable for any budding young chefs.
As a participant on this course, you will:
Join a small, friendly group for a live cook-along lasting 1.5 hours
Cook a family-friendly 2 course meal
Learn how to make a pizza dough from scratch
Be cooking in the comfort of your own kitchen with step-by-step guidance from Beca
This course will be delivered in English.
Recipes:
Pizzas with homemade dough
Tropical kebabs with a chocolate dipping sauce
Important Information
Suitability: 6+. Children will need to be accompanied by an adult at all times
Please note: Ticket price excludes materials/equipment required.  An ingredients list will be provided to all participants prior to the event.
All tickets for this event must be purchased in advance. Limited number of tickets available.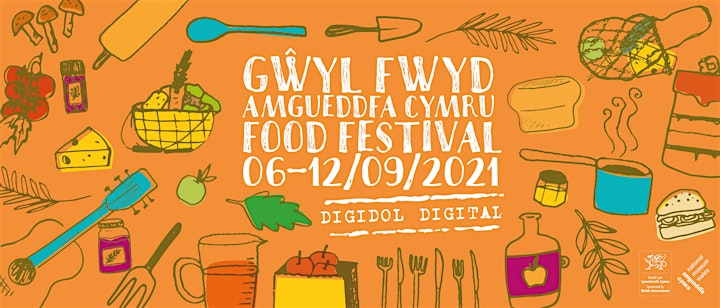 Mae'r digwyddiad hwn yn rhan o Ŵyl Fwyd Ddigidol Amgueddfa Cymru 2021.
Mwynhewch wythnos gyfan o weithdai, sgyrsiau, cerddoriaeth a sesiynau blasu – a'r cyfan o gysur eich cartref. Ymunwch â ni rhwng 6 a 12 Medi ar gyfer dathliad digidol blasus o ogoniant bwyd. Am ragor o wybodaeth ewch i'n gwefan.
--------------------------------
This event is part of the Amgueddfa Cymru Digital Food Festival 2021.
Enjoy a whole week of workshops, talks, music, and taster sessions – all from the comfort of your own home. Join us between 6 and 12 of September for a delicious digital celebration of all things food. For more information, visit our website.  
Organiser of Coginio ar y Cyd Teuluol gyda| Family Cook-along with: Beca Lyne-Pirkis