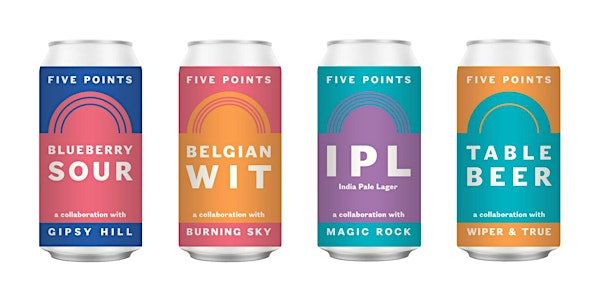 Collab Launch w/ Magic Rock, Burning Sky, Wiper & True and Gipsy Hill
Location
The Pembury Tavern
90 Amhurst Road
London
E8 1JH
United Kingdom
Description
Join The Five Points Brewing Company and four of the best breweries in the UK for a very special evening talking and tasting four brand new collaborative beers.
The four collaboration breweries are Bristol's
Wiper and True
, East Sussex's
Burning Sky
, South London's
Gipsy Hill
and Huddersfield's
Magic Rock
.
The Five Points is releasing Five Years of Five Points Vol. II, the second and final round of collaborations that celebrate their fifth birthday year. These beers are launching at The Pembury Tavern on Wednesday 5th December, and Five Points are hosting the collaboration breweries for a very special event that evening.
The Collab Chinwag is a tasting and short talk from each of the four collaborating breweries. The breweries will talk about a subject dear to them and we'll cover themes such as collaboration, community ethos, local beer scenes and more. The Five Points will host the panel and lead a Q&A to close the event, where the audience will be encouraged to ask questions. If you have any questions that you'd like to submit to any of the breweries in advance, please get in touch with ben@fivepointsbrewing.co.uk.

The Collab Chinwag will be hosted in the South Wing of The Pembury Tavern from 6.30pm until 8pm, with the first talk beginning promptly at 7pm. Tickets cost £12 each and include a half-pint of the four beers.


The Beers

The Five Points x Gipsy Hill
Blueberry Sour, 4.3%
A kettle-soured, vibrantly purple Berliner Weisse that's refreshingly tart, fruity, and brewed without hops. With lemon zest from our Hackney neighbours, Square Root Soda, and juicy blueberry puree and concentrate.

The Five Points x Wiper & True
Table Beer, 2.2%
Sessionable and low-strength Amber Ale packed with tropical El Dorado, Citra and Mosaic hops, and brewed with oats for a silky smooth body bursting with flavour.

The Five Points x Burning Sky
Belgian Wit, 5%

A hazy Belgian Wit brewed with lemon zest, coriander and black pepper. Light and zingy, with flavours of citrus, pear and spicy clove.

The Five Points x Magic Rock
IPL, 6.5%
An India Pale Lager with floral notes and a crisp and refreshing finish. Smooth, bready malt backbone and plenty of tropical, punchy hop character from five different hops.
Alongside these four collaboration beers on tap, The Pembury Tavern will host a tap takeover from the collaboration breweries. This is free entry and no tickets are needed.