Sales Have Ended
Registrations are closed
"Thank you for your registration! You can join the SURE conference via this zoom link: Meeting ID: 871 4197 4890 Password: 382264 We are looking forward to an interesting exchange and a fruitful conference in August! In the meantime, if you have any questions, don't hesitate to contact gesche.schifferdecker@efi.int Kind regards, The team of SURE at EFI Bonn"
Sales Have Ended
Registrations are closed
"Thank you for your registration! You can join the SURE conference via this zoom link: Meeting ID: 871 4197 4890 Password: 382264 We are looking forward to an interesting exchange and a fruitful conference in August! In the meantime, if you have any questions, don't hesitate to contact gesche.schifferdecker@efi.int Kind regards, The team of SURE at EFI Bonn"
We invite you to the final conference of the SURE project, serving as an open discourse on the future of the European Forest Risk Facility.
About this event
Aim of this event is to highlight selected best-practice examples of fruitful collaboration within the European Forest Risk Facility. Such is based on the assumption that vast experience with managing large devastating disturbances does exist locally, but we can only learn from each other when both experiences and strategies are shared. As speakers, we have invited selected members of the Forest Risk Facility network to present their lessons learned in disturbance management, covering the whole cycle from immediate response to disturbances to improved risk prevention and adapted risk mitigation.
From storm events to megafires, from drought to bark beetle damage – recent challenges for European forests have shown that suppressing disturbances and trying to control them has proven insufficient. With intensified forest disturbance regimes during the last decades we have learned that if we want to mitigate forest risks and prevent negative impacts, we cannot only focus on emergency response and recovery. Thus, preventing disturbances and making forests more resilient has significantly gained in importance along with the insight that we need to learn how to live with intensified disturbances.
In the past three years, several networking activities and events as well as fast track sharing of experiences and knowledge during forest related risks crisis have been organized in the framework of the project SUstaining and Enhancing REsilience of European Forests (SURE). These activities were aiming at promoting and further developing a European Forest Risk Facility, an evolving knowledge hub consisting of several organisations and experts from all over Europe, coming from the fields of academia, forest practice and risk management, policy and society.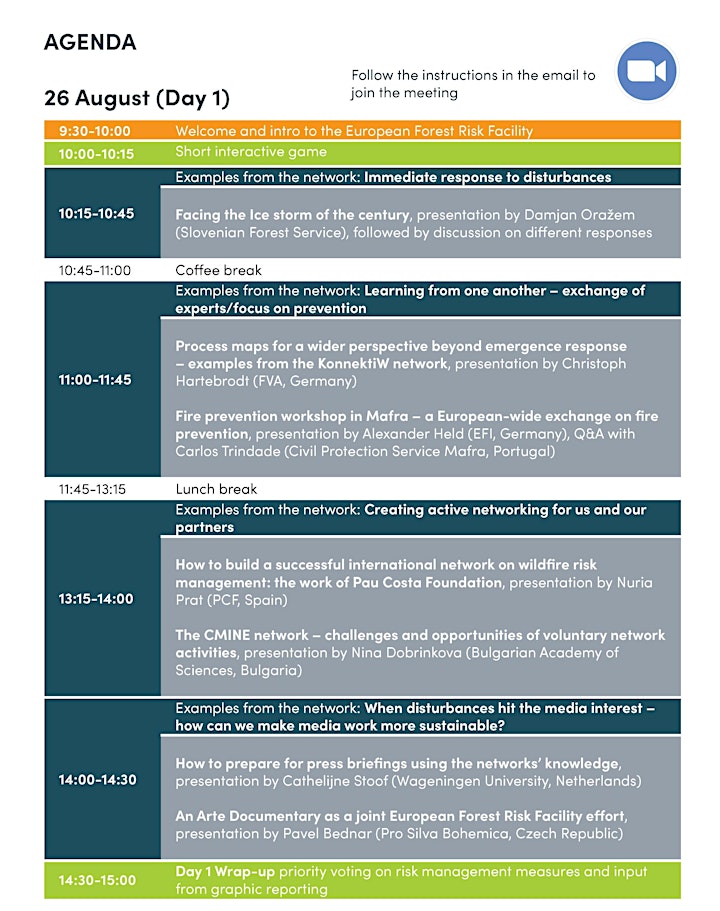 Organiser of Collaboration – key to forest disturbance management in a new decade
The European Forest Institute (EFI) is an international organisation, established by European States. EFI conducts research and provides policy support on forest-related issues, connecting knowledge to action.
EFI has 29 Member Countries, and c. 120 member organizations from 38 different countries working in diverse research fields. The headquarters of the Institute are in Joensuu, Finland, and its other main offices are in Barcelona, Bonn and Brussels.