Collage Club with Cult Milk
About this event
Cult Milk's Collage Club is back!! We couldn't be happier to be coming back to Brighton's most eclectic pub The Hope & Ruin. We've been sharpening the scissors, collecting mags and getting those glue sticks in a row...
6-9pm // FREE ENTRY // Beer Prizes
Some of you will have been to Collage Club before but here's a reminder of what it's about...
The night is FREE courtesy of The Hope and Ruin (Thanks guys!) and it happens every 1st and 3rd Tuesday of the month* (pop it in the diary). The night is drop-in between 6-9pm but get down early to guarantee a seat and a table. *Sometimes we need to move the dates around but we always give plenty of notice.
When you arrive, come get a little selection of materials and take them to your table and start collaging!

There will be magazines, paper, glue sticks and scissors to use on the night - we have lots so there's plenty to go around.
This night is all about unwinding and having fun whilst collaging... Simple! No experience is needed so whether you're really into collaging or not, it should be a fun and relaxing creative thing to do midweek.
We welcome groups and lone wolves - just bring a welcoming attitude and be kind to others who are joining in. We've also got to remember that Covid-19 isn't going anywhere any time soon so please be considerate of those around you.
There will be some beer prizes... these are usually given out to collages we've fallen for OR simply to those who have managed to keep their area tidy!! Ha, yep sometimes it's that simple to win a beer...
What you should bring: All of the materials for your workshop are complimentary to use on the night but we ALWAYS love a few extra magazines or fun papers being added to our stash so if you have any going spare then please bring them along and share the love.
We also do other arts and Crafts workshops like weaving, Lino Printing and Macrame for £20 pp so take a look at our other listings for a creative night out in Brighton or London.
Why Choose Our Workshops: It's our mission to provide an affordable creative workshop for anyone needing a creative pick-me-up. A perfect chance to have a drink, get arty and unwind! We want everyone to have a great time so learning is at your own pace and in your own style - we're here to help and guide you if you need it but there's no pressure to do anything by the book. Everyone is welcome - Lone wolves and groups - We always get really lovely people attending our workshops so come say hi.
Your Workshop Teacher: Your teacher is Amy Brown; founder of Cult Milk and former illustrator. Her style of teaching focusses on the enjoyment of the process and the therapeutic rewards of getting creative rather than purely on the outcome. She hopes everyone will feel relaxed enough to have a good time and unwind whilst learning something new. Her favourite part is when people leave the workshop realising that they're actually much better at making things than they thought they would be and in the process have made a few new friends!
The Venue, Social Distancing & Facilities: The Hope & Ruin will be following government guidelines closely. We will be hosting the workshop in their lovely pub - just look out for a sign on the table. There is a brilliant bar and restaurant available to order from throughout the night so you can get cosy and creative with a drink and a bite to eat.
Any questions: Please email Amy - hello@cultmilk.com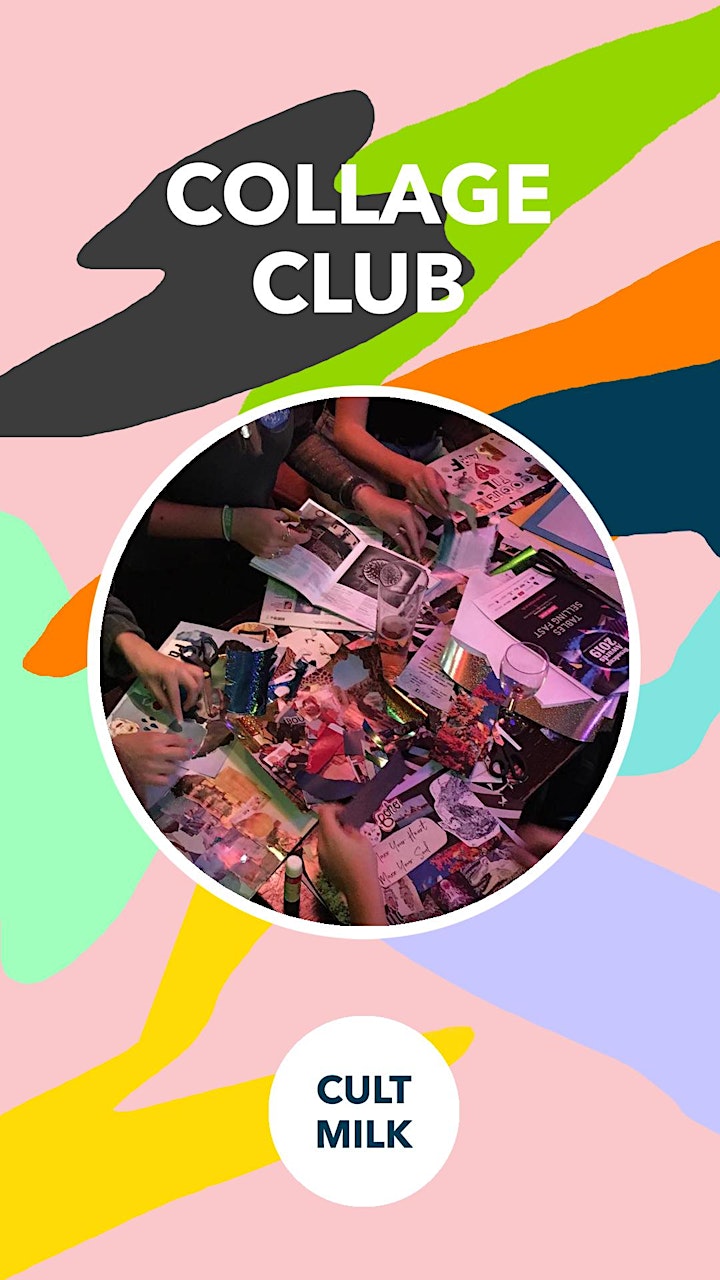 Organiser of Collage Club
Our creative workshops are open to everyone at all levels of artistic ability, even if you believe you have none! This is a safe, supportive space to play and try something new. You will get lots of support and guidance throughout and no one is going to make you feel bad if you don't understand or need more time to 'get it'. These are really relaxed, fun and sociable events so if you're on your own or with a group, there is always a friendly face nearby. If you're naturally more shy, there's no pressure to chat with people but the vibe is friendly and most people do have a good chat around the tables. If anyone has any specific needs or would like to ask a question before the event, please contact your workshop teacher Amy Brown at hello@cultmilk.com
*Our pub venues will serve food and drinks - Everyone is invited to eat and drink as they like throughout the workshops.
**The workshops are based at a variety of venues, most are wheelchair friendly but some unfortunately are not, please get in touch if you would like to know more or have any suggestions for venues that have great accessibility for everyone.
Thank you :)
CULT MILK Website // Facebook //  Instagram // Twitter // @cultmilk