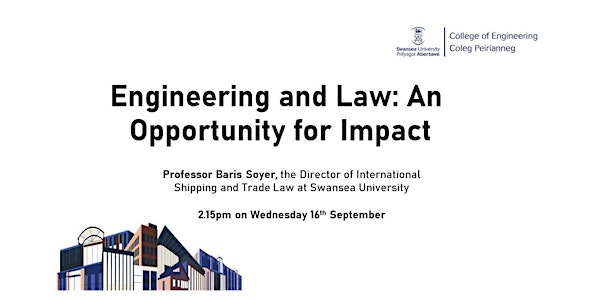 College of Engineering Centenary Interdisciplinary Research Seminar
Engineering and Law: An Opportunity for Impact.
About this event
As part of the university's centenary celebrations the College of Engineering would like to invite you to its next virtual interdisciplinary seminar.
The seminar will be held at 2.15pm on Wednesday 16th September. The speaker will be Professor Baris Soyer, the Director of International Shipping and Trade Law at Swansea University. Professor Soyer will deliver a talk entitled, Engineering and Law: An Opportunity for Impact.
Abstract:
The best thing that Engineering and Science can give to Law is a policy challenge. Usually people associate "Law" with other Social Science Subjects (Criminology, Sociology, History and Politics) when it comes to multidisciplinary research. However, there are aspects of Law (in particular Commercial Law), which we have a vast expertise in at Swansea University, that makes it a suitable partner for research bids with various Engineering disciplines. An example might be if we had a breakthrough in large scale energy storage this would most likely necessitate an immediate reform of energy law. If you are free to choose exactly when you release stored energy to the grid, then you could effectively manipulate energy pricing and distort energy markets. Another area would be autonomous vehicles, such as autonomous shipping vessels. Who is responsible for these vessels while crossing international waters if they're unmanned? Policy has also rapidly developed in the UK over "new" materials regulation with numerous policy textbooks on the safe use and integration of nanotechnologies across many industries. This highlights the very valuable crossover between engineers and lawyers that can produce high impact within society. Collaboration often removes barriers to the rapid adoption of new technologies and concepts. This talk will take us on a tour of possibilities and opportunities of collaboration with the School of Law from the College of Engineering.
Biography:
Professor Soyer was appointed as a lecturer at Swansea University in 2001 and was promoted to readership in 2006 and professorship in 2009. He was appointed as the Director of the Institute of Shipping and Trade Law at the School of Law, Swansea University in October 2010. He was previously a lecturer at the University of Exeter. He is involved in the teaching of the following modules in our LLM programme: Admiralty Law, Marine Insurance Law and Charter Parties: Law and Practice.
Professor Soyer's principal research interest is in the field of insurance, particularly marine insurance, but his interests extend broadly throughout maritime law and contract law. Apart from writing two monographs (Warranties in Marine Insurance Law and Marine Insurance Fraud), he has published extensively in elite journals such as Cambridge Law Journal, Law Quarterly Review, Edinburgh Law Review, Lloyd's Maritime and Commercial Law Quarterly, Berkeley Journal of International Law, Journal of Business Law, Torts Law Journal and Journal of Contract Law. He is on the editorial board of the Journal of International Maritime Law, Shipping and Trade Law and Baltic Maritime Law Quarterly and sits on the editorial committee of the Lloyd's Maritime and Commercial Law Quarterly (International Maritime and Commercial Law Yearbook).