Description
This year our very popular Colour Run will take place on October 16th.
Colour run is a 5kms running event which is all about having fun. Runners will start all together in white t-shirts and get covered in a rainbow of paint as they run through colour stations. Our course gives you double the chance to get covered in paint as you will run 2 laps of our self-contained course. Under 5's get to run free and under 14's must run with an adult.
1. Wear your white t-shirt
Our self-contained course also incorporates plenty of car parking, great spectator viewing and Café.
For more information speak to a member of our team 01474 831 400 or email mhairi@cyclopark.com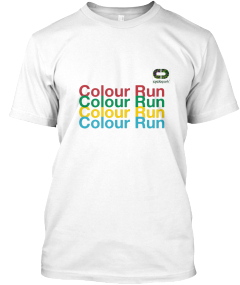 Colour Run Apparel
£14.04
We partnered with Teespring to create some awesome merchandise for this event. Show your support and look good wearing it. Check it out!
FAQs
What time do we need to register?
We would like all runners to register at 11.15am
Do I need to be Mo Farah to do this?
There are plenty of other great 5kms out there to test speed and performance. We're all about a colour crazy day with friends and family. You can run, walk, skip, dance or cartwheel it if you wish!
Is there anywhere to leave our bags on event day?
Unfortunately, we do not provide storage at our Colour Run

What happens if there is bad weather?
The Colour Run is an outdoor event so could be affected by weather! The event will not be cancelled in bad weather unless it is unsafe to proceed.
Can I take photos or film at the event?
The Colour Run is the perfect event to get great visuals for your Instagram, Facebook or maybe you even take your photography more seriously and want to prepare a portfolio. We welcome anyone to photograph or film at our event for PERSONAL use only.

Is there an age limit for younger runners?
There are no age limits, if they can cover running, jogging, walking or strolling the 5kms of the course, they can absolutely do The Colour Run
What are my parking options getting to the event?
There is plenty of parking available on site - parking of £1 per car applies
THE COURSE
Can I run with a jogging buggy and my kids?
On one condition…if you are prepared to be one of the hippest mums/dads on the planet! As long as they are cute and like to have fun…all kids 5 and under can run with an adult FREE of charge! Be sure to register them through the entry page.
Is the course wheel-chair friendly?
All of our courses are accessible. We suggest an all-terrain wheelchair or to bring a friend along who will be able to help you through more tricky parts of the course.
Can I bring my scooter or bike?
Unfortunately, due to safety reasons, the only wheels we allow at our events are prams and wheelchairs. Sorry!
Can I run with my dog?
Sorry, NO DOGS at any of our races.
Is water supplied?
We encourage all Colour Runners to bring a bottle of water with them to keep hydrated, and we do have refreshments for sale on the day
THE COLOUR
How is the colour administered?
You will see smiling faces along the course whose main goal is to douse you in colourful powder to ensure that you look like you ran through a beautiful rainbow by the time you cross the finish line!
Will the colour stain my hair?
The coloured powder does wash out of your hair; however we do recommend you take precautions if you're worried! The colour does tend to stick to lighter hair… Blondes you are warned! Oiling your hair before the run will help the colour wash out. If you're having trouble washing it after the event, bi-carb soda and anti-dandruff shampoo will help get the more stubborn colour out!
Will the Colour ruin clothes or running shoes?
The colour mostly washes out after the event. However, as with anything dirty, the sooner the gear gets washed the better. Dust off all excess powder before washing with water. Wash your coloured gear separately and use cold water. We suggest wearing items that you wouldn't mind getting colourful. If you would like to preserve the colour in your running shirt, we suggest spraying it with vinegar and ironing it when you get home. This is the most likely way the shirt will retain its colouring.
How does the colour affect the inside of cars?
You went all out, you're covered in colour and if you don't take precautions, your car will be too. If you're driving or taking the tube, use a poncho or bring something (towels, plastic, rubbish bags, etc.) to cover the seats before you sit down.
Are cameras and phones safe to have in the 'Colour Zones'?
Our race photographers are totally fine shooting from a medium distance (10-15metres). If you want to get shots right in the midst of the colour we recommend covering cameras/phones with cling film or placing your phone in a zip lock bag.
Do the "Colour Zones" affect runner vision? Or breathing?
The coloured powder used at the event is made from non-toxic pigments talk and corn starch.and causes no harm to skin or the environment. The powder used in this event is fire proof and conforms to EU standards. As with any substance, you want to keep it out of your eyes and we will make sure our colour throwers aim low as you pass by. We strongly suggest Colour Runners wear glasses and bandanas - both will be on sale at £2 each on the day.
Where can I contact the organiser with any questions?
mhairi@cyclopark.com
Can I update my registration information?
Yes you can - contact lenette.howard@cyclopark.com
Do I have to bring my printed ticket to the event?
Yes please
What is the refund policy?
Last day for refunds is Wednesday12th October