How are nature-based solutions being used in Bangladesh and the UK to combat climate change?
About this event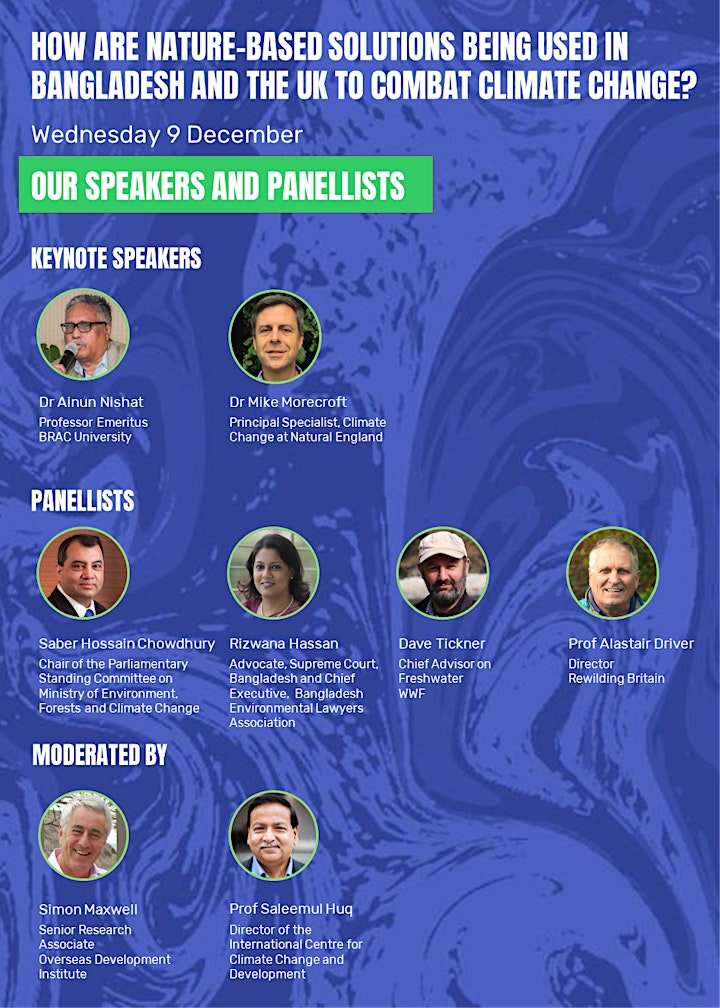 More details on speakers at the bottom of the page
Programme
Opening remarks from
Judith Herbertson, Development Director, UK Foreign, Commonwealth and Development Office
Md. Shahab Uddin, Minister of Environment, Forests and Climate Change
Lord Goldsmith, Minister for Pacific and the Environment
Moderators
Professor Saleemul Huq and Simon Maxwell
Keynote one - How nature-based solutions are being used in Bangladesh to combat climate change
Dr. Ainun Nishat, Professor Emeritus, BRAC University
Keynote two - Natural-based Solutions for climate change adaptation and mitigation in the UK
Dr Mike Morecroft, Principal Specialist, Climate Change at Natural England
Panellists
Saber Hossain Chowdhury, Chair of the Parliamentary Standing Committee on Ministry of Environment, Forests and Climate Change Honorary President Inter-Parliamentary Union
Rizwana Hassan, Advocate, Supreme Court, Bangladesh and Chief Executive of Bangladesh Environmental Lawyers Association
Dave Tickner, Chief Advisor on Freshwater for WWF
Professor Alastair Driver FCIEEM, Director, Rewilding Britain
As one of the world's most vulnerable countries to the impacts of climate change, Bangladesh has experienced first-hand the devastating impact it can have on people, the environment and the economy. The UK's climate is also changing. Its ten warmest years on record have all occurred since 1990 and the country is increasingly vulnerable to flooding and coastal change, water shortages, food insecurity, pests and disease.
This session will examine how nature-based solutions are being used in parallel with engineered interventions in Bangladesh and the UK to provide a variety of mitigation, adaptation and environmental benefits by protecting and enhancing natural capital at the same time as supporting socioeconomic development. In addition to the many challenges related to delivering nature-based solutions at scale, we will also explore how nature-based investments have the potential to generate employment opportunities for large numbers of low-skilled, daily wage earners that have been adversely affected by the economic downturn.
A panel of experts from the UK and Bangladesh will give insights from both countries' perspectives followed by a moderated discussion with questions from the audience.
This event is part of the UK-Bangladesh Climate Partnership Forum virtual series which is building momentum on the journey to COP26. Visit our page to find out about other events in the series.
If you are unable to attend this event but would like to receive updates about the series, sign up for updates
About the UK-Bangladesh Climate Partnership Forum virtual series
This virtual series creates an opportunity to advance the climate agenda in the journey towards COP26 and beyond by bringing together experts and leaders from Bangladesh and the UK.
It will help to identify innovative ideas, partnerships and initiatives between Bangladesh and the UK, and further strengthen collaboration between the two countries by catalysing climate action and building a community of practice.
Each event will be structured around one of four key COP26 themes: adaptation and resilience, nature, clean energy and finance, and will feature a select panel of experts from Bangladesh and the UK, providing an opportunity to share knowledge and experience on tackling climate change.
COP26
The UK will host the 26th UN Climate Change Conference of the Parties (COP26) in Glasgow in November 2021. The climate talks will be the biggest international summit the UK has ever hosted; bringing together over 30,000 delegates including heads of state, climate experts and campaigners to agree coordinated action to tackle climate change. In its role as president of the Climate Vulnerable Forum, Bangladesh will be representing more 1.2 billion people living in 48 of the world's most climate vulnerable countries at COP26.
Speaker profiles
Professor Ainun Nishat  is recognized as a pioneering expert of water resource management and climate change in Bangladesh. Previously he was the Country Representative, Bangladesh and followed by Senior Advisor Climate Change, Asia Region in International Union for Conservation of Nature (IUCN). He has experience of working as a specialist in the "Master Plan for construction of Multipurpose Cyclone Shelters in the coastal belt of Bangladesh". In addition, he was the adviser while developing the coastal zone policy for Bangladesh. Furthermore, Mr. Nishat has conducted ample of research work on Sundarban during his work tenure in IUCN.
He is a key member of the Climate Change Negotiation Team for Bangladesh and represented Bangladesh at the United Nations Climate Change Conferences (CoP) since Bali, Indonesia at CoP 13 till today. He is also a member of the Compliance Committee of the Kyoto Protocol of the UNFCCC since 2006. He was a key member of experts that prepared the National Adaptation Program of Action (NAPA-2005), Bangladesh Climate Change Strategy and Action Plan (BCCSAP 2008 and 2009) and also was one of the Lead Authors of Working Group-II of IPCC in preparation of the Third Assessment Report. He had been closely involved in the preparation of number of strategies and action plans like Bangladesh National Conservation Strategy and National Environment Management Action Plan etc.
As an expert in water resource management, he was a member of the Indo-Bangladesh Joint River Commission and played a vital role in the Ganges Water Treaty Negotiations that were finalized in 1996. He was a member of the Panel of Experts who consulted the construction of the Jamuna Bridge, the longest bridge in Bangladesh and currently a member of the Panel of Experts consulting the construction of the Padma Bridge. Besides working at various projects of the World Bank, Asian Development Bank, UNDP and other international and inter-governmental organizations; he has a close association with leading NGO's in Bangladesh.
Dr Mike Morecroft is Principal Specialist, Climate Change at Natural England, the government conservation agency for England, where he leads work on climate change adaptation and mitigation in the natural environment.  He works on developing the scientific evidence for Nature-based Solutions for climate change and adapting nature conservation to climate change and then applying it to policy and practice. He is a Coordinating Lead Author for the Intergovernmental Panel on Climate Change (Working Group II Chapter on Terrestrial and Freshwater Ecosystems) and an author of the UK Climate Change Risk Assessment.  Mike has published over 140 scientific papers, reports and book chapters.  Mike led a research group at the Centre for Ecology and Hydrology before joining Natural England in 2009 and is an Honorary Research Associate at Oxford University. 
Mr. Saber Hossain Chowdhury, Member of Bangladesh Parliament and Honorary President of Inter-Parliamentary Union (IPU). Established in 1889 and currently headquartered in Geneva, IPU is the world Organization of National Parliaments and is the focal point for worldwide Parliamentary dialogue and building stronger Parliaments and democracies. As the first and only Bangladeshi, he was the 28th President of the IPU. For his outstanding work and service as IPU President, the Russian Federation and Vietnam have decorated him with one of their highest national honours - "Order of Friendship". IPU's current membership includes 170 national parliaments, having 45,000 members of parliaments who in turn represent 6.5 billion people across the world.
In a distinguished career, Mr. Chowdhury has excelled in various roles and responsibilities in Parliament, Government, political party and sports administration. Under his dynamic leadership, Bangladesh achieved Test Status in cricket, Bangladesh Cricket Board was recognised with Bangladesh's highest national award - Independence Day Award in 2000 and is the only Bangladeshi to be conferred Honorary Life Membership of MCC, Lords, England. Now serving his fourth term in the Parliament, he is Chair of Standing Committee on Ministry of Environment, Forest and Climate Change. He is also a Member of the Planning Committee on Ministry of Planning.
Mr. Chowdhury is a graduate of School of Oriental and African Studies, University of London and holds a Joint Honors degree in Economics and Politics. He has also received a Diploma in Law from University of Westminster; United Kingdom having completed the academic stage for entry to the Bar.
Syeda Rizwana Hasan is an enrolled lawyer with the Supreme Court of Bangladesh. In professional life, she is working for the cause of environment as the Chief Executive of a reputed national Non-Governmental Organization named Bangladesh Environmental Lawyers Association (BELA). She has fought against vehicular pollution, river pollution, industrial pollution, ship breaking, grabbing of wetlands, cutting of hills, unregulated mining, unplanned urbanization, commercial shrimp cultivation, deforestation and loss of biodiversity. She has been awarded the Ramon Magsaysay Award in 2012.
An environmental lawyer, Rizwana has also led successful legal campaigns against filling up of wetlands in and around Dhaka by unscrupulous housing companies, commercial and forced shrimp cultivation depriving the farmers of their traditional agriculture, depriving the forest dwellers of their traditional forest rights, vehicular pollution, industrial pollution and so on. Rizwana is the ex-Chairperson of RDRS, a leading Bangladeshi NGO.
At the international arena, Rizwana is an amigas (a member of the Environmental Law Alliance Worldwide) and also a member of the Environmental Law Commission of IUCN. She is a board member of South Asian Network for Development and Environmental Economics (SANDEE).
Rizwana has received the 'Annanya Top Ten Award' given by a reputed journal of Bangladesh. She is also amongst the first five South Asian women to receive the 'Celebrating Womenhood' award (2008) given by the Creative Statement and South Asia Partnership based in Nepal. Rizwana has received the prestigious Goldman Environmental Prize for the year 2009 for her outstanding contribution in protecting and conserving the environment of the country. She has also been named as one of the 40 Environmental Heroes of the World by the Time magazine.
Dave Tickner is Chief Freshwater Adviser at WWF, based near London. He advises international river and water management programmes, directs a research portfolio, and engages governments, international organisations and companies on sustainability issues. Dave previously worked in the UK's environment ministry before completing a PhD in freshwater sciences and then leading WWF's Danube River programme. He has held non-executive and advisory roles in the private sector and is currently also a visiting researcher at the University of East Anglia, an Associate Editor of the academic journal Frontiers in Environmental Science, and a member of the UK government's Darwin Expert Committee.